Pittsburgh Steelers: Who Are the Top Targets After the Combine?
February 28, 2012

Joe Robbins/Getty Images
The 2012 NFL combine provided a lot of valuable information for the Pittsburgh Steelers as they approach the draft in late April.
Pittsburgh has three distinct needs including an upgrade at guard as well as replacements for James Farrior at inside linebacker and Casey Hampton at nose tackle.
There were a number of players at each of those positions that impressed at the combine, and the question is whether or not they will fall to the Steelers at the 24th slot in the draft.
If they don't, Pittsburgh will have to look elsewhere, which may mean taking a lower-rated player at a need position or taking the best available player at a position of depth.
Chances are, though, that the Steelers will have one of their top targets available for them in the first round.
Cordy Glenn, Offensive Guard, Georgia
The top guard in the draft, Stanford's David DeCastro, did nothing but impress at the combine and looks to be one of the top prospects at any position.
That will put him out of range for the Steelers, but they may have a chance at Georgia's Cordy Glenn.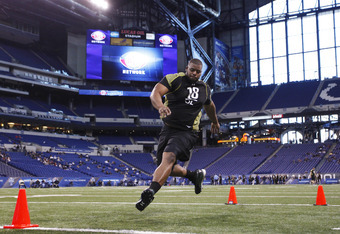 Joe Robbins/Getty Images
Glenn built upon a strong showing at the senior bowl with an impressive performance at the combine. At 6'5" and 345 pounds, he had a very good 5.15-40 and moved well in position drills.
With 35 3/4-inch arms, Glenn has desirable traits for either inside or outside. The Steelers like versatility from their lineman and could use an upgrade at guard, but could also try him at right tackle as well.
Glenn will definitely be a consideration for the Steelers in the first round. He would compete with Doug Legurksy and Ramon Foster at guard and could immediately step in.
The ideal situation would be for him to win the left guard job from Legursky and play between Maurkice Pouncey and Marcus Gilbert. This would give the Steelers a very good-looking left side on the offensive line.
Dont'a Hightower, Inside Linebacker, Alabama
Heading into the draft, there were three potential first-round inside linebackers: Luke Kuechly, Vontaze Burfict and Dont'a Hightower.
Kuechly did everything that was expected of him and solidified himself as the top at his position while Burfict ran himself out of the first round with a 5.09-40.
Pittsburgh's realistic option is Dont'a Hightower, who answered one of his only questions with a 4.68-40, which was particularly good for his 265-pound frame.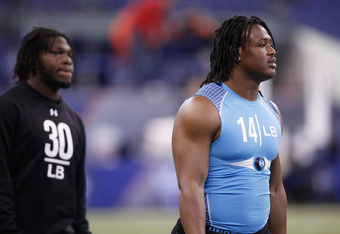 Joe Robbins/Getty Images
Hightower is a player who can split time or even immediately step in at inside linebacker where the Steelers need to upgrade over the platoon of James Farrior and Larry Foote.
The knock on Hightower was whether he had the speed to drop into coverage, something he has struggled with.
Hightower can drop another 10 pounds and could improve on his speed. He also played as a rush end at Alabama. The Steelers like position versatility from their players.
Beyond his physical attributes, Hightower is a high-character player who is well-versed in the 3-4 defense. He may be the best available when the Steelers are on the clock in the first round.
Dontari Poe, Nose Tackle, Memphis
One of the more popular picks in mock drafts for the Steelers may have ran himself out of Pittsburgh's draft range.
Dontari Poe ran faster than Burfict, running an amazing 4.98-40 as a 6'4", 346-pound man. Maybe even more impressive was that he recorded a combine high of 44 reps of 225 pounds on the bench.
There is no doubt now that Poe is a first-round draft pick and possibly a top-20 pick now. He is one of the strongest athletes in the draft and will be tough to move in the middle of someone's defense.
Poe has been able to get by on size and strength and will need to develop his technique once he reaches the pros.
With his performance, Pittsburgh may have to wait until the second or third round to find a replacement for Casey Hampton.
Other Prospects
If none of these players are available, Pittsburgh may look at Ohio State's Mike Adams at tackle. There are some character concerns, though, as he did not have a good workout at the combine after only getting 19 reps on the bench press.
Though it would be hard to pass up a talented tackle like Adams, there would be a big risk involved. Instead, Pittsburgh could address their interior line with the massive Kelechi Osemele from Iowa State or Peter Konz from Wisconsin.
Osemele is very strong and will have to develop his technique, but he would give the Steelers a powerful run blocker. Meanwhile, Konz is a highly rated center, but like Adams, did not perform well on the bench press with only 18 reps.
The Steelers could also address their secondary with Mark Barron. Though the Steelers are set at safety with Ryan Clark and Troy Polamalu, they could use a young prospect behind them.
Pittsburgh will have plenty of talented options with the 24th pick and they should be able to find a player who will be able to make an impact within the next year or two.
Follow me on Twitter @ChrisG_FC