Power Ranking the Top 10 MMA Fighters Who Came from Arizona State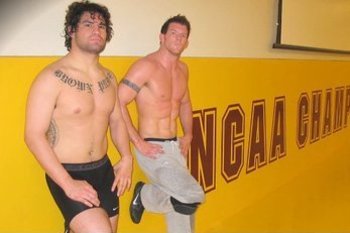 Home to one of the best collegiate wrestling programs in the country, Arizona State University has turned into a hub for future mixed martial artists.
Most recently, NCAA wrestling champion and former Sun Devil Bubba Jenkins made the jump from amateur wrestling to professional MMA. Despite his outstanding accomplishments in collegiate athletics, Jenkins is nowhere near reaching the level of success that many of his fellow Arizona State alumni have in MMA.
Since Dan Severn became the first Arizona State alum to step into a cage in December 1994, former Sun Devils have generated 54 wins inside the Octagon, one UFC championship, two Pride championships, one Strikeforce championship, one UFC superfight title, one The Ultimate Fighter title and five early-UFC tournament titles.
Here are the 10 former Arizona State students most responsible for the university's reputation for cultivating elite mixed martial artists.
10. Eric Larkin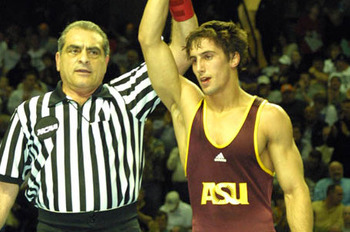 Before competing under the Bellator banner, Eric Larkin was gathering titles in Phoenix.
While at Arizona State, Larkin became an NCAA champion, four-time Pac-10 champion, four-time All-American, three-time Pac-10 Wrestler of the Year and 2003 Dan Hodge Award Winner for being the most outstanding collegiate wrestler of the year.
In 2003, Larkin was also nominated for Best Collegiate Male Athlete at ESPN's ESPY Awards.
Over the course of his wrestling career at Arizona state, Larkin performed better every year he competed in the NCAA tournament, finishing fourth as a freshman, third as a sophomore, second as a junior and winning the championship as a senior.
After rattling off three straight wins to begin his career, Larkin suffered his first MMA loss in March 2011 and has not yet returned to competition.
9. Clifford Starks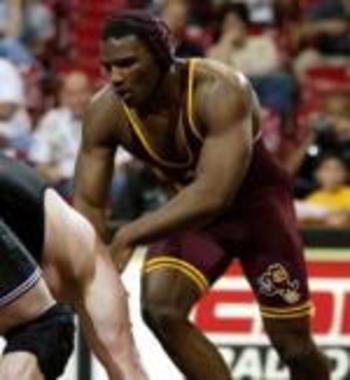 Clifford Starks spent two years at Arizona State, where he picked up 12 wins and competed in the NCAA tournament. Though Starks didn't come close to matching Eric Larkin's collegiate accomplishments, the UFC middleweight has found more success early on in his MMA career.
Prior to getting signed by the world's premier MMA organization, Starks won his first seven professional fights. The former Sun Devil kicked off his UFC career with a victory over Dustin Jacoby at UFC 137.
In his most recent outing, Starks was submitted by Ed Herman, but the Arizona Combat Sports product landed a few heavy right hands early in the fight. He'll be a tough opponent for most 185-pound fighters looking to climb their way up the middleweight ladder.
8. Kyle Kingsbury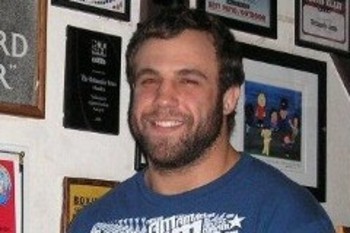 The only non-collegiate wrestler on this list, Kyle Kingsbury was a defensive lineman on the Arizona State football team for two seasons. In his senior year, Kingsbury saw the field during a victory over Purdue University in the Sun Bowl.
After college, Kingsbury fell back on his high school wrestling experience to launch what could already be considered a successful career in MMA.
A 7-1 start in MMA led to a chance for Kingsbury to prove himself on The Ultimate Fighter. Though he lost twice on the reality show and in his official UFC debut against Tom Lawlor, Kingsbury was given a chance to redeem himself against Razak Al-Hassan at UFC 104.
Kingsbury then parlayed a split decision win over Al-Hassan into four straight victories and a fight with UFC veteran Stephan Bonnar. Though he lost to Bonnar, Kingsbury has shown incredible improvement since appearing on The Ultimate Fighter and could still have a long UFC career ahead of him.
7. C.B. Dollaway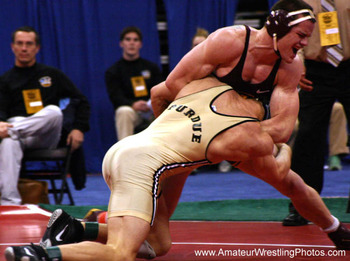 Danielle Hobeika/AmateurWrestlingPhotos.com
After winning a JUCO championship while at a Kansas community college, C.B. Dollaway moved to Arizona State and became an All-American wrestler in his second trip to the NCAA tournament.
Immediately after leaving school, Dollaway began pursuing a career in MMA.
Following wins in his first six contests, Dollaway appeared on The Ultimate Fighter, where he fell to Amir Sadollah in back-to-back fights after replacing Jesse Taylor in the middleweight tournament final.
Dollaway followed his second loss to Sadollah with win in five of his next six fights. However, since that hot streak, Dollaway has lost two straight bouts and could be in danger of being released from the UFC in his upcoming fight against Jason "Mayhem" Miller.
6. Aaron Simpson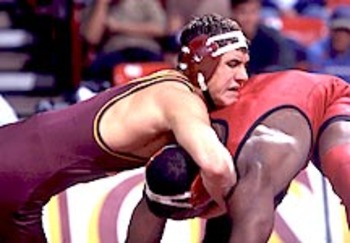 While competing at Arizona State, Aaron Simpson racked up 110 wins and became a two-time All-American wrestler. After a successful career as a Sun Devil, Simpson became an assistant coach for the school's wrestling program for nine years.
Simpson made his MMA debut in 2000, but he followed that fight up with a seven-year hiatus from the sport. In 2007, Simpson returned to make a serious run in the sport and found himself competing in the UFC less than two years later.
After winning his first three fights in the UFC, Simpson hit a two-fight skid against Chris Leben and Mark Munoz. Since then, the 37-year-old has improved his record to 6-3, but he plans on dropping to the welterweight division for his next appearance.
5. Don Frye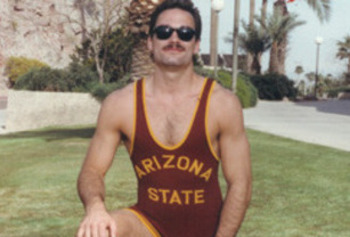 One of the pioneers of MMA, Don Frye began attending Arizona State in 1984. While in Phoenix, Frye was coached by another future MMA star in Dan Severn.
Though Frye transferred to another MMA fighter factory at Oklahoma State University before the end of his collegiate wrestling career, "The Predator" remains one of the best mixed martial artists to ever attend Arizona State.
Frye began his MMA career at UFC 8 and proceeded to win two of the early-UFC tournaments. During his career, Frye defeated the likes of Ken Shamrock, Tank Abbott, Gary Goodridge and Gilbert Yvel.
While with Pride, Frye also partook in one of the most entertaining fights of all time, beating Yoshihiro Takayama in a bout that looked more like a hockey fight than a display of MMA.
4. Dan Severn
A two-time All-American and former wrestling coach at Arizona State, Dan Severn was the first great MMA fighter to emerge from Phoenix.
Severn began his MMA career at UFC 4, where he lost to Royce Gracie in the tournament final. "The Beast" rebounded to win two UFC tournaments and a UFC superfight title.
Over the course of his long career in the sport, Severn amassed 100 victories and defeated Ken Shamrock, Forrest Griffin and Tank Abbott.
3. Ryan Bader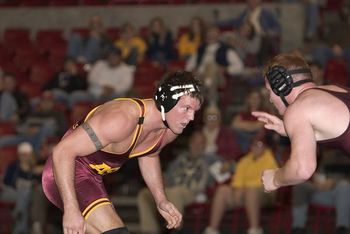 One of the current torchbearers for MMA fighters to come out of Arizona State, Ryan Bader was a two-time All-American and three-time Pac-10 champion during college.
Shortly after graduating, Bader began training for MMA with college teammate C.B. Dollaway. A winner of his first 12 fights, Bader became an Ultimate Fighter winner and a contender in the UFC's light heavyweight division.
After suffering the only two losses of his career in back-to-back fights against Jon Jones and Tito Ortiz, Ryan Bader has bounced back with consecutive victories over Jason Brilz and Quinton "Rampage" Jackson.
2. Cain Velasquez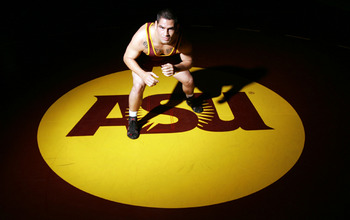 In three years on the Arizona State wrestling team, Cain Velasquez became a two-time All-American, two-time Pac-10 champion and set the stage for an even brighter career in MMA.
Whereas teammates Ryan Bader and C.B. Dollaway began training at Arizona Combat Sports, Velasquez opted to begin the development of his MMA skills at American Kickboxing Academy.
Velasquez's decision paid big dividends, as he won his first nine fights and became UFC heavyweight champion. Though Velasquez recently lost his title to Junior dos Santos, he will almost certainly be back in the hunt for the title in short order.
1. Dan Henderson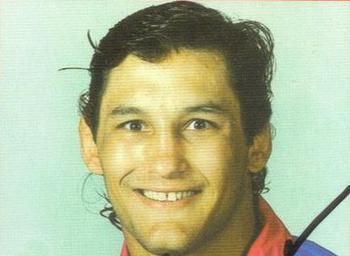 Still competing and in the mix for a title shot at 41 years old, Dan Henderson is the best MMA fighter to ever attend Arizona State. While his collegiate accomplishments weren't overwhelming, Henderson proceeded to have an outstanding career on the world greco-roman wrestling stage before transitioning to MMA.
Henderson made a big splash early in his MMA career, winning a UFC tournament and a very tough Rings tournament by defeating the likes of Carlos Newton, Renato "Babalu" Sobral and Antonio Rodrigo Nogueira.
Then, "Hendo" moved to Pride, where he transitioned from rising star to a legend of the sport. While competing in the Japanese promotion, Henderson became a concurrent champion of multiple divisions and picked up wins over fighters such as Wanderlei Silva, Vitor Belfort, Murilo Bustamante, Murilo Rua and Renzo Gracie.
After Zuffa purchsed Pride, Henderson unsuccessfully competed in UFC title fights against Anderson Silva and Quinton "Rampage" Jackson before moving to Strikeforce, where he gathered another belt for his trophy case and furthered his legacy by knocking out Fedor Emelianenko.
Another major purchase by Zuffa then led to Henderson's second return to the UFC, where he is now considered one of the top light heavyweight contenders after defeating Mauricio "Shogun" Rua.
Keep Reading