NHL Trade Deadline: Leafs GM Burke Adamant in Keeping Jake Gardiner in Toronto
February 28, 2012

Dale MacMillan/Getty Images
When the clock struck 3 p.m. on Monday, the Toronto Maple Leafs roster that has been scrambling for a playoff berth in the competitive Eastern Conference remained intact.
Leafs president and general manager Brian Burke made only two trades, both of them at the minor-league level. Keith Aulie was dealt to Tampa Bay in exchange for Carter Ashton, and Dale Mitchell was moved to Anaheim for Mark Fraser.
While there is some slight grumbling among Toronto fans that Burke was unable to land a goaltender in wake of the club's recent slump, at least one opinion is almost unanimously shared.
The best move that Burke made was one of restraint in not trading defenseman Jake Gardiner, who has the making of becoming a star on the team's blue line.   
The 21-year-old rookie who made the Leafs roster out of training camp is the best young rear-guard to play in the organization since Tomas Kaberle. Kaberle entered the NHL as a freshman 13 years ago and went on to represent Toronto in four All-Star games during his career in blue and white.
Gardiner possesses tremendous speed when leading or jumping into a rush, but he also shows the poise of a veteran on the point. Leafs coach Ron Wilson has shown confidence in the youngster, granting him the most ice time out of any Toronto skaters in four of the team's last five games.
It has been a meteoric rise for the one-time Team USA World Junior gold medalist, who a mere twelve months ago was finishing his collegiate career at the University of Wisconsin.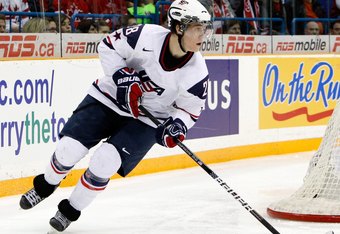 Richard Wolowicz/Getty Images
In his post-deadline address to the media, Burke summarized his unwillingness to move his much-coveted asset:
There were short conversations—it's a short conversation. 'Is Jake Gardiner a guy you'd move?' 'No, move on.' I think what you're seeing with Jake is a guy with a special set of gifts. We don't know where that goes from here. Is he Duncan Keith? Is he Kris Letang? I don't want to put pressure on him, saying that he looks like this guy or that guy, but clearly this is a guy with an exceptional skill set, and he wasn't going anywhere.
There will be plenty of discontent in Toronto if Burke's decision to keep the status quo—both behind the bench and on the roster—backfires into a seventh straight year out of the playoffs.
But no one in the city is complaining that Gardiner will still have a stall in the Leafs dressing room for years to come.