NHL Trade Deadline 2012: 5 Smartest Deals on Deadline Day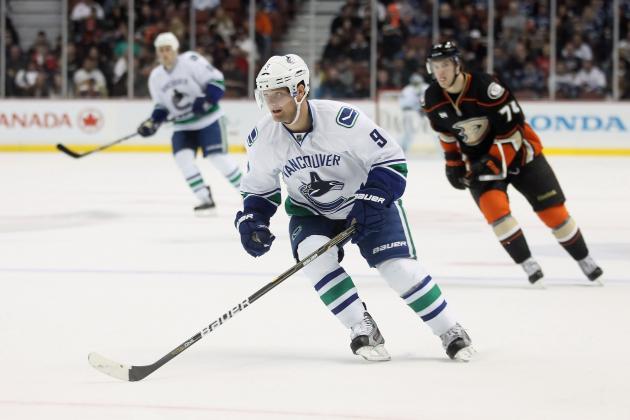 Jeff Gross/Getty Images

After hours and hours of inactivity, the 2012 NHL trade deadline caught fire with mere minutes remaining as several of the most-hyped trade items—and a few unexpected ones, as well—were dealt to contenders around the league.
Vancouver's Cody Hodgson, Montreal's Andrei Kostitsyn, Buffalo's Paul Gaustad and Colorado's Daniel Winnik and T.J. Galiardi were among the highlights of players who found new homes Monday, as the day's trade total jumped from eight to 16 in its closing moments.
From the most active traders of the week (Tampa Bay and Nashville) to the clubs that instead decided to lay low (Detroit and Washington), the NHL's most chaotic week of the season certainly brought a variety of both brilliant and stupid deals on the part of the league's 30 general managers.
Which clever clubs made the best moves Monday, and which were left behind by the competition? We'll break down the five smartest moves of the 2012 NHL trade deadline in the coming slides.
Begin Slideshow

»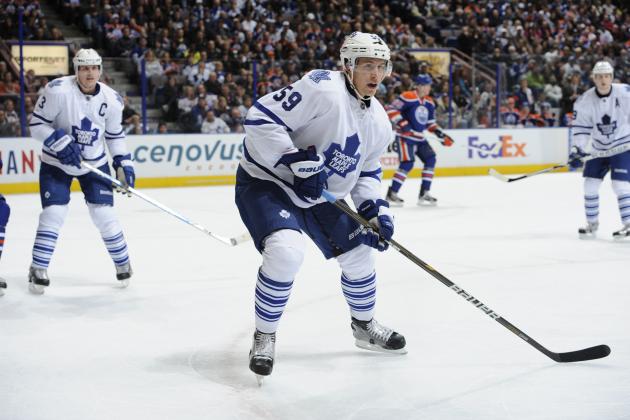 Dale MacMillan/Getty Images
Keith Aulie with Toronto.
The Tampa Bay Lightning were busy Monday as they added three defensemen to the fold, including former Red Wing Mike Commodore, former Senator Brian Lee and former Maple Leaf Keith Aulie.
Although the former two are unlikely to contribute much, Aulie is a very intriguing addition for a Bolts team looking toward youth after a horribly disappointing '11-'12 campaign to date.
The 22-year-old Aulie, a fourth-round pick of Calgary in 2007, failed to live up to his potential in partial NHL action over the past two years in Toronto; he registered just two goals, two assists, a minus-three rating and 48 PIM in 47 appearances.
Nonetheless, Lightning GM Steve Yzerman acquired the monstrous 6'6" blueliner for essentially no cost (only grade-C prospect Carter Ashton) and could use him more effectively in the low-pressure, big-opportunity environment that the Tampa Bay offers.
A spot on the Bolts' second defensive pairing lies open for the taking, giving Aulie a massive opportunity to show his potential when given a consistent top-level job. Plus, if the Saskatchewan native doesn't work out, he's also a restricted free agent come July.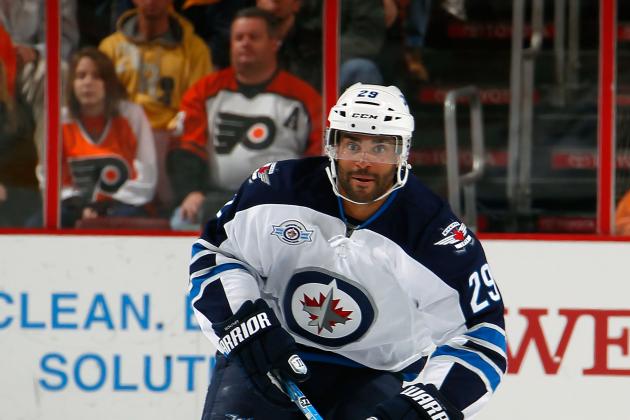 Paul Bereswill/Getty Images

The Winnipeg Jets cleverly rid themselves of a completely unnecessary burden Monday, and they still managed to get two very significant draft picks in return.
Sounds like a clever deal to us.
Defenseman Johnny Oduya, now age 30, has never been a standout player and has been even more pedestrian lately, scoring four goals and 30 points over the past two seasons combined. However, he has also accumulated a woeful minus-24 rating over that stretch.
With Oduya's massively overdone contract set to expire this summer, his value was waning quickly in Winnipeg. As they erased him from the payroll at the deadline, conversely, the Jets managed to extract two excellent assets in return—the Chicago Blackhawks' second- and third-round draft picks in 2013.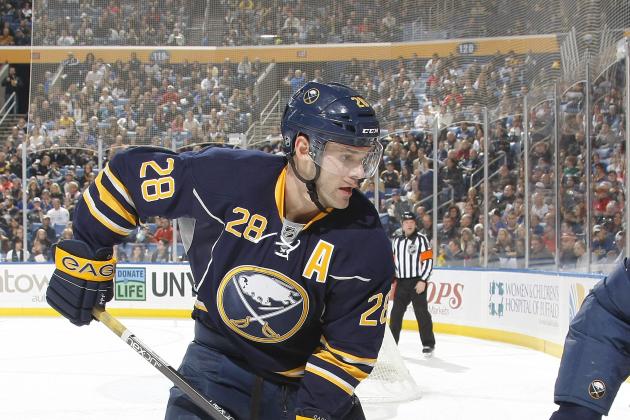 Dave Sandford/Getty Images

Paul Gaustad may be consistent, but he's never going to make much of a difference on the ice.
The 30-year-old gritty center had played almost seven whole seasons with the Buffalo Sabres up until yesterday, but never topped his career-high total of 12 goals and never moved up a single time from the third line.
The Sabres did manage to make him a difference-maker on Monday, though, as they sent him to the Nashville Predators (along with a 2013 fourth-round pick) in exchange for the Preds' upcoming first-round selection.
With first-rounders so highly valued in today's market, seeing Gaustad valued almost equally with one was shocking to us and, probably, to many others around the NHL as well. As the youth movement approaches in western New York, Buffalo's Gaustad trade could be very beneficial in making that new tactic a success.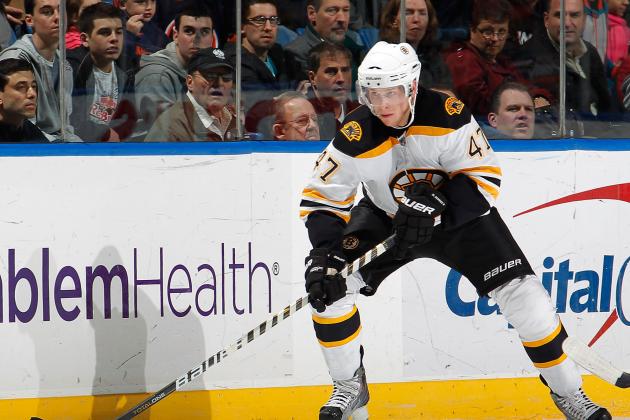 Paul Bereswill/Getty Images
Steven Kampfer with Boston.
The Boston Bruins' newest defensive addition, Greg Zanon, certainly looks like a guy you wouldn't want to meet in a dark alley, but was he really worth youngster Steven Kampfer?
The Minnesota Wild sure don't think he was. They're thrilled to have acquired 23-year-old Kampfer, who showed strong offensive upside in limited playing time with Boston, for such an disposable item as Zanon.
Zanon, 31, has a reputation for staying healthy, but it hasn't worked that way this year as he's only played in 39 games to date. Moreover, his scoring touch has always been lacking a lot (career highs: four goals, 13 assists), and the same could be said for his defensive mobility.
On the other hand, young Kampfer, a former fourth-round pick, gave glimpses of future stardom with five goals, 10 points and a plus-nine rating in 39 games last season—certainly worth a straight-up exchange to a Minnesota team desperately in need of both youth and scoring.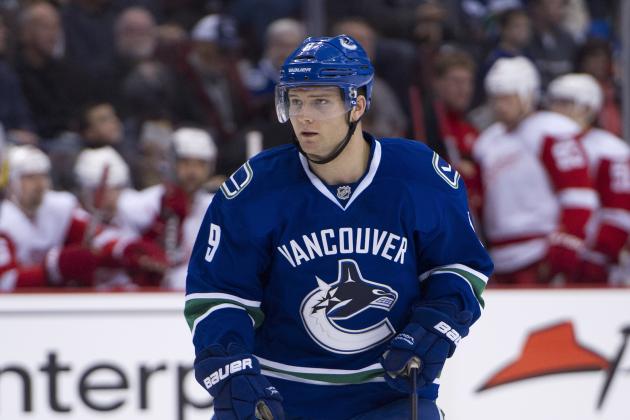 Rich Lam/Getty Images

Ripping off the Nashville Predators in the Paul Gaustad trade? For the talent-hungry Buffalo Sabres, that wasn't enough on it's own.
Instead, they snatched Rookie of the Year candidate Cody Hodgson—a soon-to-be household name around the NHL—away from the Vancouver Canucks to add to their growing collection of skilled young forwards. Going the other way are two other decent up-and-comers, including prospect forward Zack Kassian and NHL rearguard Marc-Andre Gragnani, but Hodgson's potential easily outshines both of them.
By the numbers, Hodgson and Kassian are both fairly equal in age (22 and 21, respectively), both former early first-round selections and both highly touted prospects. But the difference lies in their respective ongoing debut campaigns—Kassian has three goals and seven points in 27 games, while Hodgson has 16 goals and 33 points in 63 games.
Although Gragnani can't be completely overlooked either (the 24-year-old D-man has one goal, 12 points and a plus-10 rating), the tremendous asset which the Sabres acquired—one often compared to the likes of Rod Brind'Amour and other retired stars—is a shocking addition that could very well launch them back into playoff contention by next year.