New York Yankees: Projecting Jesus Montero's 2012 Stats vs. Yankees DHs
February 28, 2012

Drew Hallowell/Getty Images
It is true that the starting lineup for the New York Yankees might soon be more suited for Old-Timers' Day than the grind of a 162-game season. Six of the projected starters are over 30, and Brett Gardner (28), Robinson Cano (29) and Russell Martin (29) are closing in on 30 candles.
Then the Yankee lineup got even older during the offseason when they traded Jesus Montero—their best young hitting prospect—to the Seattle Mariners for Michael Pineda—the equally young hard-throwing right-hander.
Oddly enough, the Bronx Bombers' youth movement is on the pitching side of the equation with Pineda now in the rotation and at least three highly regarded prospects on the horizon.
But experience does count for something and the addition of Raul Ibanez to share the designated hitter role with Andruw Jones, as well as spend some time in the outfield, might provide a bigger benefit in the short term to the Yankees than having Montero in the lineup as an everyday DH and occasional catcher.
And old-time scout and new-age sabermetrician will agree that Montero can hit. He has hit at every level in the minors and kept right on hacking when he joined the Yankees late last season, batting .328 with four homers and 12 RBI in 69 plate appearances. He walked seven times and struck out 17, not a bad ratio for a young power hitter. Projected over a full season, those numbers increase to 36 HRs and 108 RBI.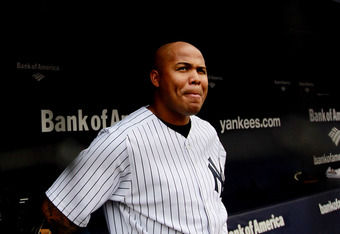 Nick Laham/Getty Images
But there's the rub: Sixty-nine plate appearances is not remotely close to an adequate sample. What would Montero do over 162 games?
How would he fare when facing teams and pitchers a second and third time. Could he make the adjustments every hitter has to make?

His brief time in the majors doesn't factor how he would respond to his first prolonged slump or how catching a few games would affect his hitting.
Jones and Ibanez, in comparison, have compiled a substantial body of work that makes it easier to project how they will perform this season. Neither will hit for a high average so give Montero the edge in that category.
But the 34-year-old Jones, who hit 13 homers with 33 RBI in 2011, should be able to match those numbers this year. Ibanez, who is 39 and whose production tailed off last season, still finished with 20 homers and 84 RBI and will be playing in another hitter-friendly ballpark in a lineup stacked with big bats.
Montero doesn't have Alex Rodriguez, Mark Teixeira, Robinson Cano and Curtis Granderson jitting ahead of him. And Safeco Field in Seattle is one one of the least friendly hitting parks in the American League.
How do we think Montero, Ibanez and Jones will fare this season:
Based on most projections, Montero will have an average around .280, with 20-25 home runs and 80-90 RBI. But that is not taking into account being the primary catcher and playing in a pitcher's park.
Ibanez and Jones should match or surpass that when they are in the lineup as a DH. Look for Jones to hit 10-15 homers with 40-50 RBI as a DH; Ibanez should be able to hit 12-15 homers and drive in close to 40-50 runs when he is the DH.
Montero could very well be on his way to stardom a year or two from now, while Jones and Ibanez are adjusting to life without baseball. But for the Yankees, the future is always now.