UFC: Zuffa Takes Yet Another Shot at Fedor Emelianenko
March 17, 2017
Tomokazu Tazawa/Getty Images
Zuffa has finally acknowledged Fedor Emelianenko—in trading card form. And it's not even a card of him; it's a card of Antonio "Bigfoot" Silva beating him up.
The card is part of a recent series of Topps cards that also promote Strikeforce fighters along with their UFC counterparts. 
Zuffa (the company that owns the UFC) and Fedor Emelianenko have a long history of never getting along. 
After the fall of Pride in 2007, Emelianenko and his management couldn't come to terms with Zuffa. This helped earn the ire of UFC president Dana White. 
Emelianenko, therefore, went to the emerging Affliction promotion, left after it became defunct and then wound up in Strikeforce, where he went 1-3.
The loss to Antonio "Bigfoot" Silva was particularly devastating to fans because they thought that Fedor's previous loss to Fabricio Werdum was a fluke and that the Russian would destroy Silva. They were wrong.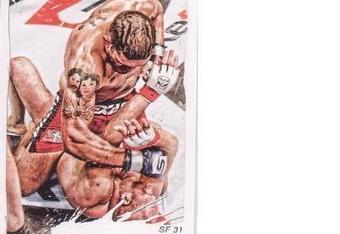 Silva dominated the smaller Fedor and forced a doctor stoppage between the second and third rounds. 
Now, thanks to Zuffa, the moment where "Bigfoot" got mount on Emelianenko and pounded his face in is immortalized forever on a playing card. 
Thus, it seems that Zuffa has never gotten over Fedor not signing with them and are still seeking to bury the man even though the evolving MMA game and his terrible management team have already done that. 
At best, the card is a bit distasteful. At worst, it's kicking a man while he's down.