Rampage Jackson and 7 MMA Fighters That Are on the Down Side of Their Career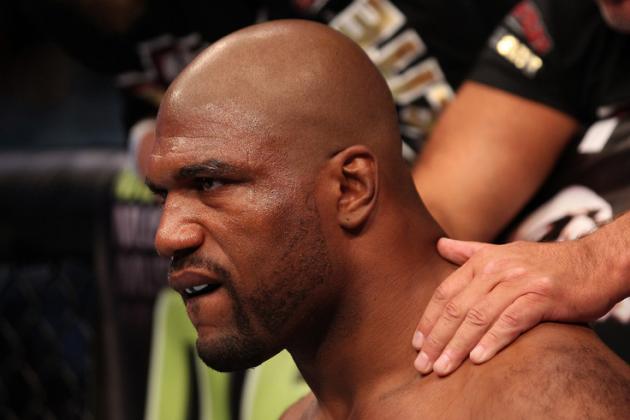 Photo by Jed Jacobsohn/Zuffa LLC/Zuffa LLC
Remember the New Zealand flick Once Were Warriors? Putting the synopsis of the film to one side, the title suggests that those warriors are no more. That same legend applies to the world of MMA.
Time was when cage fighting generals akin to Quinton "Rampage" Jackson exhibited certain skills that were synonymous to their times, but with times changing and the sport evolving, such combatants have found themselves wanting whilst others have borne the scars of incessant battles.
This all but precipitates the inevitable curtain drawing (for some) to a once storied career. And no matter how hard they might try to conceal that fact, their demise is plainly obvious to all to see.
Here's a look at some fighters on the slippery slope of their careers.
Begin Slideshow

»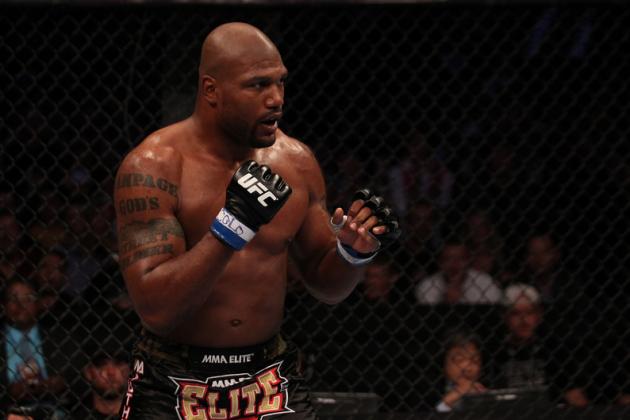 Photo by Jed Jacobsohn/Zuffa LLC/Zuffa LLC
The former UFC 205-lb titlist is 42 fights to the good and has 32 victories to his name to boot.
Rampage Jackson is an MMA stalwart and has been in with the best of them. However, his co-main event defeat against Ryan Bader at UFC 144 Japan would suggest that the former Pride resident's career is on the downturn.
That said, when the 33-year-old recently contested for the light heavyweight belt against Jon Jones, he did display some glimpses of the Rampage of old.
Nevertheless, with his mind on other things like boxing and acting, coupled with his inability to evolve with the sport, it's safe to say he could up sticks at any moment and call it a day.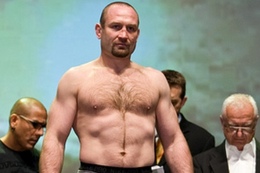 Esther Lin/AllElbows.com
In his 32-fight career, Vladimir "The Janitor" Matyushenko has had notable wins over the likes of Antonio "Minotouro" Nogueira, Pedro Rizzo and Tim Boetsch, and is presently 4-2 in his UFC tenure.
However, at 41, and with his recent loss against the young Swedish prospect Alexander Gustafsson, his career in MMA is evidently on the downslide.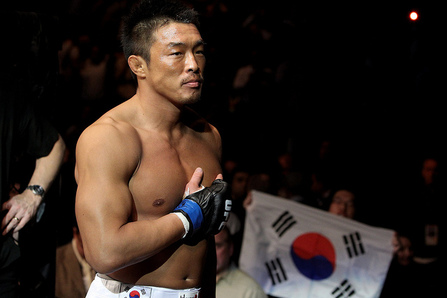 Photo by Josh Hedges/Zuffa LLC/Zuffa LLC via Getty Images
The sexy one—"Sexyama"—began his professional MMA career in his native Japan nearly eight years ago with an armbar submission over South African pugilist Francois Botha.
Though he lost his next outing, Yoshihiro Akiyama would go on a 14-fight unbeaten streak with notable victories against Alan Belcher and Denis Kang.
However, once he signed with the UFC, his column of wins suddenly turned into a spate of losses—Chris Leben, Michael Bisping, Vitor Belfort and most recently Jake Shields at UFC 144.
The judoka has failed to acclimatize to the elite fighting of the Zuffa-based promotion and, as a result, has paid for it dearly.
At almost 37, he's at a career crossroads, and with no shining light at the end of the tunnel, UFC Japan could herald Akiyama's downward spiral to MMA obscurity.
Still, he can always fall back on his commerce degree when his vocation comes to an end.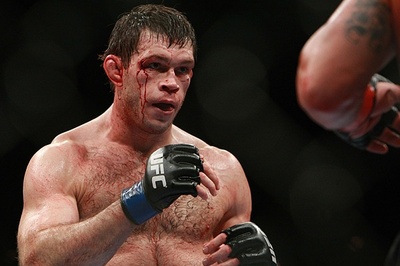 Courtesy Themartialarts.ca
Forrest Griffin is a former UFC light heavyweight titlist, but injuries have played a part in hampering his career thus far. Even though he's only 32, Griffin's career is effectively over.
Thus far, he's lost three of his last five matches (Rashad Evans, Anderson Silva and Mauricio Rua) and is now expected to face off against Tito Ortiz, in what should be Ortiz's last hurrah fight.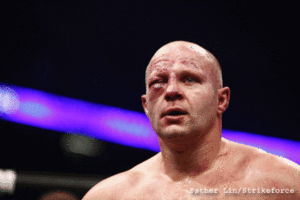 Esther Lin/Strikeforce
In his day, "The Last Emperor" was literally the best of the best. His style mostly encompassed a stand-and-bang stratagem whilst executing submissions whenever the need called for it. It was the former approach that would prove detrimental to his legacy and career.
The former Pride heavyweight champion took on and defeated the crème de la crème of his era—Antonio "Minotauro" Nogueira (twice), Mark Coleman (twice), Kevin Randleman, Mirko Filipovic, Tim Sylvia and Andrei Arlovski.
By the time Fedor entered the fray Strikeforce, he was riding a 27-fight undefeated streak and topped that with a second-round TKO of Brett Rogers on his debut for the San Jose-based promotion.
However, his next three outings for the company ended in unmitigated disasters—a submission loss to Fabricio Werdum, a TKO defeat to Antonio Silva and a KO humbling at the hands of Dan Henderson.
Fedor has since registered two victories against the lower food chain of MMA fighters, giving the assumption that he either can't contend with the elite combatants or he's content to fill his coffers before calling it a day.
Whatever the case may be, at 35, Fedor is on the down side of his once illustrious career.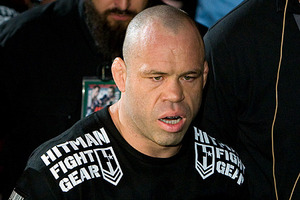 Courtesy MMAmania.com
Once upon a time, Wanderlei "The Axe Murderer" Silva was one of the planet's most feared and violent fighters of mixed martial arts.
Silva's days at Pride will forever be cemented in the annals of MMA history—his destruction of Quinton "Rampage" Jackson (twice) is just one of the reasons why.
However, The Axe Murderer's dominance began to wither, especially in the latter part of his career—he suffered two concussive KOs (Mirko Filipovic and Dan Henderson) in his last two outings at Pride.
His approach of meeting fire with fire and incorporating little or no defense has been the catalyst in his downfall, even more so in his present UFC stint, where he's compiled a 3-4 record whilst suffering embarrassing loses to the likes of Chris Leben.
In his most recent fight, he decimated Cung Le. However, that win hasn't papered over the cracks that have become too apparent in the 36-year-old Brazilian's faltering career.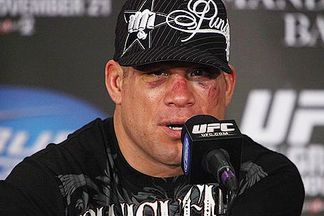 Dave Mandel/Sherdog.com
The former UFC light heavyweight champion reigned supreme over the division for nigh on four years and still holds the record for most title defenses in that class—five.
He lost the title to Randy Couture and followed that up with a defeat to Chuck Liddell. Tito Ortiz then went on a five-fight win streak against such accomplished fighters as Ken Shamrock (twice) Vitor Belfort and Forrest Griffin.
The former Huntington Beach Bad Boy's road to redemption was abruptly halted by Liddell and the rut continued from there on in. Including the aforementioned loss, Ortiz is currently 1-6-1 in the Zuffa-based organization.
Ortiz was for all intents and purposes a wrestler first and foremost. However, that wasn't enough to make waves in the ever-evolving sport of MMA. As such, he and his career have fallen by the wayside.
For additional information, follow Nedu Obi on Twitter.