CFB Preseason Rankings: Current Hit Song That Describes Each Top 25 Team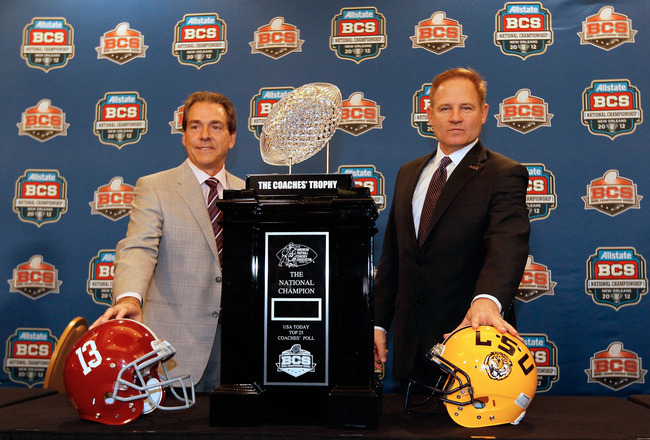 Kevin C. Cox/Getty Images
Well, it is that time of the year!
Yes, I am comparing the top current hit songs (according to Billboard) to my projected preseason Top 25 (at the moment) for the 2012 preseason.
Maybe you despise some of these songs, or maybe you actually love them, but we can still talk about college football here (isn't that all we talk about?).
I eat, sleep and drink it, so let us discuss where you think certain teams should and eventually will end up once the preseason polls come out at the end of August.
Note: Many of these songs do not have huge ties to college football teams, but you'd be surprised with the correlations that I drew.
25) Boise State: Fun Feat. Janelle Monae—We Are Young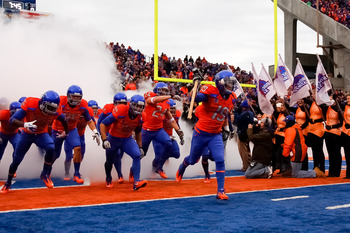 Otto Kitsinger III/Getty Images
Kellen Moore, Tyler Shoemaker and the entire defensive line is gone. Chris Petersen, however, still remains, so the youth on this squad will need to answer the bell quickly.
The Smurfs open their season at East Lansing in the home opener against Michigan State. We will find out how much they grew up during the summer and how great life will be without Kellen Moore.
Similar to this popular song, Boise State needs to just enjoy their final season in the Mountain West with brighter things awaiting them in the near future.
24) Virginia Tech: Adele—Someone Like You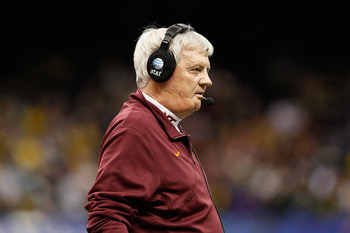 Kevin C. Cox/Getty Images
This Adele song describes what Frank Beamer has done for Blacksburg and Hokie nation.
Virginia Tech has won ten or more games for eight straight seasons (five BCS bowls), and they have carried the ACC. Will they do it again without stars such as running back David Wilson and defensive back Jayron Hosley?
23) Florida: Nicki Minaj—Starships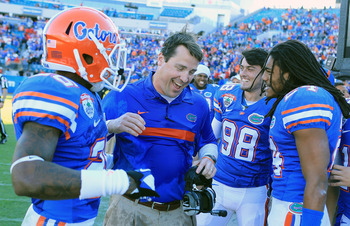 Scott Halleran/Getty Images
"Let's do this one more time" is something the Gators would dig, since they have been out of the BCS picture for the last two seasons.
They have a long way to go before they become a legitimate ten-win team, but they look like they have the talent and maxi to do so.
22) Notre Dame: Pitbull Feat. Chris Brown—International Love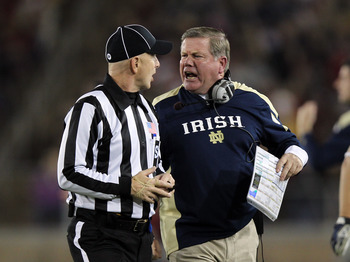 Ezra Shaw/Getty Images
Lyrics such as "I feel the heat" might just be what Brian Kelly will be saying all summer and fall in 2012.
The Irish need a solid season and perhaps even a BCS bowl to get back to national relevancy. They have a legitimate front seven on defense, but what about their quarterback quandary?
If the questions get answered right away, the Irish could easily earn a 10-plus-win season.
21) Stanford: David Guetta, Feat. Usher—Without You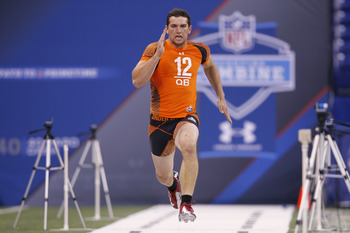 Joe Robbins/Getty Images
"I will never win this game without you" is something Cardinal fans do not want to be saying next season now that Andrew Luck has gone off to the NFL Draft.
Still, Stanford shouldn't be awful by any means, and though they may not be the same without Mr. Luck, David Shaw has brought in a tremendous recruiting class to make them future contenders.
20) TCU: Coldplay—Paradise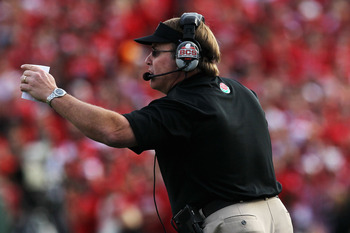 Stephen Dunn/Getty Images
Gary Patterson and his Horned Frogs should feel like they are in "Paradise" since they are heading into the Big 12.
Many feel they will struggle right away, but this team has proven they can play with the big boys any day of the week.
19) Wisconsin: LMFAO—Sexy and I Know It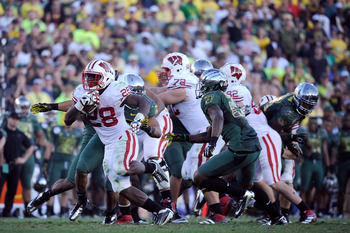 Kevork Djansezian/Getty Images
The Badgers have been as sexy as it gets for Big Ten terms, appearing in consecutive Rose Bowls.
Despite losing to both TCU and Oregon (speed kills), the Badgers proved last year that overcoming adversity is achievable.
After a heartbreaking loss to Michigan State, they bounced back and knocked them off in a thrilling Big Ten championship to land a spot in Pasadena.
Can they make it three in a row?
18) Auburn: Selena Gomez & the Scene—I Love You Like a Love Song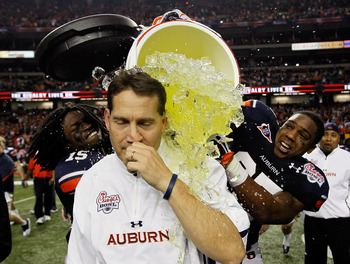 Kevin C. Cox/Getty Images
Gene Chizik is coming off a solid eight-win season where many doubted whether they would go even go bowling.
It wasn't a dream or love song type of season like their 2010-2011 BCS title run, but 8-5 was respectable. Even without Cam Newton, the offense found a way to improve throughout the season.
Heading into the 2012 season, the future looks extremely bright, and the fans will be loving Gene Chizik if he can get them back towards the top of the SEC mountain.
17) Kansas State: The Wanted—I'm Glad You Came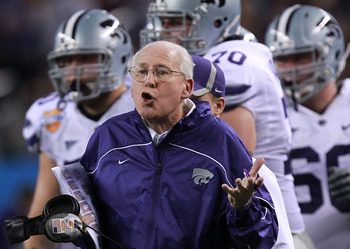 Ronald Martinez/Getty Images
Where would the Wildcats be without Bill Snyder?
Kansas State got back on the national map several times with Snyder at the helm, and last season was as close of a dream season as we may see in Manhattan.
The Cats were glad that Snyder came back in 2009 for his second successful tenure. The future still looks bright for K-State with Collin Klein back on offense as well as a defense that surprised many last year.
16) Nebraska: Drake, Feat. Rihanna—Take Care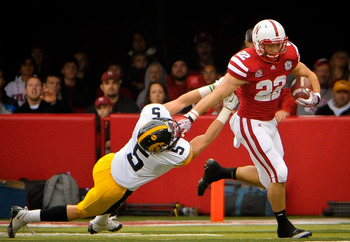 Eric Francis/Getty Images
I have been able to draw a comparison to every single team, but this one is not exactly easy to relate.
Perhaps taking care is something Bo Pelini and the Huskers need to do in their second season coming in the Big Ten, since there are still skeptics out there.
Is Taylor Martinez the real deal at quarterback, or will he be benched?
How much will the passing game improve, and can the defense get back to rising to the occasion?
If those questions are answered, Pasadena could be home of the Huskers for just the third time in program history.
15) Texas: Young, Wild & Free—Snoop Dogg & Wiz Khalifa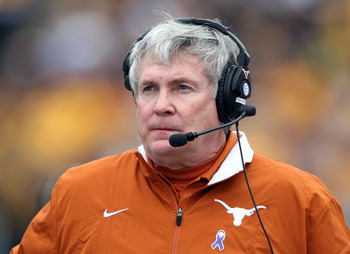 Jamie Squire/Getty Images
The Longhorns were an extremely young team this past season, and the youth will still be serving next season in Austin.
However, this young squad will be a solid dark horse to win the conference, and the defense has that silly talented swagger that you cannot teach.
The Burnt Orange are primed for a banner season in 2012. You can book it if the offense sees any improved consistency.
14) Ohio State: Kelly Clarkson—Stronger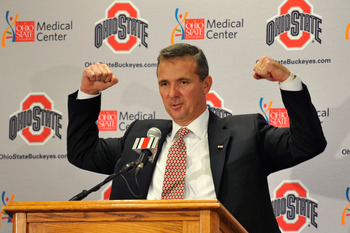 Jamie Sabau/Getty Images
Many intelligent Buckeye friends of mine requested this song (funny but true) because Ohio State did go through so much in the past year.
Losing Jim Tressel really hurt Columbus, but they have brought in legendary coach Urban Meyer. The guy is a gamer and determined to make the Buckeyes as strong as it gets.
13) Clemson: Flo Rida, Feat. Sia—Wild Ones
Mike Ehrmann/Getty Images
These Clemson Tigers really are "Wild Ones" because they look as good as it gets, and at other times you wonder if they really will be anything more than silly ole Clemson.
However, the future is bright. They should once again provide us a ton of excitement (Sammy Watkins is simply electric), though I am not expecting a roller coaster of a season.
Everybody wants to know whether or not it will be the silly Tigers that cannot perform consistently in the spotlight, or if they finally rise up. I am liking the latter in 2012.
12) Michigan State: Bruno Mars—It Will Rain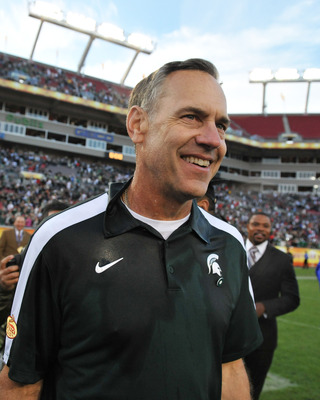 Al Messerschmidt/Getty Images
"When it rains, it pours" is that old saying, and the Spartans saw several close games go their way in 2011.
Plus, Sparty nation hasn't been this excited over football in seemingly forever. Mark Dantonio has resurrected this program into a legitimate Top 20 program, and he is attempting to get them competing for a national title.
Though they have yet to appear in a BCS game, MSU will break through sooner or later. However, they need their leader, Mark Dantonio, since this program would arguably be back in the dumps without him.
11) South Carolina: David Guetta, Feat. Nicki Minaj—Turn Me on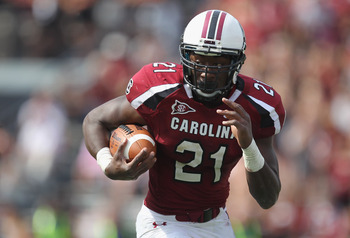 Streeter Lecka/Getty Images
Steve Spurrier has put together the greatest consecutive seasons in the history of South Carolina football, leading them to the most combined wins.
The best news could be if Marcus Lattimore turns out to an even better back after his tough knee injury. If so, then that BCS switch might be turned on in Columbia next year.
10) Michigan: Jay-Z & Kanye West—Ni**as in Paris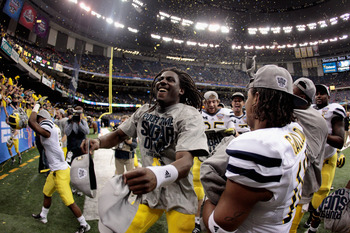 Chris Graythen/Getty Images
Michigan was balling pretty hard in their first season with Brady Hoke at the helm, and the Maize and Blue will always draw a crowd.
They are as popular as it gets for the average college football fans, though time will tell if they can improve upon their special 2011 year that ended with a BCS Sugar Bowl victory over Virginia Tech.
9) Arkansas: Tyga—Rack City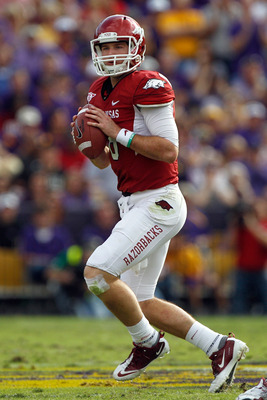 Chris Graythen/Getty Images
The Razorbacks have been so close to becoming stars that I am giving them the benefit of the doubt since they have had consistent and consecutive seasons of 10-plus wins.
Tyler Wilson is returning, and a healthy Knile Davis may give them more than enough punch to upset the likes of Alabama and LSU next season (both home games).
8) West Virginia: Flo Rida—Good Feeling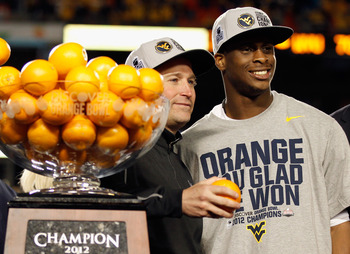 Mike Ehrmann/Getty Images
It should be more than just a "Good Feeling" for the Mountaineers heading to the Big 12.
They have all the momentum in the world right now with Geno Smith and his talented crop of receivers.
The defense is good enough to contend for the Big 12 title, but the ability to put up 30 points every weekend gives them a great chance.
Don't be shocked if they come in right away and compete for the Big 12 title and ultimately the big prize.
7) Florida State: Big Sean Feat. Nicki Minaj—Dance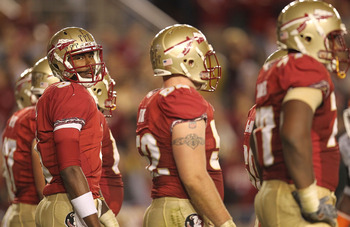 Mike Ehrmann/Getty Images
Florida State might be doing a lot of shaking and dancing (though Mark Stoops will go off on you—great coaching style) with a loaded defense that could be the best in the nation.
The defensive line is nasty, and the secondary is filled with stars. The year really comes down to E.J. Manuel staying healthy, along with the development of the young stars around him such as the offensive line.
Many believe they have arguably the most underrated receiving corps in the nation, which means it could finally be "Hammertime" in Tallahassee next season.
6) Oregon: Jessie J—Domino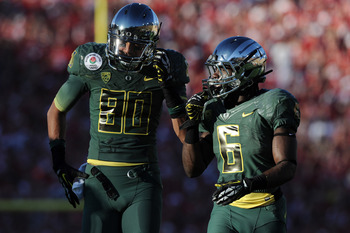 Harry How/Getty Images
I am quite sure the Ducks' mascot always "feels like a shot of pure gold," but that could be due to the fact that Lee Corso is always around.
However, the Ducks will be an interesting team without LaMichael James and Darron Thomas at quarterback.
The defense should be improved, and Bryan Bennett could impress as the new signal-caller.
Last time I checked, though, De'Anthony Thomas and Kenjon Barner are still arguably the best one-two punch in America (for offensive burners), and all should be well in Eugene once again.
5) Oklahoma: Drake Feat. Lil Wayne, Tyga—the Motto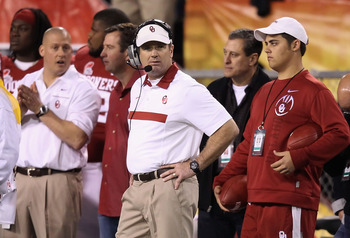 Christian Petersen/Getty Images
Even after a rather disappointing season in which they failed to reach a BCS bowl (preseason No. 1), the Sooners have been one of the mottos in college football (at least during the regular season).
Since Bob Stoops' second season in Norman, OU has won 10 ten or more games all but twice. Nine times the Sooners have won eleven or more games. With Landry Jones back, OU could be due for another sensational season.
4) Georgia: Chris Brown—Turn Up the Music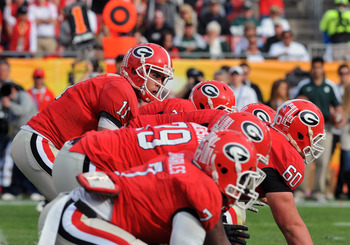 Al Messerschmidt/Getty Images
The 'Dawgs may be cranking up the music with a big season ahead of them, led by quarterback Aaron Murray and a fine defense.
UGA's defense will not be hyped as the best in the SEC, but they might end up being the finest not only in the SEC, but possibly in the country.
3) Alabama: Adele—Rolling in the Deep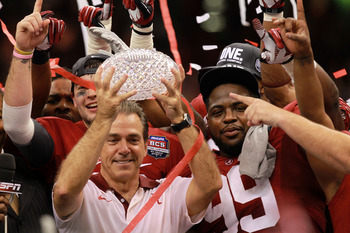 Ronald Martinez/Getty Images
You could use Adele's other hit song (Set Rain To The Fire) as well, but this song has a decent fit with the best coach in college football.
Nick Saban was hated and mocked by many for leaving the Miami Dolphins, and some just flat out despise the guy to begin with.
Saban has since won two titles with Alabama and has essentially made the naysayers eat crow for breakfast, lunch and dinner. That will not stop them from cheering against Saban and Alabama, but the guy owns the landscape of college football right now.
Despite losing a boatload of NFL players on defense, they will reload better than anybody and have a shot to reclaim glory.
2) USC: Rihanna Feat. Calvin Harris—We Found Love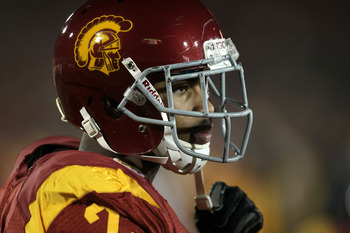 Stephen Dunn/Getty Images
Every Trojan fan in the nation felt like they found some love when they heard about Matt Barkley returning for his senior season. A likely top-10 pick, Barkley now returns with a USC receiving unit that should be the best in the nation.
The defense has one of the best back sevens out there, and the schedule is not daunting enough to lose sleep. Point blank, these Trojans should be the team to finally dethrone the SEC, assuming they get there.
1) LSU: Katy Perry—Part of Me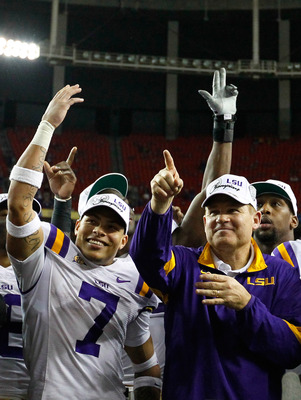 Kevin C. Cox/Getty Images
I never thought I'd compare Katy Perry to Les Miles, but let's do this.
Miles doesn't have many tough days, but he did on the night of their 21-0 loss in the BCS National Championship.
The press ate him alive, and even his own supporters questioned the man who has already accomplished a career's worth.
The "mad hatter" is still among the top five coaches in the game (easily), and his Bayou Bengals are primed to be the preseason darlings in 2012.
Book them for first or second with USC in the preseason, and it wouldn't be a shock if they land back in the title game.
Keep Reading