NFL Free Agency 2012: Where the Top 10 Players Will Land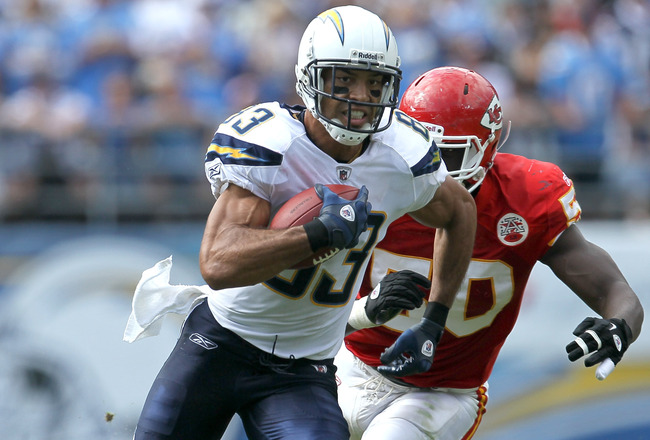 Free Agent WR Vincent Jackson
Stephen Dunn/Getty Images
NFL Free Agency begins March 13, 2012. This year's class is better than we usually have. That, combined with the depth of the draft, makes for some interesting situations across the league.
Players are now more likely than ever to test the free agent waters. The norm for a professional athlete these days is to be on numerous teams throughout their career.
And why not?
It is human nature to think the grass will be greener elsewhere. Whether it is accurate is irrelevant. Sometimes a new city is exactly what a player needs to become a superstar. Sometimes the move is a bad one, and the player's production is never the same.
Where a free agent decides to sign is a big deal, both personally and professionally. Here are my predictions for where the top 10 players will end up in 2012.
Drew Brees, QB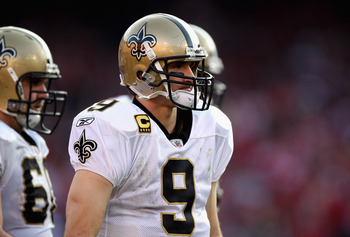 Drew Brees
Jed Jacobsohn/Getty Images
Next to new hurricane procedures, the most important thing for New Orleans is re-signing Drew Brees. This city has let stars leave before, but it can't afford to let Brees walk. Aside from the public relations nightmare it would be, the Saints need Brees.
Coach Payton has tailored the offense around Brees' abilities. Brees broke Dan Marino's single-season passing yards record last season with 5,476.
Conventional thinking would suggest that Brees will re-sign, no problem. Currently, the Saints and Brees are discussing the finer details of a new deal. This is promising for Saints fans, but the possibility is always there for talks to break off and Brees to seek employment elsewhere.
That said, New Orleans would quickly slap the franchise tag on him and lock him in a Saints uniform for another season. Either way, happy or not, Brees remains a Saint for this season at the very least.
I, however, don't think Brees will leave New Orleans. I think both he and the franchise know that they need each other, and to be honest, if it isn't broken, don't fix it. Brees will re-sign with the Saints.
Ray Rice, RB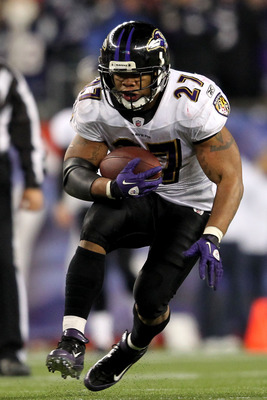 Ray Rice
Jim Rogash/Getty Images
Ray Rice is one of the best running backs in football. We're told he wants an Adrian Peterson type of deal. While that's not out of the question, it is a reach.
Ray is the type of back who excels on a team with a decent passing game. He is as much of a threat catching a 5-yard screen pass as he is on a draw play. He runs North and South, has powerful legs and is quicker in his cuts than it might look.
I think the Ravens will stamp Rice with the franchise tag this season, and re-evaluate things after this season. Rice has already stated that being franchised this season is okay by him. If he can produce this year at a high level, he might convince the Ravens to give him that huge deal. He had a decent season in 2011, averaging 4.7 yards per carry. Throw in his 76 catches, and you begin to see Rice's value.
Although I think it will be via the franchise tag, Rice will re-sign with the Ravens.
Mario Williams, OLB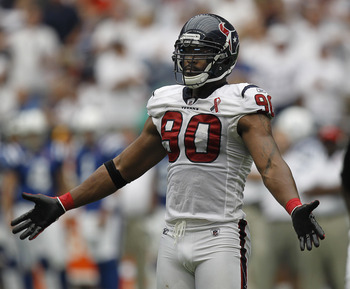 Mario Williams
Bob Levey/Getty Images
The former No.1 overall pick back in 2006 will be fielding offers for employment come March 13. Mario Williams moved from his position as a defensive end last season to outside linebacker in the Texans' new 3-4 style defense. Super Mario tore a muscle in his chest during Week 5 against the Oakland Raiders and was done for the season.
The Texans have made it clear they want to re-sign Williams, but they will have less than $10 million in cap space at best to do so, and Williams should garner twice that in the first year of whatever new deal he signs.
Williams will be on a lot of teams' wish lists this offseason, and rightfully so. The Cleveland Browns can afford to sign him, but does Mario want to go to an organization or a city like Cleveland? They do have new blood in the front office, and the potential to draft Baylor's RG3 if they choose to move up. Those are things Mario would have to consider.
The San Diego Chargers are my pick for Williams. He has made it clear that he is not concerned about being the highest paid player, and is looking for a good fit and a good team. San Diego needs a pass-rusher in the worst way, and they should have the cap space to sign Williams. If you have never been to San Diego, few NFL cities can offer such paradise.
Cortland Finnegan, CB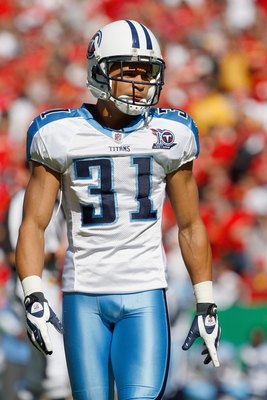 Cortland Finnegan
Jamie Squire/Getty Images
Cortland Finnegan will be looking for a new home in 2012. It has been widely reported that the Tennessee Titans and Finnegan are worlds apart in contract talks. While nothing is certain, it looks like the troubled cornerback will be wearing a new uniform soon. The franchise tag is a possibility, but it is remote.
The Cincinnati Bengals would love to have Finnegan in their secondary, but they declined to spend money on CB Jonathan Joseph last offseason, so it might be a tough deal to make. It will depend on how many teams get involved in the bidding and how much the front office likes him.
The Patriots need defensive help. Bad. Finnegan fits their style, and could help out one of the worst defenses New England has ever had.
I think Finnegan will end up a Detroit Lion. He would be able to play indoors, which always favors a defensive player, be on a young, up-and-coming team, and it would seem head coach Jim Schwartz is his kind of coach. If the Lions are willing to spend some money, it is a good fit.
Calais Campbell, DE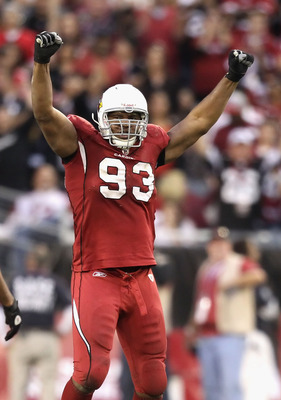 Calais Campbell
Christian Petersen/Getty Images
The Arizona Cardinals have several holes to fill, but if they hold onto Campbell, it is a solid start. All indications are that Arizona will be keeping Campbell, even if it is via the franchise tag. Both sides are working on a long-term deal, but in case one is not reached, the Cardinals will look to franchise Campbell.
The Jacksonville Jaguars are a team looking to upgrade at the defensive end position, so if Arizona doesn't sign Campbell, look for the Jags to swoop in with a sweet deal.
Matt Forte, RB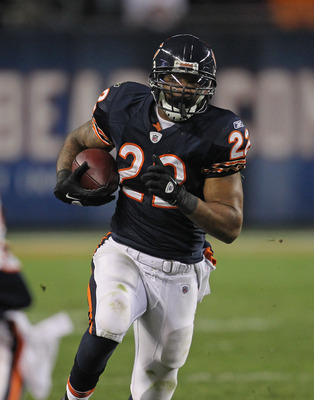 Matt Forte
Jonathan Daniel/Getty Images
Matt Forte is one of the most coveted running backs in the NFL. He is almost a better receiver than he is a true runner. Whatever you might think he does best, he will be highly sought after if the Bears let him go.
Last season, Forte made it clear he wanted a new deal. He certainly earned one, by NFL standards, but he played hard, kept his mouth shut and acted with the classiness we typically don't see in young players.
The Bears new general manager, Phil Emery, is likely going to want to make the fanbase happy right away, and he knows this starts with re-signing Forte. Besides being in the best interest of the franchise, Forte is extremely popular with Bears fans, and letting him walk would be a disaster.
Chicago will re-sign Forte. I think Emery is smart enough to get a long-term deal with their stud running back done now, but even if that's not possible, he will be franchised.
Cliff Avril, DE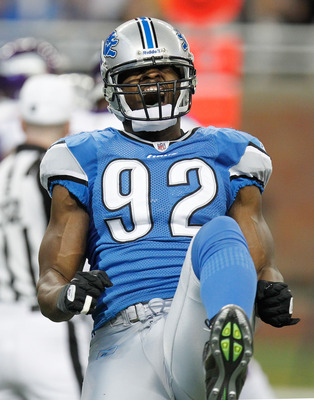 Cliff Avril
Gregory Shamus/Getty Images
The Detroit Lions have reached a fork in the road. They have a team absolutely loaded with young talent. While that is a nice problem to have, it also means tough decisions have to be made on who does and who does not get long-term contracts.
Avril has made it clear that he wants a long-term deal, and does not want to be franchised. He has stated he will hold out if Detroit places the franchise tag on him. It seems he is destined to play for another team this season.
I expect the Jacksonville Jaguars to go hard after Avril. They have the cap room, and need a defensive end. I expect Mario Williams to go elsewhere, and Calais Campbell to stay in Arizona, so that leaves Avril for the Jags to spend a fortune on. The Jaguars have been going through some changes, and adding a player of Avril's caliber is a great way to turn a new page. One other detail...Avril is from Jacksonville. Expect him to be a Jag in 2012.
Dwayne Bowe, WR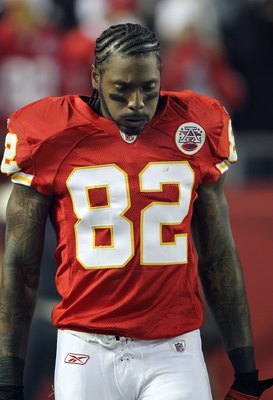 Dwayne Bowe
Jamie Squire/Getty Images
Dwayne Bowe leads a stellar class of free agent wide receivers in 2012. He had a solid season in 2010, but the Chiefs didn't reward him with a new deal. They wanted to see results in 2011 before they went that route.
Bowe played well last season, and proved he is a No.1 receiver in the NFL, and a commodity the Chiefs can't afford to lose. I look for the two sides to work out a long-term contract extension before he can go elsewhere. The Chiefs are a great fit for Bowe. The smaller market of Kansas City is what a low-key type like Bowe likes. He's also got a talented young quarterback in Matt Cassel.
Bowe will re-sign with the Chiefs.
Stevie Johnson, WR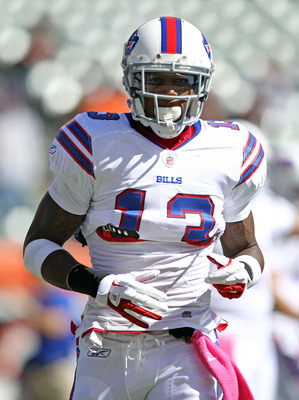 Stevie Johnson
Andy Lyons/Getty Images
He might not be the best free agent out there, and he certainly comes with baggage, but with his age, talent and speed, there will be buyers for Buffalo's Stevie Johnson.
Johnson is said to really like the Buffalo community, and it is a big reason for him to stick around, but the Bills and Johnson are still a ways apart. He won't command a huge deal, but it won't be cheap either. Johnson wants to be paid like a No.1 receiver, and last season's performance won't help him.
Johnson showed so much promise and flair in 2010, but seriously came down to Earth in 2011.
The Minnesota Vikings are a team desperate for receiver help. Eventually, Christian Ponder will need someone to throw to when Percy Harvin has migraines or is doubled. He would provide a deep threat for Minnesota, and be a solid option on the quick slants and screens, much like the Vikings use Harvin now.
I think of all teams interested in Johnson, the Vikings are the front-runner. I ultimately think he will re-sign with the Bills, but if contract talks break down, Minnesota will likely try to snag him.
Vincent Jackson, WR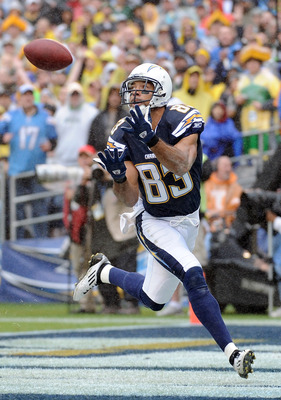 Vincent Jackson
Harry How/Getty Images
Vincent Jackson is a legitimate superstar wide receiver. The Chargers have been flirting with the idea of trading him away more than once. Jackson even held out before finally deciding to play.
All of that said, Jackson is believed to want to stay in San Diego. He is rumored to be willing to give the team a discount on his services as well, which would be a huge break for the Chargers. So far, no deal is in place. The closer we get to Jackson hitting the open market, the worse it will be for the Chargers.
Jackson is looking for a long-term, deal, but the Chargers are said to be offering a three-year deal. Jackson is looking more in the five- or six-year range.
One team that has had a not-so-secret crush on Jackson is the Minnesota Vikings. They almost had a deal in place a couple of years ago, but couldn't finalize it. If Jackson is going to be lured away, it will be by Minnesota who will have no problem handing out a five-year deal for the stud receiver.
Jackson will either stay with the powder blues, or make the leap into purple pride. My guess is he will stick around in San Diego, sorry Vikings fans.
NFL Free Agency Begins March 13, 2012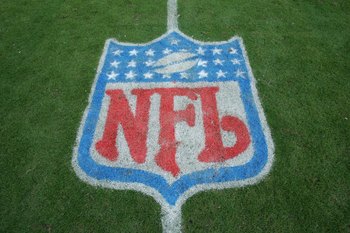 Doug Pensinger/Getty Images
I can't recall a free agency period I have been more excited about than this one. There are so many options, and there are several franchise-changing players out there.
I know I left out a few offensive linemen in this list, and I also left out Green Bay Packers free agent QB Matt Flynn. The former is because O-line deals are not that fun to speculate about, the latter is because I happen to believe Flynn is a C-plus QB in the NFL, at best.
I know the six-touchdown performance, sitting behind Aaron Rodgers, being a part of a Super Bowl-winning team, blah, blah, blah. I don't think he is anything special. He can be a serviceable starter in the NFL, but that's where the line is drawn for me. That said, plenty of average QBs have won Super Bowls.
It will be interesting to see where these guys end up, and what ripples they will make in what teams are better next season. Many teams are looking for a turn around year, and free agency is a great place to start that journey.
Keep Reading