Fantasy
2012 NHL Trade Deadline: Breaking Down the Last 5 Trades (Part 1)

Jamie Sabau/Getty Images
February 27, 2012
It's the 2012 NHL trade deadline and teams are making moves to bolster line-ups for a playoff run or working on the rebuild.  Lets break down the latest transactions.
Tampa Bay Lightning trade Matt Gilroy to the Ottawa Senators for Brian Lee.
Tampa Bay continues to rebuild its defensive core, and the latest piece, Lee, has great potential and needed a fresh start.  Lee was drafted ninth overall in the 2005 draft as he showed great potential as a puck moving defenseman through his NCAA career. 
Lee put up 53 points in 82 games with North Dakota and followed that up with 25 points as a rookie in 55 games with Binghamton of the AHL.  Lee has the potential to be a 35-40 point defenseman, and getting out of the Ottawa system may be enough to get him there.
Gilroy is with his third NHL team now over the last two seasons.  Gilroy is a strong skating defenseman who puts up okay numbers.  Gilroy was a stud in his final year with Boston University, where he scored 37 points in 45 games, but just hasn't been able to translate that into NHL success. 
He has 17 points in 53 games this season, which puts him at a point every three games.  Gilroy will have to fight for his ice time with the Senators.
Toronto Maple Leafs trade Keith Aulie to Tampa Bay for Carter Ashton. 
The Lightning get a big, shutdown defenseman.  Aulie will log a lot of ice time but won't put up big offensive numbers.  Aulie is 6-foot-6 and 217 pounds who can throw big hits.  Aulie will likely average 15 points a season and be a strong NHLer, but will have very little fantasy impact.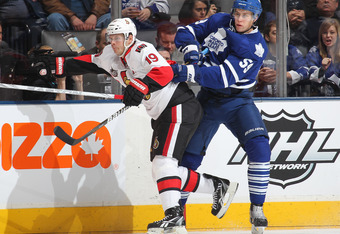 Claus Andersen/Getty Images
Toronto gets a 6-foot-3, 215-pound power forward with tremendous upside.  Ashton won't immediately help the Maple Leafs but could make the roster next season.  Ashton has 33 goals and 71 points this season in the WHL.  Ashton's career potential is 30-35 goal scorer who will average 70-75 points a season.
Edmonton Oilers trade Tom Gilbert to the Minnesota Wild for Nick Schultz.
Edmonton adds a defensive-minded defenseman who will bring a veteran presence to a young Oilers team.  Schultz won't wow you with his offence as he averages 15-20 points a season but brings other tangibles as a shutdown defenseman. 
Schultz will be a defensive conscience for offensive defensemen, like Ryan Whitney.  Schultz doesn't bring much fantasy impact but will make others around him better. 
Gilbert goes to Minnesota where he jumps immediately as its top power play quarterback.  Gilbert scored 45 points four seasons ago with the Oilers so he can put up points.  Expect a jump in his production this season as he goes to a slightly better team right now and will log a ton of power play time. 
Gilbert is locked in for two more seasons at a very reasonable $4 million cap hit.  Count on Gilbert hitting 35-40 points in each of the next two seasons.
Detroit Red Wings trade Mike Commodore to Tampa Bay for a conditional seventh-round draft pick in 2012.
Commodore was the odd man out in Detroit, only playing in 17 games this season.  He was brought in as a depth defenseman for the Wings and with the addition of Kyle Quincey last week, Commodore became expendable. 
Commodore will bring a veteran presence to a young Lightning blue line.  He is an unrestricted free agent, so he may just be a body on the Lightning roster to finish out the season.  No fantasy impact with this transaction.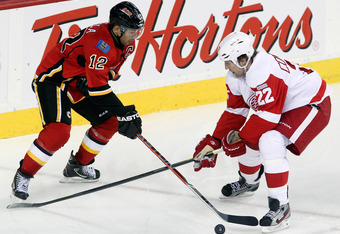 Mike Ridewood/Getty Images
Montreal Canadiens trade Andrei Kostitsyn to the Nashville Predators for a second-round draft pick in 2013 and fifth-round draft pick in 2013.
Nashville adds a rental player, as it believes it is ready to make a run at the Cup.  Kostitsyn is ice cold right now, as he has no points in the last nine games, but maybe a change of scenery will get his game back on track. 
Kostitsyn has been a decent player during the playoffs, where he has 11 goals and 19 points in 41 NHL playoff games, that's a point about every two games.  The Predators are dark horses to win the Stanley Cup, so consider acquiring Kostitsyn as a depth playoff player if your pool uses the NHL playoffs as your fantasy playoffs.
------------------------------------------------------------------------------------------------------------
Aaron Brouwer is the co-creator of www.fantasyhockeycoach.com.  FHC is a free fantasy hockey service that developed a ranking system combining post-lockout statistics, current factors and our own hockey knowledge.  Brouwer writes about fantasy hockey on Bleacher Report. You can contact Coach Brouwer at brouwer@fantasyhockeycoach.com.
Like the new article format? Send us feedback!