Forgotten New York Yankees of the Past 4 Decades: "F"
February 28, 2012

Jim McIsaac/Getty Images
Ruth, Gehrig, Mantle and Jeter are some of the greatest names in New York Yankees history. However, Dellucci, Ellis, and Cary are the names of some of the forgotten Yankees. This series will focus on the less remembered players to wear pinstripes over the last four decades (1970s-2000s). Today's letter of the day is "F."
Wayne Franklin (2005)
We have already discussed one Yankee relief pitcher who played less than a season in New York in 2005. That was Alan Embree. Another pitcher to fit that same description was Wayne Franklin.
After winning 10 games for Milwaukee in 2003, Franklin spent the 2004 season with San Francisco. Five days after he was released by the Giants, the Yankees signed him as a free agent on April 4, 2005.
After posting a 2-3 record at AAA Columbus, Franklin was called up by the Yankees on July 1. In his first month in the Bronx, Franklin's ERA ballooned to 12.27 after allowing five earned runs over his first 4.2 innings of relief.
Franklin eventually settled down and did not allow a run over his next 6.2 innings. He finished the season 0-0 with a 6.39 ERA in 12.2 innings pitched.
Franklin was granted free agency at the end of the season and signed with Tampa Bay in January, 2006.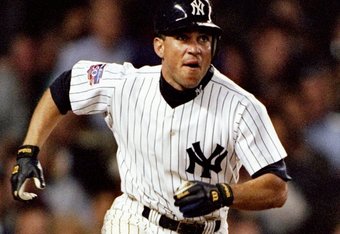 Al Bello/Getty Images
Andy Fox (1996-1997)
Andy Fox was New York's 2nd round draft selection in 1989. Seven years later, he made his debut in pinstripes.
As a rookie in 1996, Fox played in 113 games as a utility infielder during the Yankees championship season. He batted .196 with three home runs, 13 RBI and 11 stolen bases.
One of his best games of the season came in the second game of a doubleheader at Cleveland on June 21. Fox was 3-for-5, including a double, home run and two RBI in New York's 9-3 win. The Yankees won the next two games to complete the four-game sweep.
Fox was included on the Yankees postseason roster and appeared in two games in the ALDS and ALCS and four World Series games as either a pinch-runner or defensive replacement. He scored on Luis Sojo's RBI single in the eighth inning of the 5-2 win over Atlanta in Game 3 of the World Series.
Fox's playing time significantly dropped in 1997. He only appeared in 22 games while batting .226 with one RBI.
During spring training in 1998, Fox was traded to the expansion Arizona Diamondbacks for pitchers Todd Erdos and Marty Janzen. Along with Arizona, he also played in the majors for Florida, Montreal and Texas.
Tim Foli (1984)
The New York Mets selected shortstop Tim Foli as the No. 1 overall draft pick in 1968. Near the end of his career, he suited up for New York's other team.
The Yankees acquired Foli from the California Angels for pitcher Curt Kaufman and cash on Dec. 7, 1983. Regarded as one of the best bunters in the league, Foli was slated to be New York's starting shortstop as he began his 15th major league season.
Unfortunately for Foli, he started the season slowly at the plate and never recovered. His batting average failed to crack the .230 mark until Aug. 13 and by then, he was being platooned with Bobby Meacham at shortstop. 
For the third consecutive season, Foli finished with a .252 batting average while driving in 16 runs. Ironically, Foli recorded four three-hit games during the season, but the Yankees were only 1-3 in those games.
Foli demanded a trade after the season, and New York honored his request. On Dec. 20, 1984, Foli, outfielder Steve Kemp and cash were sent to Pittsburgh for infielder Dale Berra, outfielder Jay Buhner and pitcher Alfonso Pulido. Foli had won a World Series with the "We Are Family" Pirates of 1979. He only played 19 games with Pittsburgh before retiring in 1985.
Ed Figueroa (1976-1980)
There are not too many forgotten Yankees with the last name beginning with "F" from the 1970s. So, pitcher Ed Figueroa may not exactly be forgotten by Yankee fans.
Figueroa was coming off a 16-13 season with California in 1975 when he was traded to New York along with outfielder Mickey Rivers for outfielder Bobby Bonds on Dec. 11. Pitching on a staff with future Hall of Famer Catfish Hunter, Figueroa was 19-10 and helped lead New York back to the World Series. During the season, he pitched three complete games, three-hitters and a complete game, 10-inning win at Milwaukee.
After posting a 16-11 record and a 3.57 ERA in the championship season of 1977, Figueroa's record stood at 7-7 after an 8-2 loss to Kansas City on July 15, 1978. Four days later, he tossed a complete game, six-hit shutout in a 2-0 win at Minnesota.
Figueroa won 11 of his next 16 starts heading into his final start of the season against Cleveland. He pitched a complete game five-hitter to lead New York to a 7-0 win. With the victory, Figueroa became the first (and still only) Puerto Rican pitcher to win 20 games. He finished the season with a 20-9 record.
Figueroa was only a combined 7-9 from 1979 to 1980 before he was purchased by Texas on July 28, 1980. He finished his career with Oakland in 1981. 
Figueroa totaled a 62-39 record over five seasons with the Yankees. His only blemish was an 0-4 postseason record.