Major League Baseball: Albert Pujols and the Game's Top 10 First Basemen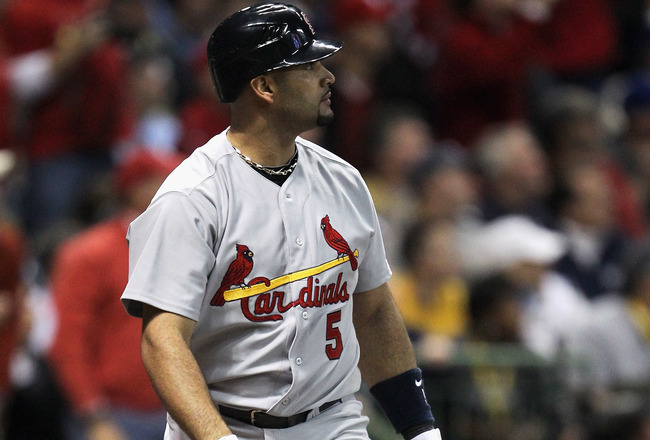 Jonathan Daniel/Getty Images
The 2012 MLB offseason shook up the landscape of the first base position. Two of the best National League first basemen shifted to the American League and the American League's best first baseman shifted to third base.
All of these events led me to wonder, who are the best first basemen in the game?
That question led to this list. My rankings include offensive and defensive contribution as well as value to one's team, so don't be surprised if you don't like a few of my selections. Oh, and by the way, I hate UZR and refuse to use it, so you won't see it in here for my rankings, just fielding percentage and good ol' fashioned RF (range factor).
Qualifications for my rankings include half of each team's games played at first base last year and the projected starter at first this season. With that said, let's get into the list.
No. 10: Michael Morse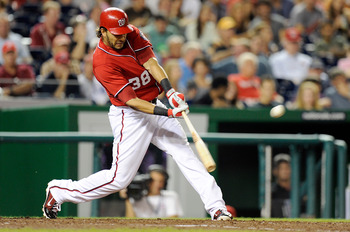 Greg Fiume/Getty Images
Kicking off the list at No. 10 is Michael Morse. Morse had a breakout year in 2011batting .303/.360/.550 with 31 HR, 95 RBI and 73 runs. Morse is almost 29 so his breakout season came much later than those ranked above him.
Morse finally found a position in 2011 at first base. Prior to this past season he was a shortstop, left fielder and first baseman between Seattle and Washington. In 85 games at first base, Morse posted a .994 fielding percentage and a RF/9 of 9.79.
This season with more games at first, I expect Morse's numbers to stay about the same but I doubt his RF/9 will remain as high as it is with just a .994 fielding percentage
The fact that he took so long to get to this level is what led me to rank him so low, however, if Morse posts another season like he did last year, I'll most certainly be a believer. Given the fact that one or two of the guys ahead of him may be in for a regression, that may lead me to bump him up a few spots in next year's list.
No. 9: Adam Lind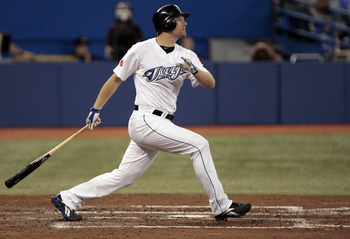 Abelimages/Getty Images
Adam Lind occupies the No. 9 spot. Over the past three seasons Adam Lind has quietly put together an impressive campaign, batting .265/.319/.478 with 28 HR, 91 RBI and 68.6 runs per year.
Those numbers are even more impressive when you consider the fact that Lind had just a .237 average and .287 OBP in 2010. The bottom line though is Lind can mash, and with Jose Bautista in front of him there's no reason to believe he can't continue posting big numbers.
On the field, Lind performed well in his first full season at first base. In 109 games at first, Lind had a .996 fielding percentage and a RF/9 of 9.47. Those numbers shouldn't change much but that's a good thing considering Adrian Gonzalez won the AL Gold Glove at first base with very similar numbers. Had Lind played more games at first base last season and posted those same numbers, he could very well have taken the award home.
No. 8: Freddie Freeman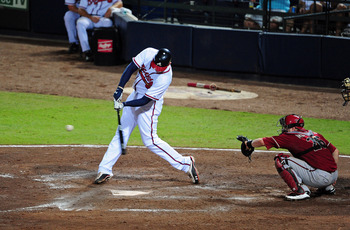 Scott Cunningham/Getty Images
Freddie Freeman burst onto the MLB scene with a solid 2011 campaign. In his rookie season, Freeman went .282/.346/.448 with 21 HR, 76 RBI and 67 runs. Had it not been for his teammate Craig Kimbrel's ridiculous rookie season, Freeman would have won Rookie of the Year.
On the field, Freeman was equally as impressive as he tied for second in Major League Baseball in fielding percentage (.996) and was 13th in RF at 9.25.
At 22 years old, Freeman is set to improve over the next few seasons. Freeman succeeded at every level in the minors and made it through the system in just three seasons.
As the names above him drop due to aging, Freeman should become a top five first baseman in the next five seasons.
No. 7: Ryan Howard
Drew Hallowell/Getty Images
Ordinarily I would have Ryan Howard higher on this list, but with all the injury concerns he has coming into this season, it's hard for me to put him in front of other guys who are expected to play on Opening Day.
Over the past six seasons, Howard has been a monster at the plate. In that span he's averaged, .274/.379/.559 with 43 HR, 132.7 RBI and 96 runs per year. There aren't many first basemen who can compete with those numbers and should Howard rebound from his current injury then he'd certainly rank higher on next year's list.
On the field, Howard is very average and his career fielding percentage (.991) is representative of that. However, Howard has been possibly the most consistent offensive producer on the Phillies over the last six seasons and was a major part of their 2008 World Series Championship.
No. 6: Paul Konerko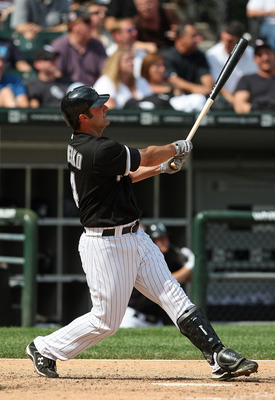 Jonathan Daniel/Getty Images
For some reason, as a Reds fan, I always liked Paul Konerko even though he played just 26 games with the team in 1998. Maybe it's because he turned into Mike Cameron and Cameron turned into Ken Griffey Jr.. Whatever it may be, Konerko has been producing at a consistently high level for the White Sox in the last 13 years.
In said 13 years, Konerko has averaged .284/.362/.506 with 29.9 HR, 94.8 RBI and 78.4 runs per season. His offensive production has been a big part of the White Sox's success, especially their 2005 title run.
Konerko has been a decent defender since making the permanent move to first base when he came to the White Sox. He never posted a fielding percentage below .992 and his RF/9 never dipped below 9.13. Last season he was .995 and 9.74, an all-around performance on the field for the 15-year veteran.
At 35 years old, I was surprised by the strong season Konerko had in 2011 where he went .300/.358/.500 with 31 HR, 105 RBI and 69 runs scored. This year I'm expecting Konerko to have another successful season as he's really shown no signs of slowing down.
Providing he plays a few more years and milks the DH position for all it's worth in the future, Konerko could receive a call from Cooperstown by the time he retires.
No. 5: Mark Teixeira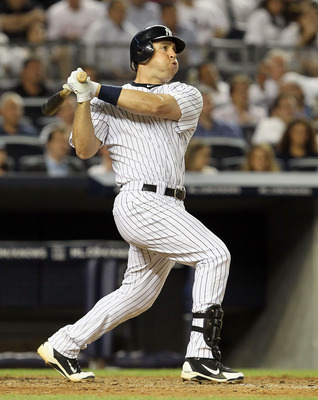 Jim McIsaac/Getty Images
At No. 5 I have Mark Teixeira. The only reason I don't have him ranked higher (and it pains me to say that he could be) is that the guys ahead of him have more upside and produce at comparable levels.
Yankee fans tend to get tired of their players much quicker than fans of other teams. Therefore, I can't say I'm surprised that Teixeira's batting average has caught a a lot of hell from fans here in New York over the last two seasons.
Although he's managed just a .252 batting average over the past two seasons, Teixeira is still a .281 lifetime hitter and just three years ago, he hit .292. Over those same last two years, Teixeira averaged 36 HR, 109.5 RBI and 101.5 runs to go with a .252/.346/.487 slash line. It's not like Teixeira is slacking in offensive production.
On the field, Teixeira is outstanding. He won back-to-back Gold Gloves in 2009 and 2010 (the third and fourth of his career) and one could make a case that he should have won his third in 2011, but Adrian Gonzalez took home the award. In any event, Teixeira is one of the elite in terms of fielding his position.
If Teixeira can get that batting average back up to .280, there's no reason why he couldn't end up in 2012 MVP talks.
No. 4: Prince Fielder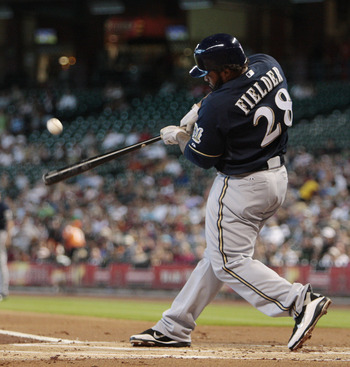 Bob Levey/Getty Images
Prince Fielder, in my opinion, is the fourth best first baseman in baseball. People will likely realize how good Fielder really is this season when the Brewers' offense tails off a little from last year. Furthermore, Fielder should thrive off being protected in the lineup by Miguel Cabrera. Try telling me which one you'd really rather pitch to.
Fielder has been consistent throughout his first six full seasons in the majors. However, last year was arguably the most complete offensive season in his career as he went .299/.415/.566 with 38 HR, 120 RBI and 95 runs, helping the Brewers to the NL Central title.
Fielding was another story for Prince last season as he was downright terrible. Fielder finished the year with a .990 fielding percentage and an RF/9 of 9.14.
I'm probably going to get people who disagree with me on this one, but Fielder's weight is going to be an issue at some point in his career. At 5'11" 275 lbs (according to Baseball Reference) Fielder is very overweight and I sincerely wonder if his legs can hold up his entire career.
With Fielder's weight problems out of the way though, I can say that as long as his legs hold up there's no reason to believe that Prince won't continue to be one of the top first basemen in the league.
No. 3: Adrian Gonzalez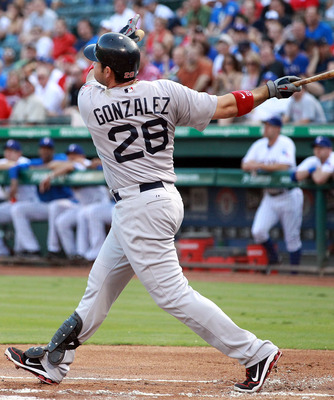 Ronald Martinez/Getty Images
Adrian Gonzalez comes in at No. 3. Getting out of PETCO last year helped Gonzalez's average, but his home run totals were surprisingly lower than in previous years.
One would think that Gonzalez was a shoe-in for 30-plus home runs, but in any event, he had a great season. Gonzalez went .338/.410/.548 with 27 HR, 117 RBI and 108 runs.
Gonzalez's contributions to the team were noticeable early on and he was a key contributor to Boston's impressive first half. His numbers tailed off a little but that was to be expected, who can keep up a .354 batting average and stay on pace for 154 RBI? Nobody.
On the field Gonzalez is one of the best. Gonzalez has won a Gold Glove in four of the last five years and there's nothing that says he can't compete for several more over the course of his career.
Gonzalez is very much a threat for the 2012 AL MVP and Gold Glove.
No 2: Joey Votto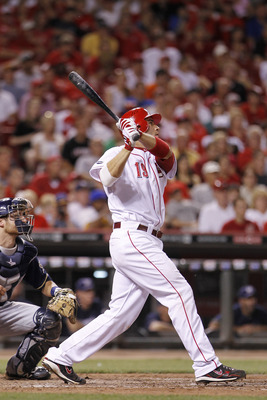 Joe Robbins/Getty Images
Coming in at No. 2 is Joey Votto. He's by far the best player on the Cincinnati Reds and is the preseason favorite for NL MVP.
Last year, Votto's numbers dipped a little from his MVP season in 2010. Even so, he had a fantastic year batting .309/.416/.531 with 29 HR, 103 RBI and 101 runs. He even chipped in eight stolen bases. In his first four full seasons, Votto has failed to hit under .300 one time (.297 in his rookie year) and has consistently produced home run totals between 24 and 37.
Votto is a monster at the plate, he works the counts, gets on base, hits for power, hits for average and can produce in the clutch. He's everything you want in a first baseman offensively.
Defensively Votto is just starting to come into his own. Votto took home the NL Gold Glove in 2011 and with the recent departure of Albert Pujols, Prince Fielder and Adrian Gonzalez the previous year, his competition is severely limited for that award (as well as MVP). He's my pick for the 2012 NL MVP and Gold Glove.
Simply put, without Joey Votto, the Reds wouldn't be the team they are right now.
No. 1: Albert Pujols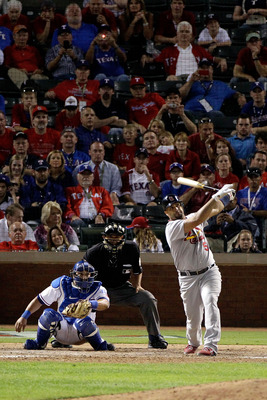 Rob Carr/Getty Images
No surprises here, Albert Pujols is the best first baseman in baseball and it's really hard to say otherwise. At 32 years old Pujols has accomplished more than most players do in their entire careers. His career totals are .328/.420/.617 with 445 HR, 1,329 RBI, 1,291 runs and 2,073 hits.
Basically, Pujols could quit tomorrow and be a Hall of Famer.
Last year was Pujols' first where he didn't hit over .310. That's right, in 11 seasons, Pujols has failed to hit over .310 just once (.299). 2011 was Pujols worst all around season and he still went .299/.366/.541 with 37 HR, 99 RBI and 105 runs.
In the field Pujols has been great, he's won two Gold Gloves and could win one or two more before he's done.
Is there any doubt that Pujols was No. 1? He led the Cardinals to two World Series titles in his 11 seasons and his new Angels team is one of the preseason favorites to take home the title this year. Pujols has quickly worked his way in with the top first basemen of all time with three MVP awards, two titles, two Gold Gloves, six Silver Slugger awards, a batting title and nine All-Star appearances.
By the time Pujols calls it a career, he very well could be the best player ever.
Wrap Up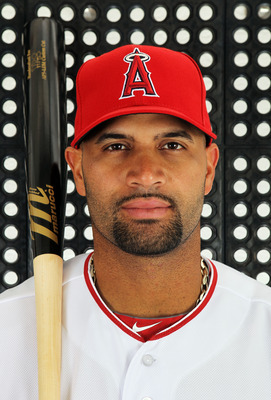 Jamie Squire/Getty Images
So there you have it, the Top 10 first basemen in Major League Baseball. This list obviously can fluctuate year to year and I plan to do future installments, so drop by and let me know what you think. Who should have made the list? Who should be ranked higher?
My big question though, is outside of retirement, is it possible for anybody to unseat Pujols as the best?
Let the debate begin.
Keep Reading

Los Angeles Angels: Like this team?