Handing out All-MAAC Awards and Accolades for the 2011-12 Season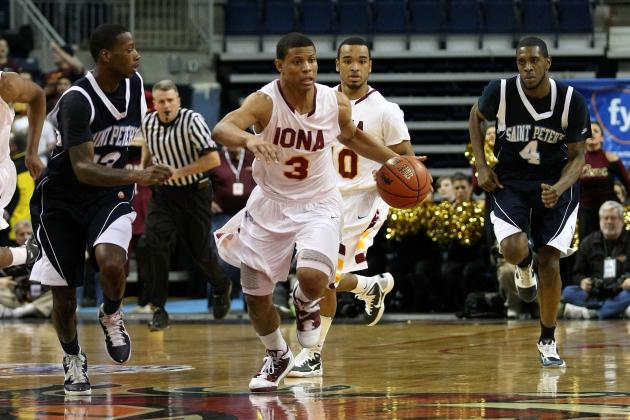 Chris Chambers/Getty Images

Another season in the Metro Atlantic Athletic Conference has gone by quickly, and now it is time to hand out awards and accolades to the season's best performers.
Included in this article is the All-MAAC First Team (including Player of the Year), Second Team, Third Team, Rookie Team (including Rookie of the Year), Defensive Team (including Defensive Player of the Year), and Coach of the Year.
Also, please note that these are not the official awards and accolades dealt out by the MAAC. These are my personal opinion.
*Follow Jesse Kramer on Twitter @Jesse_Kramer for more MAAC and college basketball news.
Begin Slideshow

»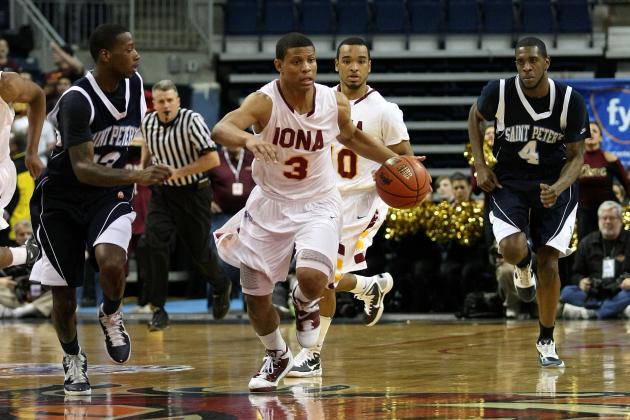 Chris Chambers/Getty Images

Scott Machado, Iona
Machado was not only the best point guard in the MAAC this season, but he was even the best point guard in the entire nation. The senior leads the country in assists with 10.1 per game, and he also scores a very solid 13.1 points per game, making him one of two players in the MAAC to average a double-double. His 80.5 free throw percentage stands at No. 5 in the conference entering the tournament, and his 3.1 assists for every turnover was outstanding.
Machado posted nine double-doubles (including one triple-double), and his season-highs were 33 points against St. Joe's and 16 assists against Manhattan.
George Beamon, Manhattan
Thanks to a superb final weekend where he scored 28 points against Canisius and 24 points against Loyola, Beamon captured the MAAC regular season scoring title for the 2011-12 season with 18.4 points per game and 552 points overall. He also now stands at No. 32 in the nation in scoring.
Beamon showed his ability to be an explosive scorer last season, but he found more consistency this year by rounding out his game. He is the most improved player in the MAAC, jumping from six made three-pointers last season to 54 this year.
The junior has now scored in double digits in 45 consecutive games, and his season-high was 33 points against Canisius.
Rakim Sanders, Fairfield
Sanders did not disappoint as a transfer from an ACC school. The fifth-year senior posted 16.7 points per game this year in addition to 8.2 rebounds per game. Down the stretch, he averaged 17.8 points per game and 9.4 boards. And over the course of the entire season, he recorded eight double-doubles.
His season-high 25 points came in the second game of the season against Providence, and his high in rebounds was 15 against Old Dominion.
Without Derek Needham, Fairfield will now need Sanders to step up big-time in the MAAC tournament.
Michael Glover, Iona
Glover definitely lived up to expectations this season. The senior in his second year at Iona averaged 18.1 points per game and 9.1 rebounds per game, both good for No. 2 in the MAAC in the respective categories. Additionally, he led the conference in field goal percentage (65 percent).
All season long, he was the one truly dominant big man in the MAAC, and at many points he could score against any defender in the conference. His lack of a mid-range game makes a future NBA career doubtful, but that does not take anything away from his complete dominance of the MAAC this season.
The 6'7" forward posted 13 double-doubles this year, with his season-high 34 points coming against St. Joe's.
O.D. Anosike, Siena
Anosike is the nation's leading rebounder and joins Machado as the only MAAC player to average a double-double this season. The junior from Staten Island posted an outstanding 17 double-doubles in a row from November 26 to January 29 before the streak ended against St. Peter's.
Even more amazingly, his body and attitude has held up despite needing to play 36.8 minutes per game for a depleted and thin Siena squad.
His season-high in points was 27 against Niagara, and his highest rebounding number was a whopping 22 boards against Fairfield.
Anosike also finished No. 5 in the MAAC in field goal percentage at 52.2 percent.
MAAC Player of the Year—Scott Machado, Iona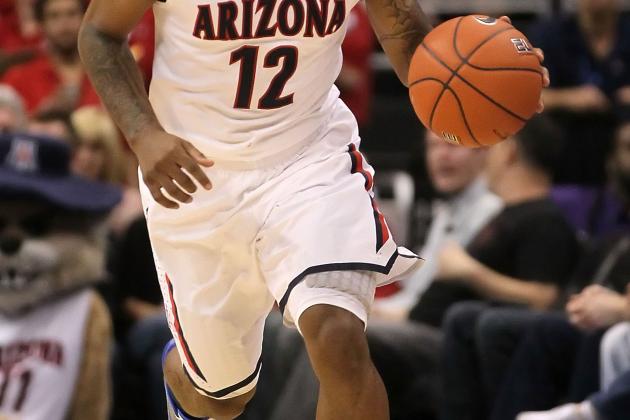 Jeff Gross/Getty Images
Arizona transfer Momo Jones made an immediate impact with Iona, scoring 16.2 ppg.
Momo Jones, Iona
There were high expectations for Jones, who unexpectedly transferred from Arizona to come to New Rochelle. But the experienced guard did not disappoint, although it did take a few games for him to find his groove.
He averaged 16.2 points per game for the high-powered Gaels, including a historic, 43-point performance against Canisius, where he shot a remarkable 16-of-23 from the field. In addition, he showed solid point guard skills (he will be Machado's replacement next season), averaging three assists per game and having as many as eight in a single game.
Harold Washington, Canisius
Washington used a strong performance against Siena in the final game of the season to tie Sanders for No. 4 in the MAAC in scoring, securing a spot on the second team and making a case for the first team.
The junior college transfer has been an outstanding scorer for Canisius all season, putting up eight 20-point performances. His best overall performances came earlier in the season when he scored 23 points against James Madison on 11-of-17 shooting and a season-high 30 points against Longwood on 13-of-21 shooting.
Erik Etherly, Loyola
Etherly emerged as one of the better members of the front court in the MAAC this season. The junior who transferred from Northeastern averaged 13.1 points per game and 7.7 rebounds per game while recording eight double-doubles.
He also managed to score with efficiency this year; his field goal percentage of 53.2 percent ranked No. 4 in the MAAC.
Brandon Penn, Rider
Penn got off to a slow start, averaging just 7.2 points per game over the first five games, but he then hit his stride over the the final three months of the regular season. He scored in double digits in 16 of Rider's final 19 games, including seven 20-point outings.
The senior forward also had the second-best free throw percentage of anyone in the MAAC at 85.3 percent.
Darius Conley, St. Peter's
Conley was a solid role player for the Peacocks in his first two seasons, but this year he emerged as a potential star. His numbers leapt up to 11.3 points per game and 7.1 rebounds per game, and he recorded a pair of double-doubles. In addition, he averaged 1.2 blocks per game.
The junior's production might have been even better had he not been plagued by foul trouble in many games this season.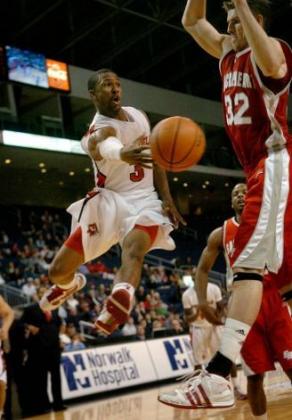 Derek Needham will miss the MAAC tournament and any postseason opportunities for Fairfield after breaking a bone in his foot against Iona.
Derek Needham, Fairfield
Although Needham's scoring, rebounding, and assisting numbers are down, his shooting percentages improved. This season he averaged just 11.8 points per game, 2.7 rebounds per game, and 3.4 assists per game on 39.7 percent shooting.
Needham had a good enough year to get on the third team, but overall it was another disappointment, and he will have no chance to redeem himself due to a foot injury that will keep him out for the rest of the season.
Dylon Cormier, Loyola
Unlike Needham, Cormier did not fall into a sophomore slump. The 6'2" guard averaged 13.6 points per game on 45.7 percent shooting and 1.7 steals per game this season, and he was consistently a key piece for Loyola's historic season.
Cormier's scoring numbers dwindled towards the end of the season, but he still put up 20 or more points five times this year.
Robert Olson, Loyola
Olson continued to cement his reputation as a sharpshooter this season. The junior made 44.1 percent of his three-pointers, helping him to his 11.4 points per game.
He consistently scored in double figures, and even when he did not, he was generally close with eight or nine points.
Devin Price, Marist
Along with Chavaughn Lewis, Price helped Marist climb up from rock bottom in the MAAC to eighth place, averaging 13.3 points per game this season.
He secured his place on the third team with a 32 point performance against Niagara in the final game of the regular season.
Ryan Olander, Fairfield
Olander did not thrive in the Princeton offense as much as many thought he would, but he still put up very good numbers in his senior season.
He averaged 8.8 points per game and two blocks per game in addition to improving his three-point shooting to 40 percent.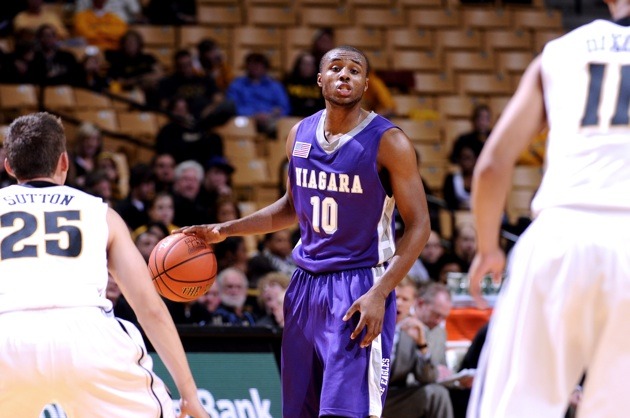 Juan'ya Green is one of the best freshman scorers the MAAC has seen in a while.
Juan'ya Green, Niagara
The MAAC had great displays from many freshmen, but Green was clearly the best rookie in the conference this year. He led MAAC freshmen in scoring and was No. 2 nationally among freshmen with 17.5 points per game. He also averaged 4.4 assists per game and 1.8 steals per game.
Despite being a freshman, he has shown that he is one of the most explosive scorers in the conference, posting 30 or more points in three games.
Evan Hymes, Siena
Hymes certainly got his chance to shine for the Saints after injuries, ineligibility and transfers nibbled Siena's rotation down to six men. The 5'8" point guard took advantage of his 37.4 minutes per game by averaging 14 points per game and 3.5 assists per game while shooting 36.1 percent from beyond the arc.
He was criticized by his inconsistency at a few points during the season, but remember, this kid has three more years of MAAC basketball to go.
Ameen Tanksley, Niagara
Tanksley started off slow, but his numbers got better and better as the season went on. The 6'6" guard-forward ended up posting a pair of double-doubles and managed to hit the 20-point plateau against Siena.
In addition to his scoring output, he averaged 5.8 rebounds per game.
Emmy Andujar, Manhattan
Andujar immediately impressed Jasper fans with his ability to be a point-forward. The freshman from Rice High School quickly became a statsheet stuffer, averaging 8.3 points per game, 5.3 rebounds per game and three assists per game.
At a few points this season, he even flirted with a triple-double, posting 14 points, seven rebounds, and seven assists against Fordham and seven points, seven rebounds, and seven assists against Niagara.
Chavaughn Lewis, Marist
If Marist coach Chuck Martin ends up keeping his job for another season, he can thank Lewis. The freshman made an immediate impact with the Red Foxes, leading the team with 13.9 points per game on 41.6 percent shooting.
MAAC Rookie of the Year—Juan'ya Green, Niagara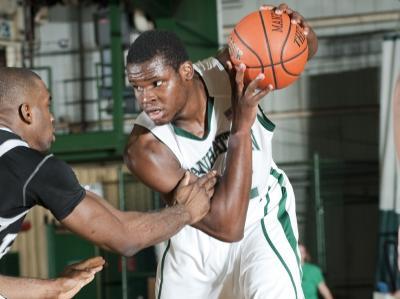 When Rhamel Brown is in the game, nothing around the rim is too easy. (Photo from gojaspers.com)
Juan'ya Green, Niagara
Green quickly earned the reputation as a scorer, but people often forgot about his defensive abilities. This season, Green had 57 steals and 1.84 steals per game. On nine different occasions, the freshman had three or more steals.
Brandon Hall, St. Peter's
Hall finished just barely behind Green with 1.83 steals per game after leading the conference in steals for the majority of the season. However, the senior guard did one-up Green by having 10 games with three or more steals.
Rhamel Brown, Manhattan
Brown was the biggest defensive force in the MAAC this season. He led the conference in blocks with 2.6 per game, and he also altered many shots. The game would completely change when he checked in. The opponent would either have to attack and risk a swat by Brown or settle for a jump shot.
This season, Brown had as many as six blocks in a single game.
Adam Kemp, Marist
Kemp was not far behind Brown in terms of shot blocking. The Marist sophomore has great height at 6'10", but his timing and leaping ability is what makes him the second-best shot blocker in the MAAC.
His season-high in blocks was eight, when he flirted with a triple-double against Loyola (17 points, 11 rebounds).
Ryan Olander, Fairfield
Olander's 7-foot build naturally made him a defensive threat, but he was also a very disciplined defender who constantly got the job done. Twice, he reached a season-high of four blocks against Old Dominion and St. Peter's.
MAAC Defensive Player of the Year—Rhamel Brown, Manhattan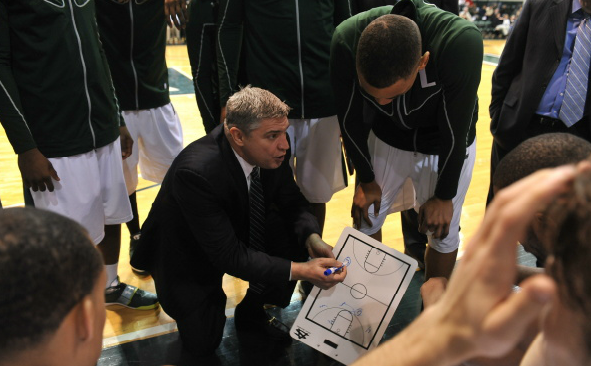 It took a number of years, but Jimmy Patsos has brought Loyola to the point where it is one of the premier programs in the MAAC. (Photo by Larry French)
Jimmy Patsos and Steve Masiello are equally deserving of the MAAC Coach of the Year award, and Iona's Tim Cluess comes in a close third—Patsos for his ability to rebuild a program that barely looked like it was D-I before he took the job, and Masiello for taking over essentially the same Manhattan team as last year's 6-25 squad and immediately bringing the Jaspers to the top of the MAAC in his first season at the helm.
Patsos has worked tirelessly since 2004 to bring a Loyola program, which won just one MAAC game the year before he arrived, to make the Greyhounds nationally relevant, at least on the mid-major stage. After finishing in third place twice a few years ago, they fell back down to the bottom of the conference, and the program's revival appeared to be short-lived.
But this year, picked as the No. 3 team in the preseason, Patsos' club not only lived up to expectations but exceeded them.
The Greyhounds ultimately went on to finish in second place in the MAAC with their first 20-win season in more than 60 years. They beat every team in the MAAC at least once this year and swept Manhattan, Canisius, Siena, and St. Peter's.
Masiello talked like a hot-headed maniac at his first press conference nearly a year ago, but so far he has backed up his words. Manhattan was able to compete with every team in the conference this year, and it was a pair of buzzer beaters against Loyola from sweeping the Greyhounds and having a more legitimate shot at winning a regular season conference championship.
The Jaspers were picked to finish No. 8 in the MAAC, but Masiello and his squad have made preseason analysts look silly by earning the No. 3 seed in the 2012 MAAC Tournament.