MAAC Tournament Preview: Game-by-Game Predictions for the Weekend Festivities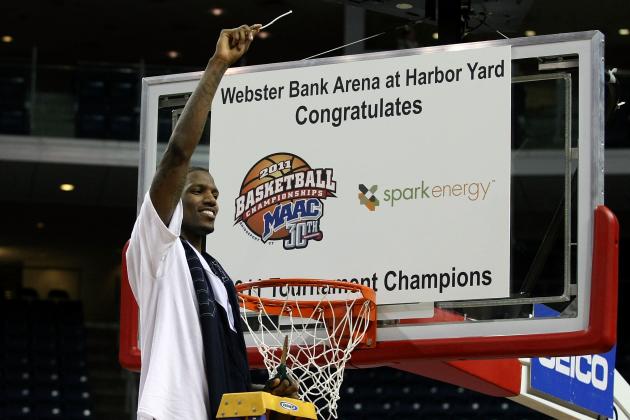 Chris Chambers/Getty Images

March is still one day away, but the Madness is already underway with the first rounds of the Big South and Horizon League conference tournaments completed.
On Friday night, the 2012 MAAC Tournament will begin in Springfield, Massachusetts, with a round of play-in games between the bottom four teams in the conference. The quarterfinals will then be all day on Saturday, the semifinals will be on Sunday afternoon and finally the championship game will take place on Monday night.
Here are my game-by-game predictions for what will happen this weekend.
All games will be broadcast on ESPN3, and the championship game will be televised on ESPN2.
*Follow Jesse Kramer on Twitter @Jesse_Kramer for more MAAC and college basketball news.
Begin Slideshow

»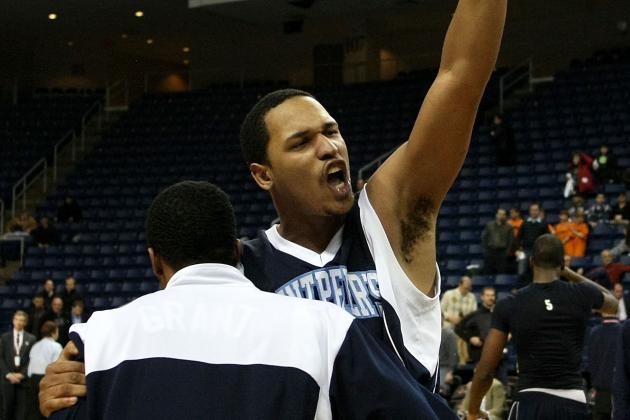 Chris Chambers/Getty Images

No. 8 Marist vs. No. 9 St. Peter's, 7:30 PM
Marist has been red-hot during the last few weeks, an occurrence that has been more than rare in the Chuck Martin era. The Red Foxes are 6-2 since their loss at Manhattan on Feb. 2, including four double-digit wins.
Meanwhile, St. Peter's has lost seven in a row and 11 of its last 12 entering the tournament, including a 19-point loss to Marist.
In the end, you can't win if you can't score, and the Peacocks have not scored more than 63 points since Jan. 15. Chemistry issues and a lack of talent will lead the Peacocks to a first-round exit.
Barring a major letdown, Martin should get his squad past St. Peter's struggling Peacocks.
Marist 67, St. Peter's 56
No. 7 Niagara vs. No. 10 Canisius, 9:30 PM
The Niagara-Canisius game should definitely be the more entertaining game of the opening night. Both squads have the potential to score high numbers, although their two regular-season meetings were not too high-scoring.
Ultimately, there is a reason for why Canisius won just one MAAC game all season (Marist at home). Even in their best outings, the Golden Griffins cannot put together 40 minutes of good basketball.
Niagara has not been the most consistent team either, but the Purple Eagles have more talent, more balanced scoring options and the far better in-game coach.
Niagara 84, Canisius 75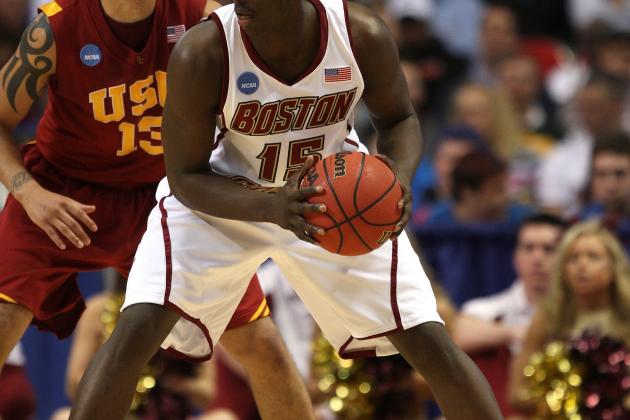 Jonathan Daniel/Getty Images
Boston College transfer Rakim Sanders leads Fairfield in scoring and rebounding.
No. 4 Fairfield vs. No. 5 Rider, 2:30 PM
Fairfield could have been a sleeper to win the MAAC tournament, but then-point guard Derek Needham went down for the season, limiting the Stags' chances. And as the No. 4 seed, they do not have such a favorable matchup, playing Rider.
The Broncs just defeated Fairfield in the final game of the regular season, and they won seven of their final 10 MAAC games.
Rider has been inconsistent all season, but, as long as the right team shows up on Saturday afternoon, the Broncs should advance to the semifinals.
Rider 63, Fairfield 59
No. 1 Iona vs. No. 8 Marist, 4:30 PM
The obvious pick in this one is Iona, but don't be surprised if Marist puts up a fight. When the Red Foxes played in New Rochelle, they led Iona nearly seven minutes into the second half and stayed within striking distance through the very end.
Marist has a pair of potentially dangerous in Chavaughn Lewis and Devin Price, both of whom scored 20 points in that game at Iona.
Sometimes a No. 1 seed gets caught off-guard in the MAAC tournament, but Iona knows what is at stake here, and it will not go this early in March. In the end, Marist does not have the players to match Iona's multitude of scorers.
Iona 83, Marist 71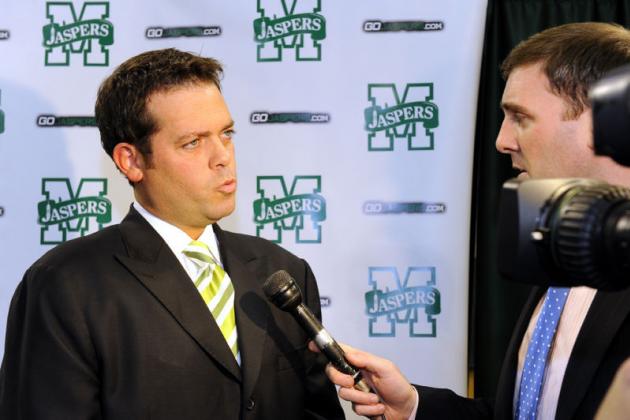 Steve Masiello has quickly revived the Manhattan program, taking the Jaspers to their first 20-win season since 2005-06.
No. 2 Loyola (MD) vs. No. 7 Niagara, 7:30 PM
Niagara can be dangerous if it hits a hot streak, but, even in its better games, it struggles to stay hot for a long enough period of time to defeat a better opponent. Despite competing with everyone in the MAAC, the Purple Eagles went 1-7 against the top four teams. Of course, that one win did come against Loyola.
Although Niagara clearly has the ability to beat the Greyhounds, its play towards the end of the season makes it a questionable upset pick. The Purple Eagles lost to Marist on Sunday, and they just barely beat St. Peter's, Canisius and Siena.
If they can catch fire from long-range against Loyola, which allows only five made three-pointers per game, they have a shot. Otherwise, Loyola's defense will smother them.
Loyola 64, Niagara 57
No. 3 Manhattan vs. No. 6 Siena, 9:30 PM
Manhattan dominated Siena when it hosted the Saints, but Siena got revenge in Albany with a 70-64 win over the Jaspers. However, when Siena beat Manhattan, Jasper point guard Michael Alvarado went down with an injury, and he will be back for Saturday. In addition, Siena freshman Evan Hymes, who dominated the Jaspers at the Times Union Center, will not be 100 percent after getting injured last weekend.
With a six-man rotation that could potentially be limited if Hymes' injury is more severe, Siena will not have the endurance needed to play 40 minutes against a pressure defense like Manhattan's.
Manhattan 71, Siena 63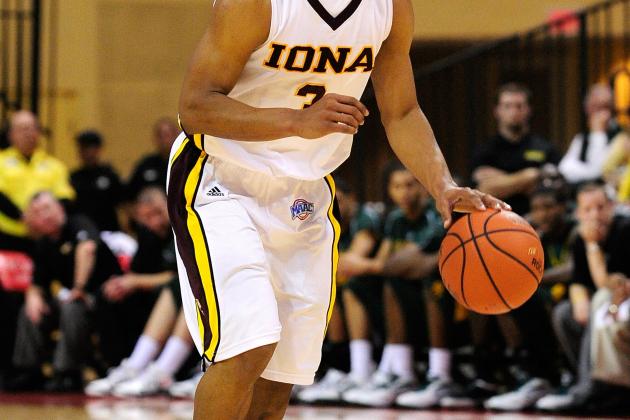 Sam Greenwood/Getty Images

No. 1 Iona vs. No. 5 Rider
Two high-powered offenses going head-to-head makes for an intriguing semifinal matchup. Rider has been playing good basketball lately, defeating Loyola and Fairfield in its final regular season games. Also, don't forget that the Broncs remained close with Iona when they played the Gaels in mid-February.
The bottom line is neither Rider nor Iona plays a whole lot of defense, and Iona clearly has the better offense with a multitude of offensive forces. The Gaels' combination of Scott Machado, Michael Glover, Momo Jones, Searn Armand and Randy Dezouvre will pick apart the Rider defense and ultimately pull away from the Broncs for a semifinal win.
Expect a game that is close for about 30 to 35 minutes before Iona pulls away.
Iona 81, Rider 70
No. 2 Loyola vs. No. 3 Manhattan
Loyola swept Manhattan in the regular season, but Manhattan outplayed the Greyhounds for the majority of their 80 minutes together. In the final game of the regular season, Loyola defeated Manhattan, 62-60, but the Jaspers played better basketball for the first 35 minutes but then collapsed down the stretch. In the first meeting, Manhattan held a late lead, but Loyola made the necessary plays, including a buzzer beater three-pointer, to defeat the Jaspers.
Manhattan looked like the better overall team during each of the regular season games, but the Jaspers need to remain relentless until the final buzzer to beat a Loyola team that is obviously capable of beating them.
If they make plays down the stretch and give George Beamon some support on offense, the Jaspers will come out on top in this even matchup.
Manhattan 68, Loyola 65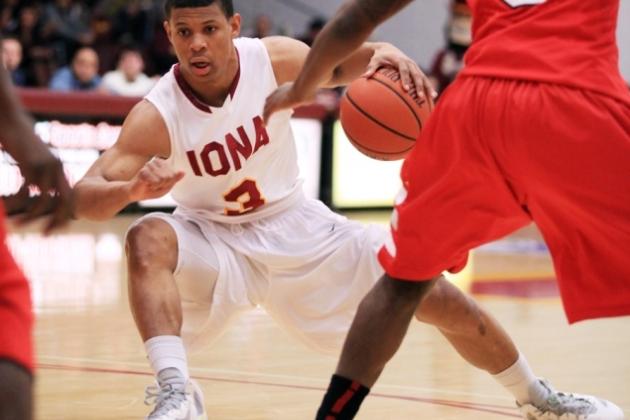 No. 1 Iona vs. No. 3 Manhattan
Manhattan defeated Iona thanks to a miracle early in the season, but that does not erase the fact that Iona has dominated Manhattan for about 60 of 80 minutes this season. Although the Jaspers had a few good spurts against Iona in each game, Iona was clearly the better, more talented team. And in order to win a MAAC championship, it will take another miracle for Manhattan.
Manhattan is the best defensive team in the MAAC, but Iona's offense will be too much for the Jaspers after having played two games on the previous two days. Their legs will be tired, and their pressure system might not work as well in the second half. Steve Masiello will either need to have his team go away from its regular game plan and not press all game or risk Iona getting easy baskets after beating the press as Manhattan tires out.
Iona's combination of offensive threats will prevail and vault the Gaels past their New York rival. Iona stumbled at various points this season, but it will prove on Monday night that it is the best team in the MAAC.
Iona 83, Manhattan 72