Manchester United: 5 Players That Could Add Grit to the Midfield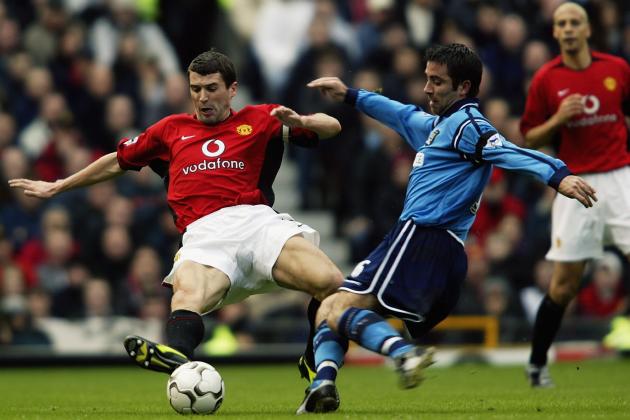 Gary M. Prior/Getty Images

Manchester United supporters have voiced concern over the quality in midfield for a few seasons now, many believing a creative talent is needed. However, what is really missing is the grit of a hard-hitting midfield enforcer.
Athletic Bilbao exploited this weakness in the Manchester United midfield last night as they dominated the game at Old Trafford, winning 3-2 in the Round of 16 first leg, a scoreline which arguably flattered United.
Granted, United did not have Paul Scholes or Tom Cleverley involved, while Michael Carrick and Anderson were only substitutes. However, even in games where those four have played, United have been overrun in midfield and lacked an enforcer in the midfield to shield the defense.
United have conceded a shocking amount of opportunities this season because the midfield is not offering enough protection. The squad is lacking a genuine ball-winning defensive midfielder.
For many years, Roy Keane filled the role. He was the general in midfield, dominating the opposition with a commanding performance of tireless running, unrivaled determination and bone-crunching tackles. That role was never filled with his departure.
Make no mistake, Keane is irreplaceable. No player that United pursue would ever replace him and all that he offered to the squad, but there are certainly options that could perform the same role at a similar level.
This is a role the club need to fill, and it is particularly important in European competition. No player in the current squad intimidates the opposition the way Keane did.
Opponents knew Keane would do everything in his power to win the ball back and he would make his presence known with his aggressive tackling. Most were beaten before the game even started, knowing Keane would win the battle.
These five players would be excellent options to offer a defensive presence in the United midfield and add some grit that the squad as long lacked.
Begin Slideshow

»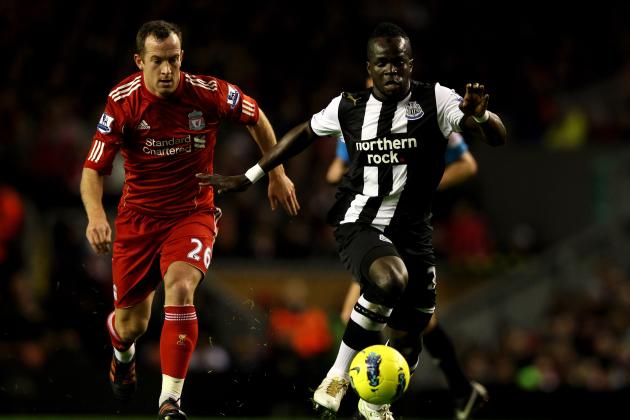 Clive Brunskill/Getty Images

Cheick Tioté is a key factor in Newcastle's impressive Premier League campaign, and it is of little surprise that the Côte d'Ivoire international is now attracting attention from the likes of Manchester United and Chelsea.
The midfield pairing of Tioté and Yohan Cabaye has been immense for Newcastle this season as the club chases Champions League qualification. That pairing may be broken up at the end of the season, however, with Newcastle already confirming it would be hard to turn down a big offer for their star players.
United should be on alert to make a move for Tioté if Newcastle are indeed willing to let him leave.
Tioté is exactly what you expect from a midfield enforcer. He is a high-energy player with a daunting physical presence, chasing down opposition, intercepting passes and going hard into challenges to win back possession. He is also a decent passer, and is capable of starting a counterattack once he wins the ball.
The one concern is his discipline. Tioté amassed 15 yellow cards and one red card in 28 appearances for Newcastle last season. However, he has shown signs of improvement this season, limiting himself to six yellow cards in 16 appearances. Not a great record, but certainly a step in the right directions.
If United are looking to inject some grit into the midfield, as they should be, then Tioté is an excellent defensive midfielder who has already proven himself in the Premier League. Definitely one to look at in the summer.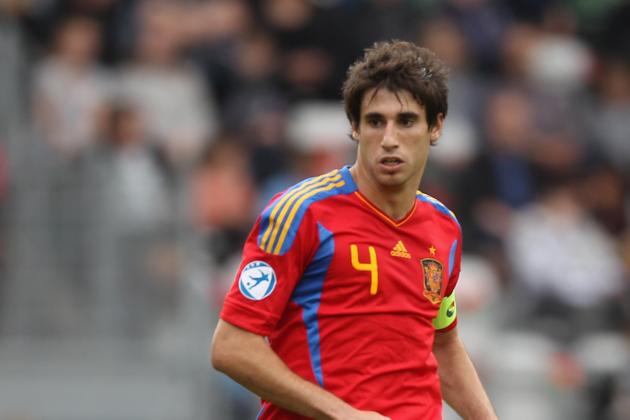 Michael Steele/Getty Images

Javi Martínez was one of the standout performers for Athletic Bilbao in their 3-2 victory against Manchester United, and Sir Alex Ferguson should try to make him a more regular feature at Old Trafford.
Although Martínez is primarily a central midfielder, he spent much of this season filling in at the heart of Athletic's defense. This was the case again at Old Trafford, and he did an excellent job playing as a defender. That versatility would be a nice asset for the inevitable defensive injury crisis United seem to face each season.
While United supporters did not get to witness him in his preferred position, Martínez showed that he possesses strong defensive attributes. When operating as a defensive midfielder, he can put those skills to good use.
Martínez is another example of a tough tackling midfielder who can win back possession, and like many Spanish players, he is extremely comfortable in possession as well. At six feet three inches tall, he would also offer a good physical presence in midfield and could provide an extra threat during set pieces.
In addition to the defensive attributes, Martínez is also a decent threat in attack. Last season, he scored nine goals in 46 appearances, which is a better record than some of the more attack-minded midfielders already at United. This season he has just four goals in 38 appearances, but has spent most of the season in defense rather than midfield.
Martínez would provide a ball-winning presence in the United midfield along with a bit of class going forward. Sir Alex has already been linked with a move for the Spanish international, and Martínez's performance Thursday night may have convinced the manager to move forward with a deal this summer.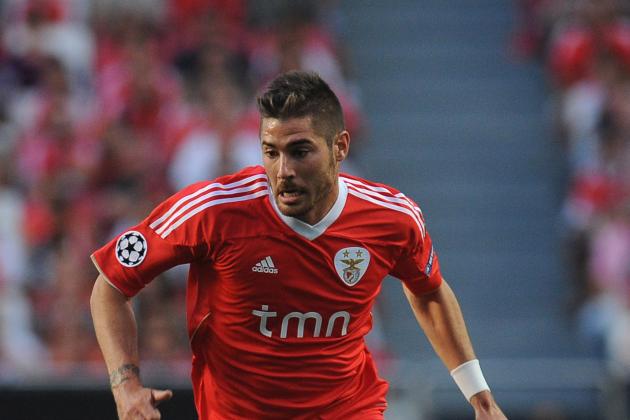 Valerio Pennicino/Getty Images

While Nicolás Gaitán is making all the headlines about a move to Manchester United, it is his Benfica teammate Javi García that the Sir Alex Ferguson should be focused on.
García is a member of the Benfica side that made the Champions League a nightmare for United this season, and perhaps next season it would be worth having him instead be the nightmare for United's opposition.
Playing against United twice this season, García demonstrated what an excellent signing he could be. He plays the game with an abundance of energy, never giving the opposition much space or time in which to operate. He has shown excellent tackling attributes and provides valuable cover to the back four. Such a high intensity defensive presence in midfield is something United lack.
He can contribute going forward as well, scoring eight goals in 48 appearances for Benfica last season.
Having come through the ranks at Real Madrid, he was sold in 2007 only to be bought back by his former club a year later. The return last only one season before he was deemed surplus to requirements and sent to Benfica. At the age of 25, that is an excellent pedigree to have played for some of Europe's biggest clubs. Experience at the top level would be important at United.
Recently, there has been a lot of speculation linking García with a move to Old Trafford. Such speculation is hardly uncommon for United, even when the transfer window is closed, but this rumor in particular is one supporters should hope comes true.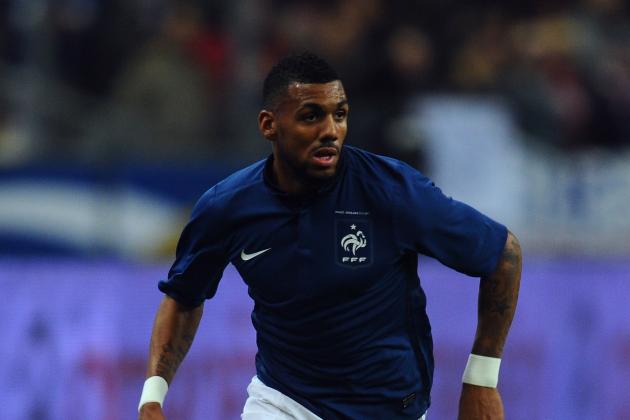 Mike Hewitt/Getty Images

Yann M'Vila is already an established member of the France national team at just 21 years old, and now he's making a name for himself as one of the best defensive midfielders in the game.
With his current club, Rennes, M'Vila has demonstrated that he is an fantastic midfield enforcer. He is physically very strong, which allows him to dominate midfield battles. He also possesses fantastic defensive attributes, which make him a midfield threat to the opposition, providing both interceptions and hard tackles to regain possession.
At United, however, it is not enough to just excel in one area of the game, and M'Vila has plenty more in his locker to contribute. Last season, M'Vila showed he is an excellent passer as well. Against Luxembourg in March 2011, M'Vila attempted an impressive 134 passes with an even more impressive completion rate of 92.5 percent.
Such talent would provide an excellent asset to the United midfield. M'Vila is a player who can shield the defense, win back possession in the midfield and then has the passing capability to transition into attack.
Unlike the others, M'Vila has not been so closely linked with a move to Old Trafford, but this is one player that Sir Alex Ferguson should have his eyes on as he prepares for the summer transfer window.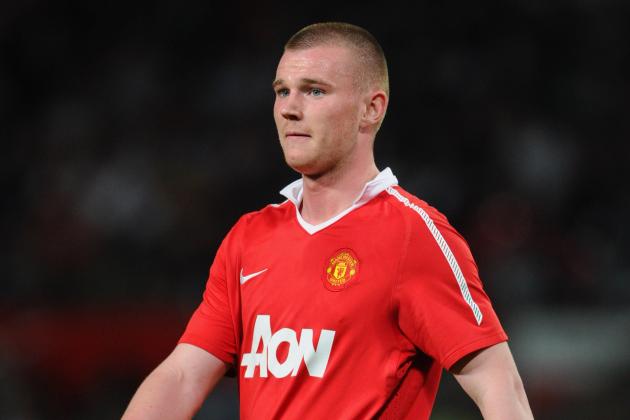 Michael Regan/Getty Images

Ryan Tunnicliffe would inject some steel into the Manchester United midfield, and he's the one option already at the club.
Realistically, Tunnicliffe is probably a few seasons from being ready for the first team, but his performances for the Reserves and on loan at Peterborough have shown he has the promise to be an excellent ball-winning midfielder.
Tunnicliffe was one of the key players in United's FA Youth Cup triumph last season. Although he didn't attract the same attention as his midfield partners, Paul Pogba and Ravel Morrison, his hard work allowed more technically-gifted players to thrive.
While Tunnicliffe is not as talented as his peers, he more than compensates for it in his work ethic. A tireless performer, Tunnicliffe does the dirty work in midfield. He closes down the opposition, harasses them in possession and wins the ball back for his team.
His passing has been his one weakness over the years, but he has shown improvement and could yet become a more well-rounded midfielder capable of playing for the first team.
With Morrison now departed and Pogba quite possibly on the way out as well, Tunnicliffe is probably the best option United have coming through the ranks. A few more loan spells would be highly beneficial to him, and it seems he would be a good long-term option to add some grit to the midfield.