2012 March Madness Field of 68 Projections: Feb. 27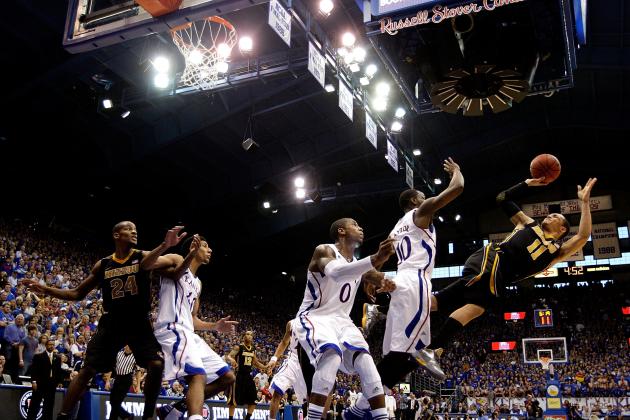 Jamie Squire/Getty Images

It may still be February, but March Madness officially begins tonight with two first-round matchups in the Big South tournament: Radford vs. VMI and Gardner Webb vs. High Point. As crazy as it may seem, even these teams have a shot at winning the national championship—that is if they don't lose another game for the rest of the season. Such is the beauty of college basketball.
But for some of the more serious contenders, there's only 13 days left to impress the committee.
As always, I am not trying to guess how teams will finish the year. I am simply seeding them based on their current résumés.
I like to break teams down into three categories:
1. Wallflowers are bubble teams because everyone wants to go to the big dance, but not all have the guts to ask a girl out on the dance floor.
2. Elite teams that are safely in the field are dancing with a hottie.
3. In the middle are the schools that are dancing with their sister.
Last year, I had the most accurate bracket projections in the country, correctly predicting 67 of 68 teams and once again finishing way ahead of ESPN's Joe Lunardi.
I'll begin with the first two at-large bid games:
(12a) Northwestern vs. (12d) Xavier

(12b) Dayton vs. (12c) California

First 10 teams out: BYU, South Florida, Texas, Arizona, Oregon, NC State, TCU, Colorado
The projections are presented in slideshow format, with slides consisting of the major conferences. First up is the ACC.
Begin Slideshow

»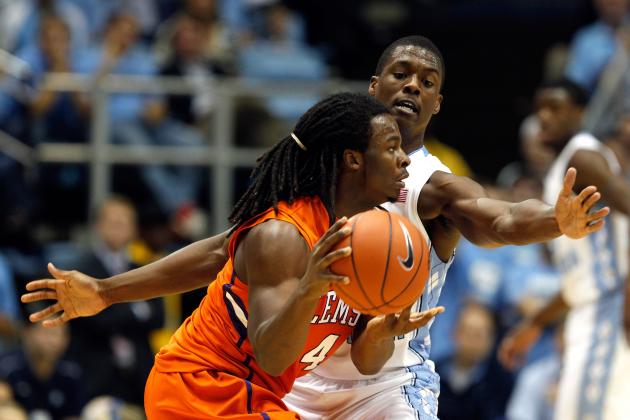 Streeter Lecka/Getty Images

Dancing with a Hottie: Duke (1), North Carolina (2), Florida State (7)
Dancing with their Sister: Virginia (9)
Wallflowers: Miami (11), North Carolina State (sixth team out)
Thanks to wins over North Carolina and Duke, there's no way Florida State is missing the tournament, but back-to-back losses to the Blue Devils and Miami have the Seminoles going in the wrong direction. Another loss at Virginia on Thursday would be acceptable, but a loss to Clemson at home on Sunday could spell disaster.
The Cavs, meanwhile, had a shot to lock up a bid on Saturday, but fell by three at home to UNC. With just a 2-4 mark against the top 50, a strength of schedule in the 80s and two bad losses to Clemson and Virginia Tech, there's still work to be done. One more win should probably do the trick.
Miami was barely in the field Friday, but is on a little safer ground following its 78-62 victory over Florida State. That was the Hurricanes' second win over a team ranked in the top 26 of the RPI (they also won at Duke), and it moved their RPI into the top 50 and their strength of schedule now sits at 32.
NC State, on the other hand, is headed in the opposite direction. The Wolfpack's loss at Clemson on Saturday was their fourth in a row, and their at-large hopes are now very slim.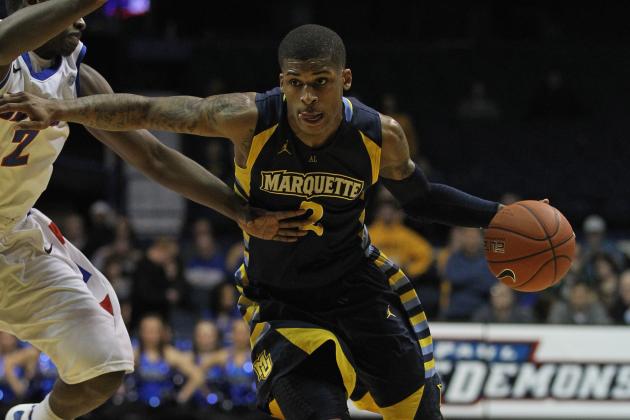 Jonathan Daniel/Getty Images

Dancing with a Hottie: Syracuse (1), Marquette (2), Georgetown (3), Louisville (5), Notre Dame (5)
Dancing with Their Sister: Seton Hall (9)
Wallflowers: Connecticut (10), West Virginia (10), Cincinnati (11), South Florida (second team out)
Welcome to the second line, Marquette. Ohio State's home loss to Wisconsin on Sunday opened the door for another team to move up and with five straight wins, that team is the Golden Eagles. They are 6-4 against the top 50 and 10-5 versus the top 100.
Seton Hall could have made things academic by beating Rutgers in Newark on Saturday, but the Pirates lost to their in-state rivals and must now avoid another bad loss to DePaul in order to feel completely safe.
West Virginia missed an opportunity to move into much safer territory on Friday night when it lost at home by one to Marquette. The Mountaineers are still in decent shape with a top-10 strength of schedule and eight top-100 wins, but now, they have to beat DePaul and South Florida just to finish at .500 in league play. To be continued ...
Just when we thought Cincinnati was ready to wrap up a bid, the Bearcats go down to Tampa and put up only 45 points in a loss to South Florida. That drops their RPI back down to a scary 77. A home game against Marquette on Wednesday is a great opportunity, but they can still afford a loss. The game at Villanova on Saturday is a different story.
That win was important for the Bulls, but they're still not in the field yet because the record against the top 50 remains a woeful 1-7. The computer numbers are getting better (RPI 46, SOS 24), but there's still work to be done. Beat Louisville or West Virginia this week and we'll talk.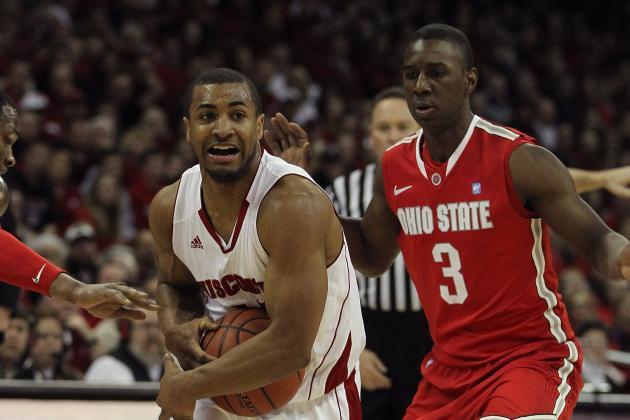 Jonathan Daniel/Getty Images

Dancing with a Hottie: Michigan State (1), Ohio State (3), Michigan (3), Wisconsin (4), Indiana (4)
Dancing with Their Sister: Purdue (7)
Wallflowers: Northwestern (12a)
Forget trying to get a 1 seed—Ohio State must start playing better just to get a 2 seed following its home loss to Wisconsin on Sunday. The Buckeyes now have six losses and have dropped three of their last five.
That victory, meanwhile, not only locks up a bid for the Badgers, but moves them up two lines because that was their sixth top-50 win, and they are now ranked in the top 20 of the RPI and strength of schedule metrics.
Purdue also picked up a huge win this weekend, blowing out Michigan by 14 on the Wolverines' home floor. That's six top-50 triumphs for the Boilermakers as well, but with an RPI of 40 and two sub-100 losses, I'll hold off locking them up until they beat Penn State on Wednesday.
Northwestern avoided a disastrous loss against Penn State on Saturday and now has a chance to really impress the committee when it hosts a reeling Buckeyes team on Wednesday. That would seriously boost the ol' 2-9 mark against the top 50.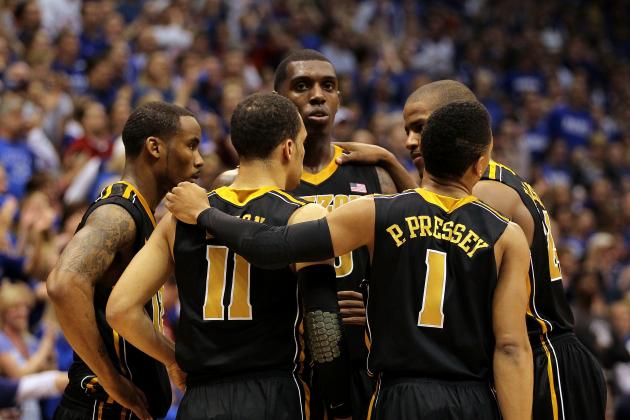 Jamie Squire/Getty Images

Dancing with a Hottie: Missouri (2), Kansas (2), Baylor (3)
Dancing with their Sister: Kansas State (8), Iowa State (9)
Wallflowers: Texas (third team out)
Iowa State picked up an enormous win at Kansas State on Saturday and is now in much better position at 11-5 in conference and 3-4 against the top 50. The last two games can only help against Missouri and Baylor.
Texas remains outside the field after picking up a must-win at Texas Tech. The team's last two games versus Oklahoma and at Kansas are must-wins as the Longhorns are just 4-9 against the top 100 and 4-8 away from home.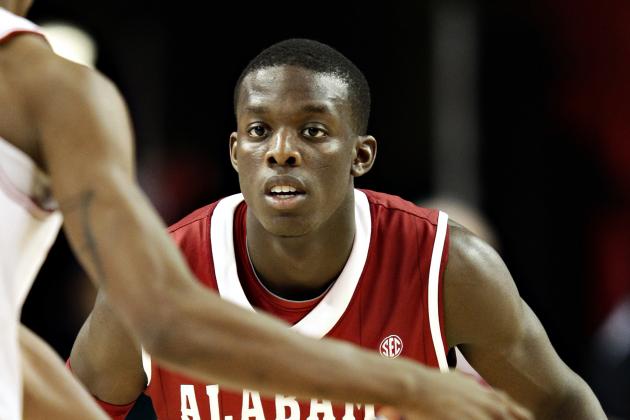 Wesley Hitt/Getty Images

Dancing with a Hottie: Kentucky (1), Vanderbilt (4), Florida (6)
Dancing with Their Sister: Alabama (7)
Wallflowers: Mississippi State (12)
Florida's loss at Georgia was its fourth to a team ranked outside the top 90 of the RPI. That's not good when you only have three top-50 wins. The Gators are, of course, safely in the field with victories over Florida State, Vandy and Alabama, but their seed may not be as high as people expect.
The Crimson Tide, meanwhile, are getting close to locking up a bid following a win over floundering Mississippi State on Saturday. Alabama improves to 9-8 against the top 100, and its computer numbers are stellar (RPI 25, SOS 14).
As for the Bulldogs, things have gone from bad to worse. With five straight losses, their computer numbers are ugly (RPI 65, SOS 62), as is their 2-6 mark in true road games.
Two RPI top-25 wins over Vandy and Alabama are keeping Miss State in the field, but this squad must win its last two against South Carolina and Arkansas.
LSU's flirtation with the field was short-lived, and the Tigers have been removed from consideration following their 72-48 loss at Ole Miss that snapped a four-game winning streak.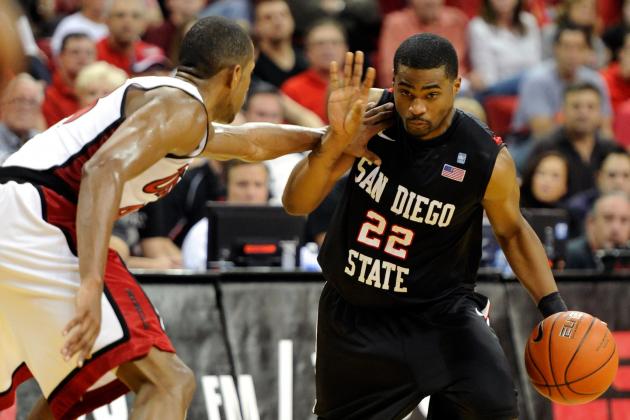 Ethan Miller/Getty Images

Dancing with a Hottie: UNLV (6)
Dancing with Their Sister: New Mexico (8), San Diego State (8)
Wallflowers: Colorado State (11), TCU (seventh team out)
Not so fast, New Mexico. Everyone was granting the Lobos lock status after their seven-game winnings streak, but after consecutive losses at Colorado State and TCU, the resume isn't looking as good. UNM will almost definitely still get in, but they need to avoid bad home losses to Air Force and Boise State this week.
Speaking of the Horned Frogs, I'm putting them on my radar following that 19-point dismantling of New Mexico. That was TCU's fourth top-50 win, which is better than a bunch of bubble teams, but the Frogs' five sub-100 losses (including two to sub-200 teams) make their at-large chances remote. But if they beat Wyoming and San Diego State this week, you have to give them a second look.
You can't penalize Colorado State for losing at San Diego State, but that was an opportunity lost. Still, the Rams' strength of schedule improves to fifth in the nation. A home game against UNLV on Wednesday is huge.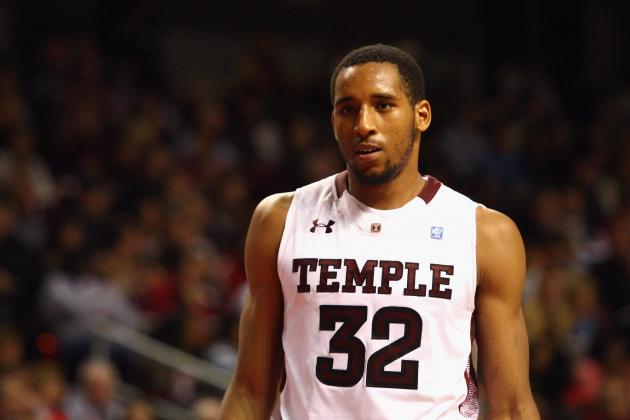 Chris Chambers/Getty Images

Dancing with a Hottie: Temple (4)
Wallflowers: Saint Louis (10), Saint Joseph's (11), Dayton (12b), Xavier (12d)
How do you go from so far out of the field to an 11 seed in one game? You beat Temple by double digits. Saint Joe's colossal victory was its second RPI top-25 win (they also beat Creighton on Dec. 10), and their computer numbers are now more respectable (RPI 51, SOS 46). They are 7-8 in both games against the top 100 and ones that are played away from home, which compares well to other bubble teams.
This resume reminds me a lot of VCU's from last year, so don't be surprised to see the Hawks called on Selection Sunday as long as they don't fall at St. Bonaventure on Wednesday or early in the A-10 tournament.
Saint Louis' resume needed a second look after the Billikens lost at No. 251 Rhode Island on Saturday. St. Louis actually has no top-50 wins at the moment, so it is relying on its solid RPI (35) and records against the top 100 (6-4) and in road/neutral games (8-5). I'd recommend the Billikens beat Xavier (also a huge game for the Musketeers) and Duquesne this week.
Dayton is winning its way into the tournament. The Flyers absolutely stomped UMass by 33 on Saturday for their fourth victory in the last five games. The pair of sub-200 losses are terrible, but the records against the RPI top 25 (2-0), top 50 (3-3) and top 100 (8-7) are worthy of the Big Dance. Still, they can't afford another bad loss to Richmond or GW this week.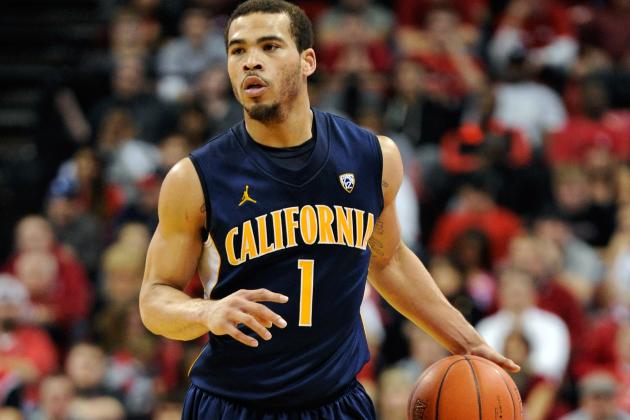 Ethan Miller/Getty Images

Wallflowers: Washington (12), California (12c), Arizona (fourth team out), Oregon (fifth team out), Colorado (eighth team out)
Cal's loss at Colorado on Sunday moved Washington into the field as the automatic bid from the Pac-12, dropped the Bears into a First Four game and kept the Buffaloes' hopes alive.
California is 0-3 against the top 50 and have two sub-100 losses to go along with an unimpressive strength of schedule, so the Bears are no sure thing if they don't win the league tournament.
Colorado picked up its first top-50 win on Sunday, but Oregon is 0-5 against those teams, so both of those resumes remain lacking.
Mitchell Layton/Getty Images

Dancing with a Hottie: Wichita State (5), Murray State (5), Creighton (6), Gonzaga (6)
Dancing with Their Sister: Southern Miss (7), Memphis (8), Saint Mary's (9)
Wallflowers: Harvard (10), BYU (first team out)
Memphis crushed a solid Marshall team by 20 on the road Saturday for the Tigers' sixth win in their last seven games. Because of this, Memphis (RPI 22, SOS 20) is almost definitely in the field, as is Southern Miss, which ended a two-game slide with a win over Rice on Saturday. The Golden Eagles aren't exactly playing well, but they are 3-2 against the top 50 and 10-3 versus the top 100, so it's almost impossible for them to slide below all of the worse resumes below them.
Harvard lost by one at home to Penn on Saturday, leaving the Crimson only a half-game up on the Quakers. If Harvard loses to Penn again in a championship game tiebreaker, they could possibly still get in because of their win over Florida State in November, but a loss at Columbia or Cornell this week and the Crimson's at-large chances are over.
BYU beat Portland on Saturday, which didn't help the Cougars strength of schedule number (104), and their resume isn't looking as good as other wallflowers right now. The one top-50 win in comparison to two sub-100 losses is not a good ratio. BYU may need a big win in the upcoming WCC tournament.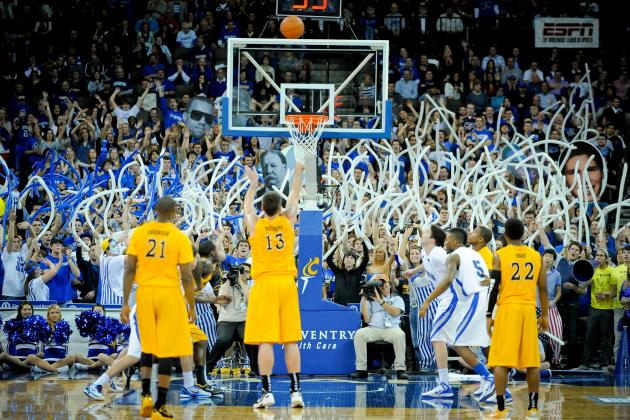 Eric Francis/Getty Images

No. 13 seeds: Iona, Long Beach State, Middle Tennessee, Oral Roberts
No. 14 seeds: Akron, Belmont, Drexel, Nevada
No. 15 seeds: Davidson, Valparaiso, Bucknell, Weber State
No. 16 seeds: Long Island, Texas-Arlington, Mississippi Valley State vs. Stony Brook, Savannah State vs. UNC Asheville
Jordan is one of Bleacher Report's College Basketball Featured Columnists. Follow him on Twitter @JordanHarrison.