UFC 144 Results: Paying Tribute to the Great Frankie Edgar
February 27, 2012

Sometimes, photographs don't lie. Benson Henderson, the new world lightweight champion put a beating on Frankie Edgar Saturday night in Japan. If you don't believe me, believe your own eyes. It was a sustained 25-minute attack, a whirlwind of hands, feet and knees— Hurricane Benson.
Despite that, this article isn't about Ben Henderson. Plenty are whispering sweet nothings in his ear right now. He won't miss a glowing tribute from the likes of me.
He was magnificent in victory, proving beyond a shadow of a doubt that he belongs in any conversation about the sport's best fighters. But the true hero of the fight was the vanquished champion.
Edgar was, to borrow a phrase your parents might recall, simply marvelous. He's barely 155 pounds but, make no mistake, he is a monster of a man. Watching Frankie Edgar fight is like sitting down with a great sports movie. Edgar seems intent on making his life a tribute to Rocky Balboa.
Fighting Edgar has to be a mental challenge of the highest order for his poor opponents. If you knock him down, at this point, you can't even get excited. You just have to know, in your heart, that he's going to pick himself back up off the mat and leap right back into the fray.
In every fight at lightweight, Edgar is over-matched. Look closely at his fight with Henderson. The two don't just look one weight class apart. Henderson looks like a man and Edgar the perpetual boy. Until the fight begins. That's when Edgar springs to life.
It's almost unthinkable, in a sport where fighters cut massive amounts of weight to gain even the slightest edge in the Octagon, to compete at your own natural body weight. But, that's exactly what Edgar does at lightweight, giving up as much as 20 pounds to his opponent.
Perhaps that's the only way to make the fight fair? Perhaps that's Edgar's way of evening the odds. Because he's an absolutely brilliant fighter, combining precision punches with an uncanny ability to upend his larger opponents.
Although he lost the decision to Henderson, it was as close as they come. Fight Metric, the official statisticians of the UFC, scored four of five rounds for Henderson. But all save one were close rounds that could have reasonably gone either way. For his part, UFC President Dana White had the fight for Edgar.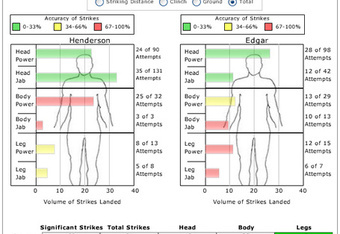 What's next is anybody's guess. Edgar seems content at lightweight. White wants the former champion to drop to 145 pounds; he's actually talked about his champion dropping down a weight class for some time, even in the midst of an amazing run with the belt. Even then Edgar will be on the smallish side against a monster featherweight like Jose Aldo.
The truth? Most men Edgar's size are bantamweights who compete at 135 pounds. That's the true brilliance of Frankie Edgar. He's able to compete at the highest level with men who dwarf him in the cage.
Now imagine what he might be able to do picking on someone his own size? It's time for 135 and 145-pound fighters in the UFC to start sleeping with the lights on. A nightmare of a challenge may soon be heading your way.