Forgotten New York Yankees of the Past Four Decades: "E"
February 27, 2012

Jim McIsaac/Getty Images
Ruth, Gehrig, Mantle and Jeter are some of the greatest names in New York Yankees history. However, Cotto, Geren, and Klutts are the names of some of the forgotten Yankees. This series will focus on the less remembered players to wear pinstripes over the last four decades (1970s-2000s). Today's letter of the day is "E."
Alan Embree (2005)
Relief pitcher Alan Embree was on the mound at Yankee Stadium for the final out of Game 7 of the 2004 ALCS. The following season, Embree was a member of the Yankees bullpen.
Embree was signed by New York as a free agent on July 30, 2005 after fellow relief pitcher Buddy Groom was designated for assignment. He had struggled with the Red Sox with a 1-4 record and a 7.65 ERA.
Embree was 1-1 in 24 appearances with the Yankees, but he still finished the season with a 7.53 ERA. His only Yankee win came in an 8-7 victory over Kansas City on Aug. 27. With New York trailing 7-3 in the top of the eighth, Embree tossed 1.1 innings of scoreless relief. He earned the win after the Yankees rallied for five runs in the bottom of the ninth.
Embree did not pitch in the ALDS  loss to the Angels and was released by the Yankees. He signed with San Diego on Jan. 12, 2006.
Kevin Elster (1994-1995)
In the mid to late 1980s, Kevin Elster appeared to be the New York Mets shortstop of the future. However, two shoulder surgeries in 1990 and 1992 helped to derail his career.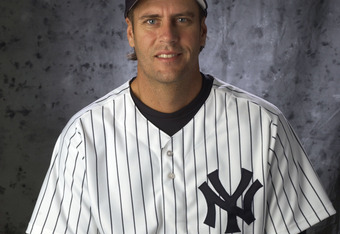 M. David Leeds/Getty Images
After stints in the Dodgers, Marlins and Padres minor league systems, Elster signed as a free agent with the Yankees on May 1, 1994. He played in seven games but was 0-for-20 at the plate with six strikeouts and one walk.
Elster started the 1995 season in the Bronx, but only batted 2-for-17 in ten games. He was released by New York on June 8, and signed as a free agent three weeks later by Kansas City.
Elster was the starting shortstop for Texas in 1996. That same year was Derek Jeter's first full season at shortstop. In 2002, Elster returned to the Yankees as a spring training non-roster invitee, but the 37-year-old failed to make the team.
Roger Erickson (1982-1983)
Pitcher Roger Erickson won 14 games as a rookie with Minnesota in 1978. But he only won 13 games over the next three seasons. Erickson looked to return to his rookie form when he arrived in New York in 1982.
On May 12, Erickson and catcher Butch Wynegar were traded from Minnesota to New York for pitchers Pete Filson and John Pacella and infielder Larry Milbourne.
Erickson started the 1982 season 4-3 with the Twins. After he was traded to the Yankees, Erickson appeared in 16 games (11 starts) and was 4-5 with a 4.46 ERA, 37 strikeouts and 17 walks.
Erickson pitched seven innings in consecutive starts against Milwaukee and Cleveland, but New York lost both games by one run. He finally earned his first Yankees win on July 2 after limiting the Indians to one run over 5.2 innings in a 3-1 victory. After earning a save two days later against Cleveland, Erickson won three of his final four starts.
After two relief appearances early in the 1983 season, Erickson was sent down to the Yankees AAA affiliate in Columbus, Ohio. He spent most of the season in AAA, compiling a 9-7 record and a 6.04 ERA in 24 games (18 starts). Erickson returned to New York in mid-September and made three relief appearances. For the season, he was was 0-1 with a 4.32 ERA in five games with the Yankees. It would be Erickson's last major league season.
On Dec. 8, 1983, Erickson and first baseman Steve Balboni were traded from New York to Kansas City for catcher Duane Dewey and pitcher Mike Armstrong.
Rawly Eastwick (1978)
Pitcher Rawly Eastwick was the closer for the Cincinnati Big Red Machine championship teams of the mid 1970s. In New York, he shared the bullpen with closer Goose Gossage and former closer Sparky Lyle.
Eastwick signed a $1.1 million, five-year free agent contract with New York on Dec. 9, 1977. It was a lucrative contract at the time for a team that was very active in the still new free agent market.
After allowing three runs in his first two appearances in 1978, Eastwick had two of his best performances in May. In an 8-4 win over Kansas City on May 1, Eastwick earned his first Yankee win after 4.1 innings of scoreless relief. He later tossed four innings of hitless relief with four strikeouts in a 2-0 win at Cleveland on May 29.
June was a different story for Eastwick. He was 0-1 while allowing six runs in 7.1 innings. Despite signing a big contract in the offseason, Eastwick was traded to Philadelphia on June 14 for outfielders Bobby Brown and Jay Johnstone.
In eight games with New York, Eastwick was 2-1 with a 3.28 ERA, 13 strikeouts and four walks. He helped lead the Phillies to their third consecutive N.L. East Division title after a 2-1 mark and a 4.02 ERA in 22 appearances.