UNC Basketball: 6 Improvements John Henson Must Make to Be a Legit Prospect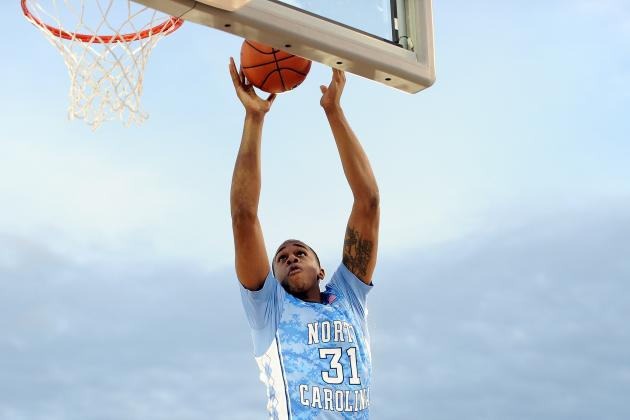 Harry How/Getty Images

There is no doubt the North Carolina Tar Heels have an elite power forward in John Henson. The question is whether or not he will still be considered elite at the next level.
While his weight is a glaring obstacle, Henson's length and pure talent had NBA scouts drooling over him since high school. It's feast or famine when it comes to the NBA's motto, "You can't teach size"—Greg Oden, anyone? His 6'10" height and 7'4" wingspan is like dangling a raw slab of meat in front of a pack of hungry wolves.
Not only is his length enticing, but John Henson shows a great deal smoothness for a guy his size. He has a great touch on his shot, rolls to the basket very well and is outstanding getting up for alley-oops and bringing them down with authority. He also dribbles well and is a surprisingly good passer—skills that many bigs do not possess.
As talented as Henson is, he is not without flaws and must make improvements on his game before he can be an elite NBA power forward.
Begin Slideshow

»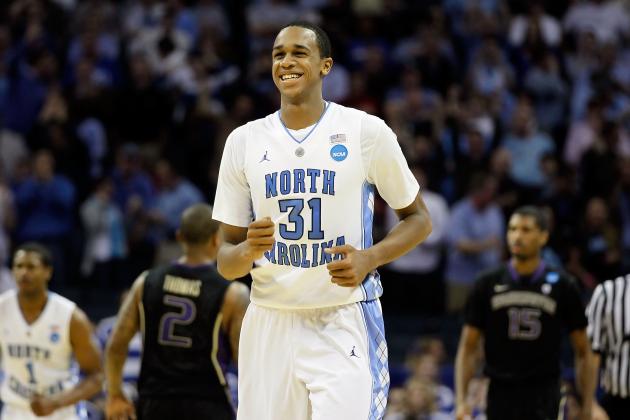 Kevin C. Cox/Getty Images

I'm not breaking any news here, when I say John Henson needs to size up. The top power forwards in the NBA—of similar height—average around 250 pounds. Henson weighs in at 220 pounds.
At first glance, he seems like the body type that just can't put on weight. However, he has the broad shoulders that indicate he can put on the pounds. Folks may be surprised to know that he actually came to Carolina as a freshman, weighing in at 183 pounds. That's a 37-pound improvement in just under three years!
Not too shabby for the guy his Tar Heels teammates call Sticks.
In an article in USA Today, Henson was quoted as saying, "As I've gained weight and gotten stronger, it's something that I've liked. When you see the progress, you start to like stuff like that."
John Henson is still working on the weight impediment, eating six to seven meals a day and hitting the weight room four days a week with team strength and conditioning coach Jonas Sahratian.
It's hard to say if he will end up in the 250-pound range when it's all said and done. If he can add at least another 15 to 20 pounds and learn how to throw it around, that may be enough to play with the big boys in the NBA.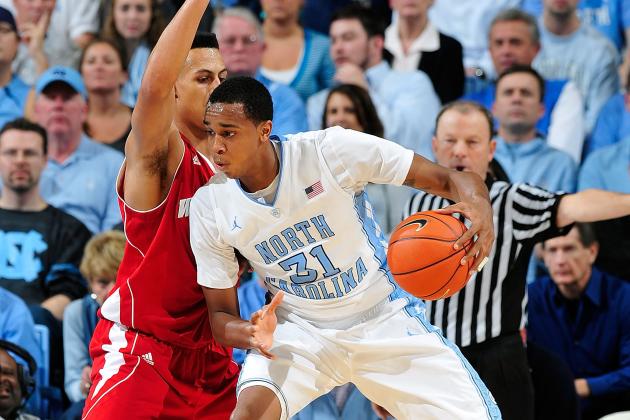 Grant Halverson/Getty Images

It goes beyond just putting on weight. Henson has to learn to throw it around better and get more physical. The anger that he dunks with on an alley-oop is the kind of anger I want to see him throw his weight around with—less finesse and more fight. Chris Bosh still handles his business at 6'11", 235 pounds.
On the defensive end of the floor, John Henson is easily backed down in the post and gets bullied when positioning for the rebound. Leverage is as much a problem as his weight.
Henson is a great shot-blocker that likes to stand tall, but his high center of gravity becomes detrimental to the physical aspect of his game. He needs to bend those stilts and gain some leverage. Even torso-to-torso, he will still have length over just about any player he's defending.
On the offensive end, he lacks power under the basket. Unless he's jamming home an offensive rebound or an alley-oop, Henson has a tendency to get mugged in the paint. This leads to steals, blocks or a really bad shot. Hopefully, this aspect of his game will be fixed with another 15 pounds or so of muscle.
Andrew Carter of newsobserver.com also had a quote from John Henson that sparked my interest. "Physical—thankfully—isn't a big aspect of basketball. It's not football. You can be alright even if you're not as physical as other people."
That's true, to a point. But it's going to take a lot more than superior length to grab rebounds and post up against NBA power forwards.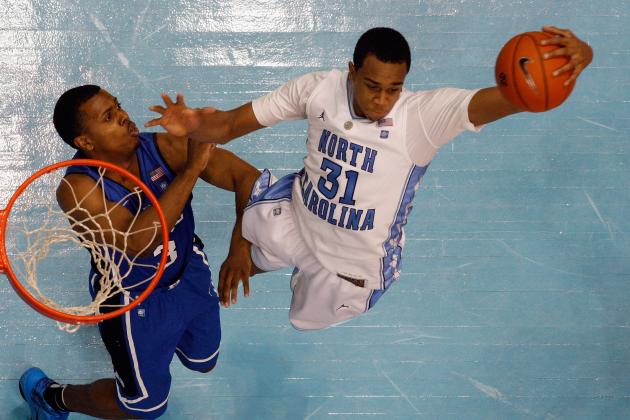 Streeter Lecka/Getty Images

John Henson's massive wingspan allows him to make up for bad positioning at the NCAA level. I'm just not sure how well that will cut it in the NBA.
Henson is currently 16th in the NCAA, averaging 10.4 rebounds per game. That's a great average, but he grabs a lot of them despite poor positioning. Sometimes the offense is transitioning back to defense when he snatches defensive rebounds. Other times, he uses his length to grab rebounds from behind without catching an over-the-back call.
He has a knack for locating where the ball will bounce and has tons of hustle on the boards. He also sports some great hands, when it comes to rebounding.
The only thing holding back John Henson from grabbing a ton of rebounds in the NBA is his weight and positioning. Those two may go hand-in-hand, but I still believe he just needs to develop some toughness.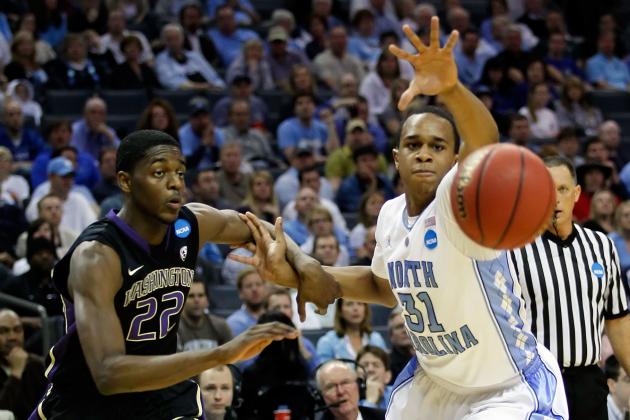 Kevin C. Cox/Getty Images

Did I say John Henson has good hands? I did, but that was in reference to rebounds that gently fall into a player's hands. His issue is catching hot passes.
Kendall Marshall can lob to Henson all day long, and he'll finish with the best of him. Put a little zip on it and his hands become rocks. I see a lot of missed opportunities in the post because of this.
Sometimes, a player needs to catch the ball and make a simultaneous move to get a good shot off. Those shots go by the wayside when he drops the feed. By the time he regains control, he's double and triple-teamed and puts up a bad shot.
The good news is that hand-eye coordination is not the issue. As fearless as John Henson plays, I doubt it's a mental issue either. I can't imagine him being afraid of a ball with a little pepper on it. What he needs to do, is work on developing softer hands. Catching a ball with stiff hands is like trying to catch it with two tennis rackets.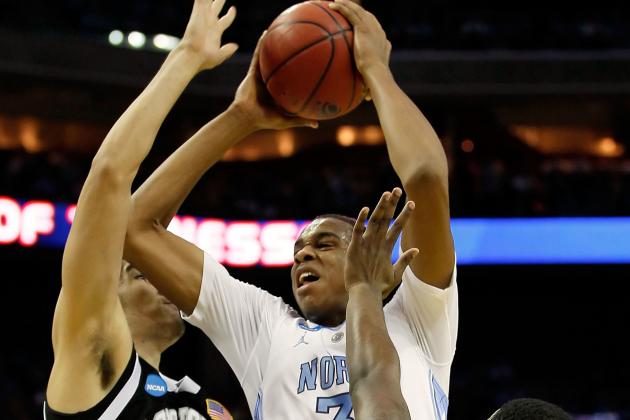 Kevin C. Cox/Getty Images

John Henson can knock down a wide range of shots—hooks, turnaround jumpers,16-footers and the occasional three-pointer. Choosing when to take them in the post is his biggest flaw.
I've heard numerous commentators get on Henson for taking a long-range jumper. I don't have a problem with that. He has a nice stroke and should continue taking the open shots to get better and build confidence.
My issue with his shot selection is when he's in the post. Henson has great footwork and can get off a wide range of shots without having to rely on physicality. That doesn't mean he should be trying to put it up on a double or triple-team effort by the defense.
Too many times, I see him try to shoot a turnaround jumper while suffocated by defenders. The moment the defense collapses on him, he should be dishing the ball out on the perimeter. His teammates are usually sitting there wide open—triple-teams tend to have that effect.
John Henson has to stop taking bad shots. I don't know if it's a lack of awareness or overconfidence in his length. He's a great passer at his position, and that would be a opportune time to flaunt those skills.
For a big guy, John Henson displays great form when shooting from the charity stripe. Unfortunately, form doesn't show up in the stat lines or the scoreboard.
Henson is shooting a mediocre 50 percent from the foul line. On a positive note, he's up six percent from his freshman year. I have faith he will continue to improve from there. It's not like he's Shaquille O'Neal—there's actually a decent base to improve upon.
Unless he wants "Hack a Henson" to be the next trend in the NBA, he needs to make a point to improve on this part of his game.
One thing you can be sure of with John Henson is that he will continue to get better in every aspect of his game. He's a diligent worker and an intense player on the court. I'm not sure he will ever be convinced physical is the way to go, but his length and pure talent will help him along.
John Henson possesses a lot of skills that can't be taught—he just needs to continue working on the ones that can be.