L.A. Kings: Is Dean Lombardi Rebuilding the 2011 Philadelphia Flyers?
March 22, 2012

Jeff Gross/Getty Images
Last June 23rd, the Philadelphia Flyers traded captain Mike Richards and his nine years at $5.75 million a year to the Los Angeles Kings for prime prospect Brayden Schenn, physical NHL winger Wayne Simmonds and a second-round pick in 2012.
Previously, they traded center Jeff Carter to the Columbus Blue Jackets for Jakub Voracek and first- and third- round picks in last year's draft. The Flyers selected Sean Couturier and Nick Cousins with those picks.  
Those moves allowed the Flyers to sign goalie Ilya Bryzgalov, addressing a longstanding need in net. The team also regained cap room that they hadn't had since 2005 and buttressed the organization with very young, highly regarded talent.  
The Flyers have taken a small step backwards. They won their division last year with 106 points. They currently sit fifth in the East and third in the Atlantic behind the New York Rangers and Pittsburgh Penguins with 92 points and nine games left to play. 
If Philadelphia manages to do better in the playoffs than they did last year, they have to see the moves they made as successful. They are still tight against the cap this year, but they have some younger players who hopefully will improve with time.
Carter and Richards are in their prime and unlikely to perform much better than they have already in their careers.    
Most of this personnel rearrangement was done so the Flyers could fill that gap in goal that they have suffered with for the last decade. Ilya.Bryzgalov had been a disappointment so far this season with an .898 save percentage in his first 43 games. He was barely out-pacing Sergei Bobrovsky for the starting job.
The last 11 games have seen a huge improvement for him statistically. He now has a .910 save percentage, which puts him in the company of Ondrej Pavelec and Jonas Hiller. He has posted four shutouts since March 4th and looks like he is finally rounding into the goalie that the Flyers have needed in the playoffs for so many years now.
The trading of their two young centers, who are both 27, was seen not only as an attempt to get a goalie, cap room and younger, it was also seen as a blanket condemnation of the leadership of these two former first-round picks.
Now, Los Angeles general manager Dean Lombardi has picked up Jeff Carter from the Columbus Blue Jackets for big offensive defenseman Jack Johnson and their first-round pick this year.
Lombardi believes that the former leaders in Philly are going to be able to take the L.A. Kings into the playoffs where they can challenge for a cup. Carter represents a $5.27 million a year cap hit for another 10 years, or until he is 37.
The L.A. Kings have given up a lot in prospects, players and picks for these two centers. It seems that Lombardi is saying that the heart of last year's Philadelphia Flyers team is better than anything he has put together so far or is likely to add in the near future.
He has traded for two centers in their prime to do something in Los Angeles now. 
Kopitar, Richards, Carter and Doughty will dominate the cap in L.A. for years to come. The team is right up against the cap limit now and has $54 million dedicated to 20 roster players next year.
Stephen Dunn/Getty Images
Dean Lombardi has made a decision to take a run at the Stanley Cup now. He has added strength down center. Anze Kopitar, Mike Richards and Jeff Carter were the three best centers playing on one team in the league until Sidney Crosby returned to the Penguins. 
Mike Richards and Jeff Carter bring a strong defensive component with what are also considerable offensive skills. Richards worked the checking line for the Canadian national team during the Vancouver Olympics where he helped shut down the greatest scorers in the world.
In combination with Anze Kopitar's considerable offensive skills, L.A. hopes they improve the team's league worst offense.
Jeff Carter is probably going to play the wing for L.A. to help provide the shooting and scoring they so desperately need there. He has been one of the NHL's best goal scorers since he joined the league in 2006. 
These two defensively responsible stars are on a Kings team that has been one of the tightest teams defensively the last few seasons. They currently have given up a mere 27.8 shots on goal per game, the fifth-best average in the league as of March 22nd.
Combine that with the Vezina-worthy goaltending they have gotten from Jonathan Quick (.928 save percentage) so far this year and the Kings look like a team that could excel in the playoffs if they could only get there.
Richards and Carter took the blame In Philadelphia for not winning a Stanley Cup during their six-year tenure. Carter was hurt during the playoffs last year and Mike Richards tied James van Riemsdyk for third in team scoring with seven points.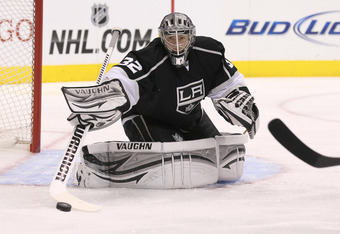 Stephen Dunn/Getty Images
They were swept in the second round by the Boston Bruins. While the Flyers only managed to score seven goals versus the Bruins last year, the story of their defeat has to be the 20 goals they gave up in those four games. Brian Boucher was pulled in all three games he started. The Flyers used three goaltenders in the playoffs last year. Boucher, with a .904 save percentage, was the best of the bunch.
Richards and Carter weren't the reason the Flyers lost last year. They were a big part of the team's playoff success the last few years which saw them lose in the Stanley Cup finals to Chicago in 2010. The team also made the Eastern Conference finals in 2008.
With even adequate goaltending, both of those teams could have won Stanley Cups.
The L.A. Kings haven't suffered from lack of good goaltending or quality defensive play this year. They are currently riding a five-game win streak that has them in eighth place in the Western Conference. They have two games in hand on seventh-place Chicago.  
General manager Lombardi is banking on Richards and Carter with Drew Doughty, Jonathan Quick and Anze Kopitar being able to challenge for a Stanley Cup once they make the playoffs.
They have a big test tonight against the front-running St Louis Blues. The Blues are also a likely first-round opponent for the Kings if they make the playoffs.
Mike Richards and Jeff Carter will get the chance to prove they could have won a cup in Philadelphia if they had only had good goaltending behind them. If they don't make the playoffs or lose early, then it looks like Dean Lombardi's time in Los Angeles may be over. He seems to have given up on his vision for the Kings and taken up the vision that Paul Holmgren had from 2006 to 2011.
If that vision doesn't work out, I'm not sure what is left for Lombardi to try in L.A.