Arsenal vs. Tottenham: Gunners' 5-2 Victory Still a Flawless Performance
February 27, 2012

Clive Mason/Getty Images
Yes, I did watch the game. And yes, I do know that Arsenal were 0-2 down after 34 minutes. But I will still call that performance "flawless."
Let's get something straight first: Arsenal played Spurs, and what is their best team in decades. They were on a good run of form, and sitting only seven points behind league-leaders Manchester City. They were at full strength.
And let's be honest, they had the mental edge over Arsenal going into this fixture. For once, in as long as I can remember, they were not favorites to win.
So yes, a team like that is going to make a few chances. And, in all likelihood, score as well. And Spurs did.
But if you look at their two goals, both were extremely lucky. Arsenal were somewhat opened up for Saha's goal, but he wasn't one-on-one with Szczesny. Gibbs had tracked back, and Vermaelen was in his way. But unfortunately, his scuffed shot took a gravity-defying deflection off the hapless Belgian and looped over Szczesny and in.
In fact, I won't be surprised if the dubious goals panel gives that one to Vermaelen after their quarterly rendezvous.
To concede a goal like that in the fourth minute must have been a real kick in the teeth, and a shell-shocked Arsenal were slow to respond. And as they began to haul themselves back, lightning struck again. Yes, Gareth Bale sliced through the Arsenal center like a hot knife through butter, but we're talking about one of the best players in the Premier League.
Unfortunately, we're also talking about one of the biggest cheats in the league.
He went down following a crunching tackle from nobody and won his team a cheap penalty. Typically, this was coolly put away by birthday-boy Emmanuel Adebayor, and Arsenal were 0-2 down.
As I sat in my chair watching this unfold, I was hoping they would go in at halftime with no further goals conceded. What happened next was almost supernatural.
I'm not going to provide a commentary on the five goals, because you've probably watched and read about them over and over again, but what I am going to do is salute a group of players who have been given more than their fair share of bashing these past few weeks.
I'll start with the back five.
And the greatest indicator of their performance was that defensively speaking, I don't have much to say. Szczesny was good when called upon, Vermaelen looked much better than he has recently, Koscielny was solid, and Gibbs did well, though he did appear to tire toward the end.
Jenkinson was steady when he came on. They did what was asked of them. What more could fans want?
But yes, special mention goes to Mr. Consistent, Bacary Sagna, who largely nullified Gareth Bale with a solid shift at right back, but more importantly, earned his spurs at the attacking end with a determined, aggressive header to make it 1-2, and then set up Rosicky with a somewhat fortuitous deflected cross that made it 3-2.
I am amazed that there isn't a line of suitors knocking on Arsene Wenger's door for Sagna's signature, but if he isn't rated as one of the top five right backs in the world today, then the world is an ass. Super-Sagna!
Song and Arteta were fantastic in their holding midfield roles.
The Spaniard, again, made hardly any mistakes, though I do wish he would strike his free kicks elsewhere than at the opponents' defensive wall—once in a while.
Song was solid, too, and his lofted ball to Walcott for Arsenal's fifth showed how much he has come on as an offensive threat. That's six assists now for Alex in the league this season.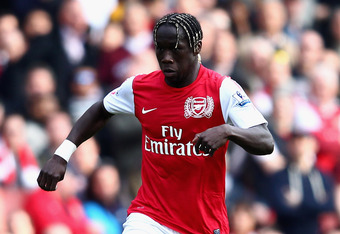 Clive Mason/Getty Images
Up front, Arsene Wenger dealt us a most unexpected hand. I was expecting Gervinho and Alex Oxlade-Chamberlain to start in the wide positions. Neither did.
And three cheers for Arsene, he got it right. Benayoun was disciplined and industrious. I can barely remember Nico Krancjar or Kyle Walker having a sniff all afternoon. His presence in front of Gibbs was vital.
On the right, Walcott had a terrible first half, but did he make amends for that. Two superbly taken goals, and a barnstorming second-half all round. More of the same, please, Theo.
And kudos to the Boss for not taking him off at the break.
Up front, Robin van Persie started slowly, but then he displayed the quality that makes him one of the best players in world football today. A quite sumptuous goal to draw Arsenal level, fantastic strength, control and vision to lay on Walcott's first and another classy and committed all-round display (I recall a block off a Walker shot in our box) by the Captain.
There is a theory that Arsenal should take the money and run this summer, and while the argument has its merits, I haven't signed up yet.
And that leaves us with my (and many other Arsenal fans') man of the match, Tomas Rosicky.
His time out due to injury has made us forget that when he signed for Arsenal, he was one of the brightest talents around. And now that he is back to full fitness—playing regularly and playing in his favored position—we are seeing what Tomas has to offer.
While his quality on the ball is clear to see, what often goes unnoticed is his work rate, and how he drives the team forward. Rosicky dragged Arsenal to victory against Sunderland two weeks ago (although the King received all the plaudits), and he did the same yesterday.
Finally, for the collective performance.
I've heard it being mentioned before, and I have to agree—when Arsenal play a pressing game and hurry their opponents, they are a different team. Three matches come to mind as a blue-print: 3-1 and 5-3 against Chelsea and 5-2 yesterday.
Why don't they do that more often? Every time a Spurs player got the ball, there was at least one Arsenal player bearing down on him at speed. As a result, they were over-run in midfield, and Redknapp was forced to make two changes at halftime, even though the scores were level.
Up front, they were direct, incisive and clinical. There were fewer square and back passes, and more thrust toward the opposing goal—like the Arsenal of old.
As they travel to Anfield next week, let's hope they carry this momentum forward. Liverpool may have won a "trophy," but they're a fairly average team. Three points there, and we then face Milan in the "Forgotten Cup."
Yup, they're still in it.
Dare to dream, Gunners.