Chicago Cubs: Theo Epstein's Blueprint to Breaking His Second MLB Curse
February 27, 2012

Jonathan Daniel/Getty Images
Theo Epstein presented general manager Jed Hoyer, manager Dale Sveum and the rest of his staff throughout the organization, a thick manual explaining how the organization will begin assembling a championship-caliber organization.
"The Cubs Way."
Epstein has already been credited with reversing one curse in his career, and now his focus is on doing the same thing in Chicago.
But the way he will go about that is much different than "The Boston Way."
Let's get one thing straight: Epstein's situation he's walking into is much different than what he was given to start in Boston. There are no Manny Ramirez's walking into the dugout, and Pedro Martinez won't be starting Opening Day.
The Cubs have not one player in the middle of his prime, with Matt Garza perhaps being the exception as he showed last year that he's coming into his own. And who knows how long Garza will be with the club?
When Epstein came to Boston, his two highest paid players were his two best players, in Martinez and Ramirez. This year, the Cubs are paying Alfonso Soriano $18 million and Ryan Dempster $14 million. This will be a much bigger task for Epstein and Co. to tackle.
The biggest factor in the blueprint of "The Cubs Way" is player scouting and development. Epstein frequently found the low-profile player who turned out to make a big contribution.
Epstein signed David Ortiz for one year and $1.2 million in his first year. He traded cash considerations for Kevin Millar. He sent a package of under-achieving players to acquire World Series hero, Curt Schilling.
In fact, if you look at the trades Epstein has made in his career, there are very few prospects he let go that he or the Red Sox ever thought about regretting.
Justin Masterson was the key piece in acquiring Victor Martinez from the Cleveland Indians, and Anthony Rizzo was moved for Adrian Gonzalez—but when you have the opportunity to receive a talent like Gonzalez, there are very few players who are untouchable.
Expect Epstein to have a better feel for what he's giving away than what the other team thinks they're getting.
When it comes to scouting, Epstein reached the sustained success he wants for the Cubs by building through the draft. He also didn't have the benefit of getting early draft picks, which he will likely have for the first couple of years for the Cubs.
Tie all of this together with the new facilities the Cubs are building in the Dominican Republic, and Epstein will show why his scouting department is second to none.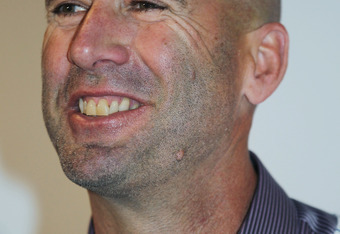 Jonathan Daniel/Getty Images
From there, expect Epstein to instill a better clubhouse attitude that's been missing in the Quade era and end of the Piniella era. Epstein talks about wanting the game to be played hard and right. From the bottom to the top of the organization, everything will be taught and preached the same way.
In a 162-game stretch, effort is half the battle. Epstein and Sveum are bringing an attitude and excitement that hopefully spreads throughout the roster, making it exciting for both the fans and players to come to the ballpark every day.
Contrary to popular belief, Epstein isn't perfect. He made his fair share of mistakes. Recent contracts given to Carl Crawford and John Lackey have been heavily criticized. He inked Edgar Renteria to a four-year, $40 million deal that backfired, as Renteria was moved after one year. He also gave a questionable extension to injury-prone Josh Beckett.
But don't expect Epstein to be spend so freely, especially early on. He has learned from his mistakes and has seen how far big spending has gotten him lately. Until the Cubs shred some of the bad contracts, they won't have the payroll to bring in multiple high-profile free agents in one year.
And that's not a bad thing.
The blueprint Epstein is preparing is one that is built through the draft and player development. Expect Epstein to sign a big-name free agent either next year or the year after, but this won't be a team built that way. He will much prefer to provide large extensions to home-grown talent rather than rewarding players for past success, as he's said before.
Part of the problem was competing with the New York Yankees. The biggest threat in the National League is the Phillies when it comes to payroll, but who knows how long they will be able to sustain success with their aging roster and lack of a farm system.
This isn't Boston. Don't expect the same design, but do expect similar results.