Texas Rangers: 5 Reasons Rangers Can Expect Josh Hamilton's Best Season Yet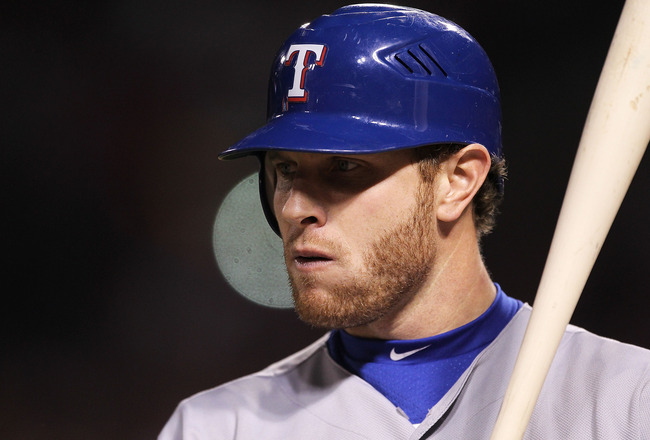 Ezra Shaw/Getty Images
Spring training is right around the corner, and no team is more ready to start the season than the Texas Rangers. Everyone is ready to see the new Japanese pitching sensation Yu Darvish, but the team's other superstar Josh Hamilton has been in the headlines as of late for multiple reasons.
Despite all the talk surrounding his contract and speculation of where he might end up next year, Hamilton will have one of his best seasons yet as a Ranger. Here are five reasons why.
Hamiltion Will Be Playing for a New Contract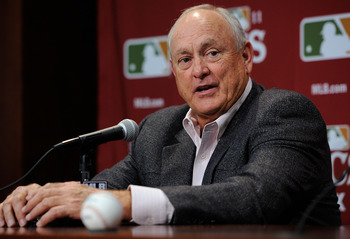 Kevork Djansezian/Getty Images
Contract talks have heated up between Hamilton and the Rangers, as Hamilton's deal is up at the end of 2012.
Hamilton has recently said, "I don't feel like I owe the Rangers," which is basically implying that he shouldn't be giving Nolan Ryan and the club a discounted rate.
He could make his own version of the Albert Pujols situation that took place before the 2011 season, where Pujols and the Cardinals failed to get a new deal done, allowing him to become an unrestricted free agent at the end of the year.
Pujols had a good season and won the World Series, then left in the winter for the Angels and a monstrous contract. The same is most likely to happen between the Rangers and Hamilton. Maybe Texas can get a World Series win out of the deal.
He Will Show His Devotion to the Rangers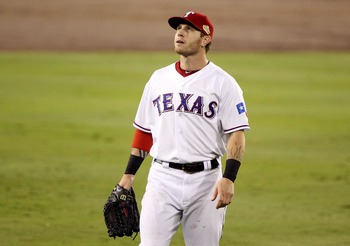 Ezra Shaw/Getty Images
Although there has recently been some bitterness between the Rangers and Hamilton regarding his contract, Hamilton is still hopeful that the team he suits up for in 2013 resides at the Rangers Ballpark in Arlington.
What better way to show your team how much you mutually care for each other than hitting 40-or-so home runs for them? If Hamilton truly wants to show how much he loves the Rangers, then he should have a big year once again.
It would be hard for the Rangers to disregard a big year from Hamilton in center field. If he has one, expect Jon Daniels and Nolan Ryan to pony up the money for him.
He Is Motivated from His World Series Losses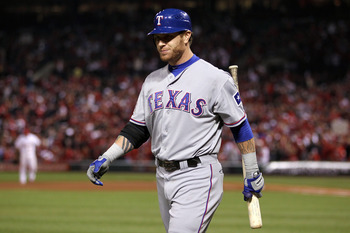 Ezra Shaw/Getty Images
Two straight American League Championships have been followed by two straight World Series losses for the Texas Rangers, and the losses have hung more heavily over the face of the franchise than anyone else.
This is a pivotal year for the Rangers. If they are not able to bounce back this season from the crushing World Series loss to the Cardinals in November, they may never do it again.
This gives Hamilton and the team even more motivation to prove the doubters wrong, and he should be able to have a great regular season because of it.
Hamilton Has His Eyes on the Prize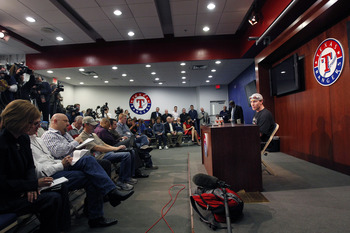 Layne Murdoch/Getty Images
After his recent alcohol relapse and all the speculation that has surrounded it, there is one thing that Hamilton should make clear—he just wants to get back to baseball.
This is the second time that Hamilton has had a reported relapse during his tenure with the Rangers, an organization that surely has had his best interests in mind. They even said they are hiring someone to support Hamilton through the season and all his counseling.
So, according to the above article, Hamilton has to show the same work ethic off the field as he does on. I expect Hamilton to have his mind in the right place and therefore have another amazing season.
He Plays His Best in Years That End in Even Numbers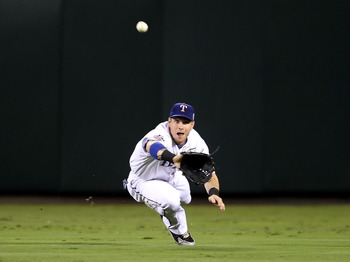 Christian Petersen/Getty Images
If you look at the statistics from Hamilton in recent years, its easy to notice a specific trend. His best years have been in 2008 and 2010, and he even finished off the 2010 season with an AL MVP award.
In those two seasons, Hamilton averaged 32 home runs, 115 RBI's, a .332 batting average and (most importantly) 144.5 games played.
So in 2012 we should see similar results, right? If you believe in the religion that is baseball statistics, it makes perfect sense. If history doesn't lie, Hamilton will have another healthy and productive season for the Rangers.
With all the combined standpoints, you can expect Hamilton to have yet another MVP-caliber season.
Keep Reading

Texas Rangers: Like this team?