2012 College Baseball: Who's Stopping Stanford? Probably No One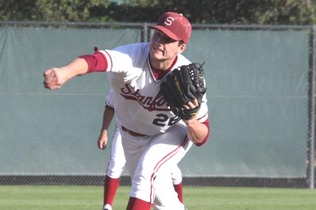 While many of us count down the days to the start of the MLB season, college baseball is already two weeks underway and, as usual, loaded with future major league talent that every baseball fan should be keeping their eyes on.
The Florida Gators, led by future first-round draft pick and catcher, Mike Zunino (.440, 2 HR, 6 RBI), and insanely hot senior and former Colorado Rockies draft pick Preston Tucker (.387, 5 HR, 8 RBI) have come out of the gate strong, being the preseason No. 1 team in the country, but did suffer a loss to a strong Cal State Fullerton team in their opening series.
While a very strong argument can still be made that the Gators are the No. 1 team in the country (They also feature Brian Johnson, a potential first-round pick at the top of their rotation), a team on the West coast would like to challenge their position at the top of the national rankings.
The Stanford Cardinal recently finished an incredibly impressive three-game sweep in Palo Alto against the No. 9 team in the country, the Texas Longhorns (2-5). While the Gators may have more proven talent at the college level, there may be even more big league talent on the Cardinal, which was on full display this weekend.
The Cardinal are led by the guy who is featured as the potential No. 1 pick on just about every draft board in starting pitcher Mark Appel.
Appel is a 6'5" power arm who has been absolutely dominant so far this year, winning both his starts while only allowing two runs in 14 innings pitched. He also struck out 15 batters at a rate of more than one per inning. With one of the top pitchers in the country atop of their rotation, the Cardinal will always be in a position to win on Fridays.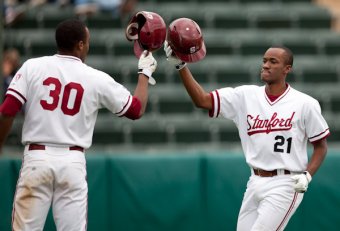 That being said, the rest of the rotation isn't too shabby either.
Brett Mooneyham (2-0, 2.57 ERA), son of former big leaguer Bill Mooneyham, looks to be returning strong as a weekend starter this year after a finger injury kept him out last season.
Freshman John Hochstatter seems to have emerged as the No. 3 starter, but will be pushed by A.J. Vanegas despite Vanegas struggling thus far this season. Freshman David Schmidt, drafted by the Cardinals last year, looks to be a key member of the bullpen.
While Stanford may have one of the best pitching staffs in the country behind Appel and Mooneyham, their offense may be what sets them over the top. Just about every member of the Stanford lineup has big league potential, led by future high draft picks in Kenny Diekroeger and Brian Ragira, among others.
The shortstop, Diekroeger (.400, 0 HR, 5 RBI) was a second-round pick by the Tampa Bay Rays in 2009, but his success at Stanford should have worked him into a potential first-round pick this spring.
Ragira (.419, 0 HR, 7 RBI), though, who can play multiple positions but has seemed to settle in at first base, may be the biggest pro prospect in their lineup.
Ragira, who is from Houston and the son of Kenyan immigrants, was the Pac-10 Freshman of the Year last season and shows an incredible raw gift for the game, especially offensively.
Junior outfielder Jake Stewart (.400, 1 HR, 6 RBI), who was a 14th-round pick by the Phillies out of high school, serves as the leadoff hitter and has started off the year very hot offensively. He, too, could be working himself into the first round this June.
Sophomore infielder Lonnie Kauppila (.360, 0 HR, 4 RBI), junior outfielder Tyler Gaffney (.346, 0 HR, 6 RBI) and sophomore outfielder Austin Wilson (.316, 1 HR, 6 RBI) are also incredible talents the Cardinal spread throughout the lineup.
The glue holding the whole offense together is junior infielder and team leader Stephen Piscotty, a first team All-Pac-10 selection in 2011. Piscotty has already hit three home runs and drove in 16 runs this season from the middle of the order. He also looks to be a high-round draft pick.
While Florida and South Carolina are going to duke it out on the East coast all season, the team to watch on the West coast is for sure the Stanford Cardinal.
Look for this team to dominate all season, as their sweep over Texas showed, and look for players like Appel, Diekroeger, Stewart and Piscotty to hear their names called quite early this June in the MLB draft.
This article is
What is the duplicate article?
Why is this article offensive?
Where is this article plagiarized from?
Why is this article poorly edited?