NHL Trade Rumors: Chicago Blackhawks Smart to Search for Help on Defense
February 27, 2012

Tom Szczerbowski/Getty Images
The Chicago Blackhawks need a defenseman at the trade deadline if they have any hope of making a strong playoff run and winning the 2012 Stanley Cup.
They are currently the sixth seed in the Western Conference and should feel good about their chances of holding on to that, but with high-powered teams like the Red Wings and Canucks ahead of them, and the Sharks, Stars, Kings and Avalanche behind, the 'Hawks cannot afford to stand pat at the deadline.
This is a team that needs to be active in finding a few more pieces to shore things up, especially on defense.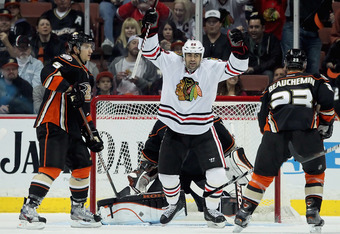 Jeff Gross/Getty Images
With players like Patrick Kane and Jonathan Toews—when healthy—on the ice this is a team that will do just fine offensively.
Defense can be a struggle at times though, that's why the latest rumors from Alvin Chang of ESPN NHL makes so much sense for the Blackhawks:
The Chicago Blackhawks eyeing a few defensemen they can trade for, including Matt Carle and Sheldon Souray, TrueHockey.com's Andy Strickland writes. The Hawks aren't going to be giving away any NHL players in their deals, so it's likely they will send back picks or prospects.
Here is the tweet from Strickland: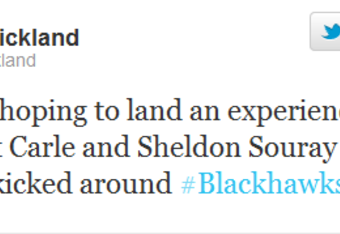 The Blackhawks would be smart to pursue these trades, especially if all they are looking to give up is prospects or picks.
Adding a solid defenseman to this already good roster will make the Blackhawks a very dangerous team in the Western Conference, and we all know that the NHL is all about timing.
If they can go into the playoffs hot and with a solid defense, there is no telling what the 'Hawks will be able to do.