Atlanta Braves: Why Craig Kimbrel Will Lead the NL in Saves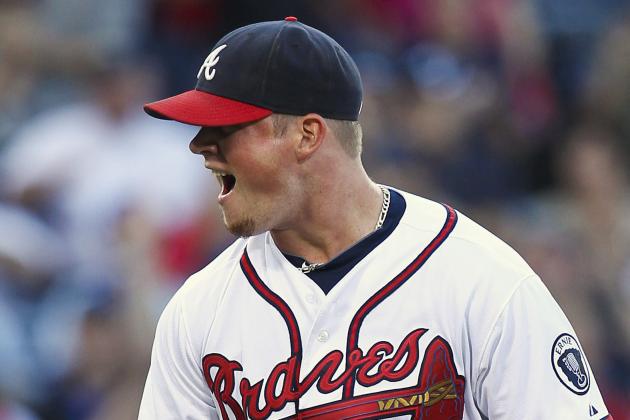 Daniel Shirey/Getty Images
Craig Kimbrel could make a run at the all-time career saves record if he stays healthy.
After a rookie season which can best be described in one word—dominant, Craig Kimbrel is ready for an encore.
So how does the young flamethrower follow up such a spectacular rookie season? My prediction is by leading the National League in saves.
This article points to a few reasons why Craig Kimbrel is in such a good position to lead the league in saves in 2012.
Begin Slideshow

»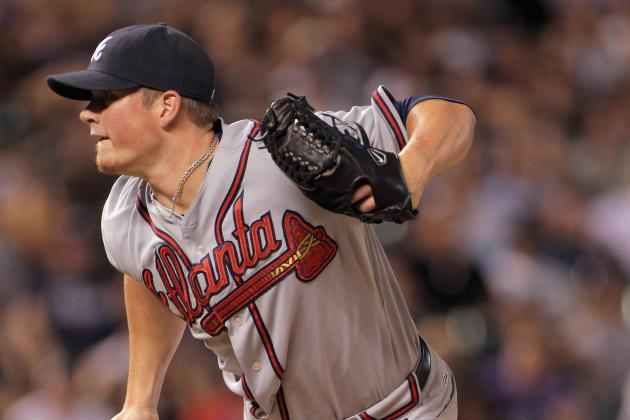 Doug Pensinger/Getty Images
Craig Kimbrel should get plenty of save chances in 2012.
While it's hard to predict how good the Braves will or will not be this season, one thing is for sure. That thing is the fact that they have too much talent not to have a good team that finishes above .500.
The Braves are likely to put up somewhere between 85-100 games in 2012 with the team the front office has assembled. Why this matters is because it only presents Kimbrel more potential save opportunities.
Guys like Joel Hanrahan of Pittsburgh and Huston Street of San Diego just aren't likely to get as many opportunities as Kimbrel will in 2012.
Daniel Shirey/Getty Images
The Braves will not have an explosive offense, meaning more close games.
The fact that the Braves have an offense that is looking to be league average isn't normally a positive thing. It is a positive thing for Kimbrel's save opportunities however.
What it means is that the Braves aren't likely going to blow out too many opponents, and close games equal save opportunities.
Kimbrel posted so many saves last year for this reason. Good starting and an offense that will sputter at times gives him plenty of close games to finish off.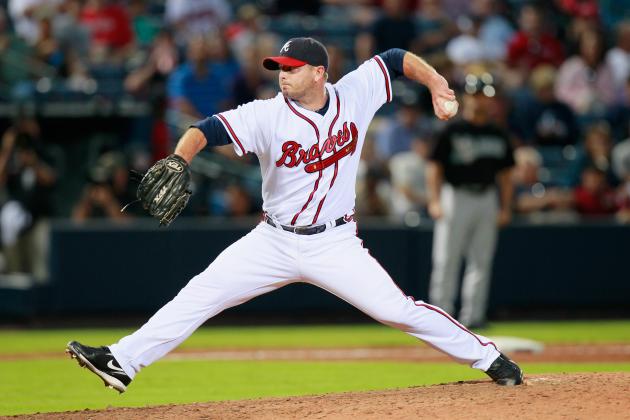 Kevin C. Cox/Getty Images
Billy Wagner has really helped Craig Kimbrel grow as a pitcher.
Craig Kimbrel was a very wild pitcher in the minors with huge questions about his control. Everything changed after he was able to spend a significant amount of time in 2010 with Billy Wagner—a similarly built power pitcher.
After spending time with Wagner, Kimbrel was able to cut his walk rate to a fairly respectable 3.7 allowed per nine innings, down from the 5.7 mark he posted in his minor league career.
Kimbrel is still learning how to be a pitcher instead of just a thrower, but the results were obvious last year. As he continues to pick up on the finer points, he can begin to grow even more.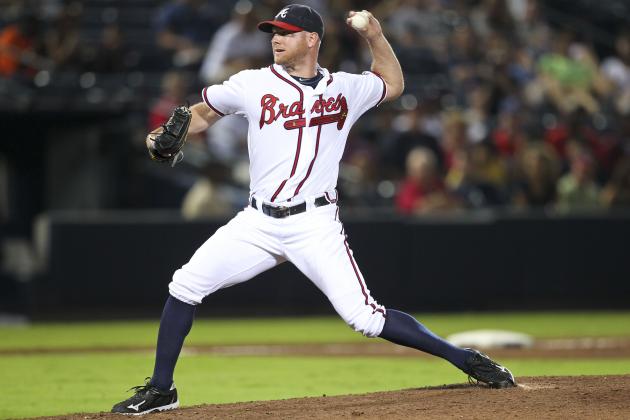 Daniel Shirey/Getty Images
Elite setup man Jonny Venters will help Kimbrel.
Craig Kimbrel isn't the only dominant late-inning reliever with the Braves.
In the first two years of his career, Jonny Venters has a 1.89 ERA and 189 strikeouts over 171 innings. His 85 appearances in relief led the National League last year, so he's both durable and tough to hit.
After strong seasons in 2009 and 2010, Eric O'Flaherty really emerged in 2011. Over 73.2 innings, he struck out 67 batters and posted a 0.98 ERA with a 1.09 WHIP. O'Flaherty may be the best seventh-inning reliever in all of baseball right now.
The fact that the Braves have the best seventh and eighth-inning combination in the game is a major positive for Kimbrel. The presence of these two guys means Kimbrel isn't likely to be forced into many multiple-inning save opportunities, which should keep him fresh.
Venters and O'Flaherty will also help in other ways that some may not realize, as it is something that means that the bullpen isn't going to blow many save opportunities before Kimbrel gets into the game.
It also means that manager Freddi Gonzalez won't try to overwork a starter since he has such good options out of the bullpen.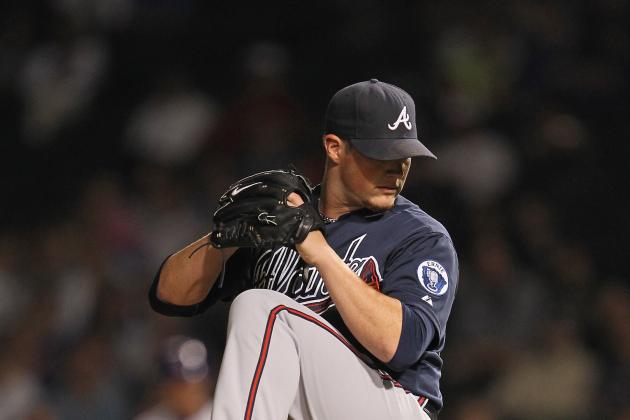 Jonathan Daniel/Getty Images
Craig Kimbrel won't need to compete with Mariano Rivera and Jose Valverde to lead the National League in saves.
Something that will help Kimbrel is a weaker crop of competition than he faced last year.
Sure JJ Putz is back in Arizona and the Phillies added Jonathan Papelbon, but the rest of the league isn't as strong as the American League's crop of closers.
Ryan Madson will likely get less save chances in Cincinnati than he would have in Philadelphia. Huston Street went from a solid Colorado team to a weaker San Diego team. Heath Bell will no longer get the Petco home-field advantage while pitching for Miami. The Brewers won't be as strong without Prince Fielder, which will limit Jon Axford's opportunities. Brian Wilson was great for the Giants in 2010 but looked a little different last year due to injuries.
Then, guys like Rafael Betancourt (Colorado), Brandon Lyon (Houston) and Frank Francisco (NY Mets) aren't exactly top closers. Javy Guerra for the Dodgers is considered to be likely to give way to Kenley Jansen at some point this year, so there is a good chance that they share the total amount of saves.
That leaves guys like Drew Storen in Washington, Joel Hanrahan in Pittsburgh and Carlos Marmol as guys that may not get a ton of chances due to their teams not being teams expected to finish above .500.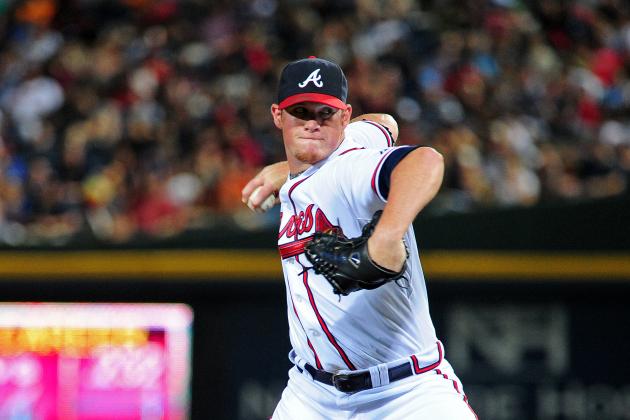 Scott Cunningham/Getty Images
Craig Kimbrel isn't easy to hit.
Craig Kimbrel has been a puzzle that National League hitters haven't been able to solve.
In his career, he has pitched 97.2 innings and posted a 1.75 ERA, but the secondary statistics are even more impressive.
Kimbrel is striking out an average of 15.4 hitters per nine innings. Opponents are batting just .165 off him, and he allows just 5.3 hits per nine innings, helping him to post a 1.04 WHIP. He has left 84 percent of runners stranded on the bases.
When you consider that his average fastball velocity was 96.2 last year and that hard slider he throws averaged 86.8 MPH, it's pretty easy to see why Kimbrel has been such a force in his young career.
As long as he stays healthy, he has a chance to make a run at the all-time career saves mark since he won't turn 24 until late May and has already recorded 47 saves.
The all-time record holder, Mariano Rivera, hit 48 just two months shy of his 28th birthday in 1997.