NHL Trade Rumors: 6 Other Players the Tampa Bay Lightning Could Deal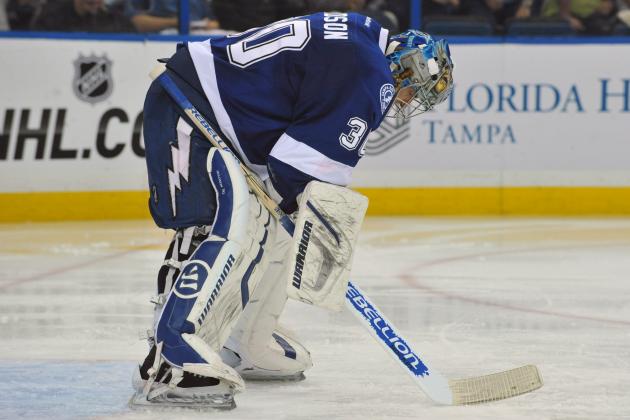 Al Messerschmidt/Getty Images

It's no secret that the Tampa Bay Lightning are one of the sellers leading up to the 2012 NHL trade deadline.
Lightning general manager Steve Yzerman has already dealt Pavel Kubina, Steve Downie and Dominic Moore in the last week and there's no reason to think he's done wheeling and dealing yet.
Tampa Bay has several pending unrestricted free agents on their roster, particularly on defense. Surely Yzerman is listening closely to trade offers and looking to move a few more players for draft picks and prospects at the deadline.
With that being said, look for at least one of the following six players to be moved on Monday.
Begin Slideshow

»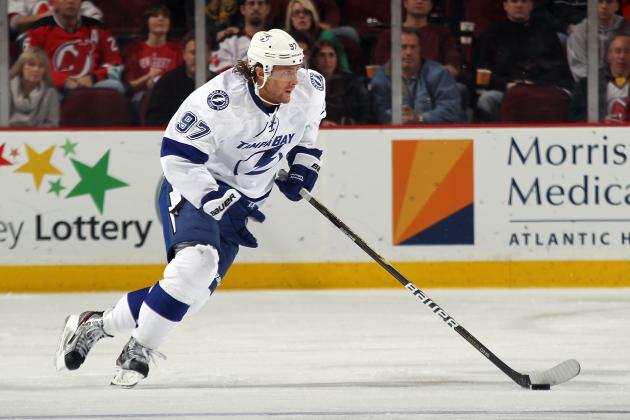 Bruce Bennett/Getty Images

Gilroy is one of the aforementioned pending UFA defensemen that could be moved to just about any of the buyers looking to add depth to their defense core.
Perhaps the most attractive aspect of a trade involving Gilroy is that it won't cost that much to acquire him. This should make it that much easier for Tampa Bay to consummate a deal for him, even if he ends up simply being an extra body for the team he gets dealt to in case one of their existing d-men suffers an injury.
Gilroy is also a right-handed shot, which is a sought after commodity in defensemen these days, especially on a team like the Vancouver Canucks.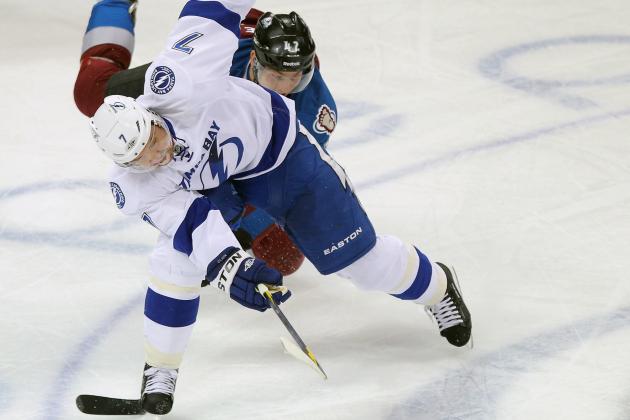 Doug Pensinger/Getty Images

Another d-man that's set to become a free agent on July 1 is Brett Clark.
The 35-year-old Clark is clearly past his prime, but he can still be a solid asset to a team looking to add experience on the blue line. He can also play the power play if it's needed and is a slight upgrade over Gilroy for any of the buyers that are interested in defensemen.
The Lightning are a team that is looking to get younger for next season, which means that Clark probably won't be resigned and could therefore be shopped fairly aggressively by Yzerman.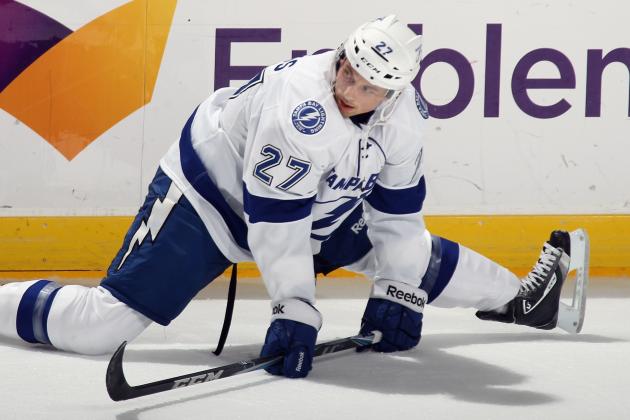 Bruce Bennett/Getty Images

The final pending UFA on the Lightning roster is Bruno Gervais.
After being pushed to the bottom of the depth chart on the New York Islanders, Gervais was welcomed into the Lightning organization and has gained his confidence back playing under Guy Boucher and his coaching staff.
Some might interpret this as a sign that Gervais might have his contract renewed by the Lightning, but it could also raise his value on the open market at the deadline. As well as he's played this season, he's certainly not above being traded if Yzerman thinks it will improve his team for the future.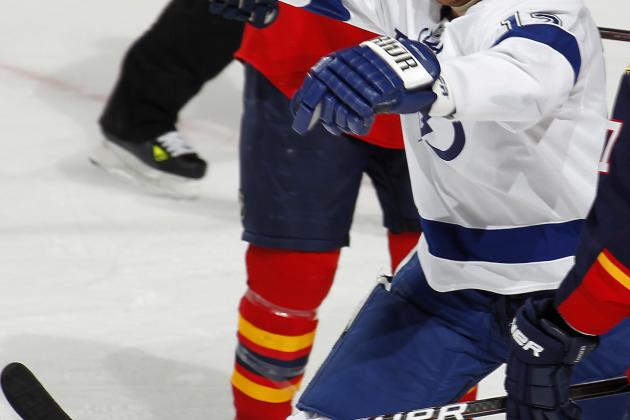 Joel Auerbach/Getty Images

Trade rumors have been swirling around Ryan Malone's name for months and he seems to be on just about every list that compiles the elite players that are in play leading up to the deadline.
While it's a stretch to call Malone an elite player, he's still a solid power forward that has put up more than 20 goals five times in his NHL career.
One rumor had him potentially being dealt to the Toronto Maple Leafs, while a column written by Damian Cristodero of the Tampa Bay Times just over three weeks ago listed Malone as one of three players the Lightning might be willing to move, along with Pavel Kubina and Dominic Moore.
Considering Cristodero successfully foreshadowed the Moore and Kubina trades, perhaps Malone should take this as a sign of things to come and be ready to pack his bags on Monday.
The only reasons why Malone might remain in Tampa are his no-movement clause and the fact that he's under contract for an average of $4.5 million per season until 2015, which might scare some teams away.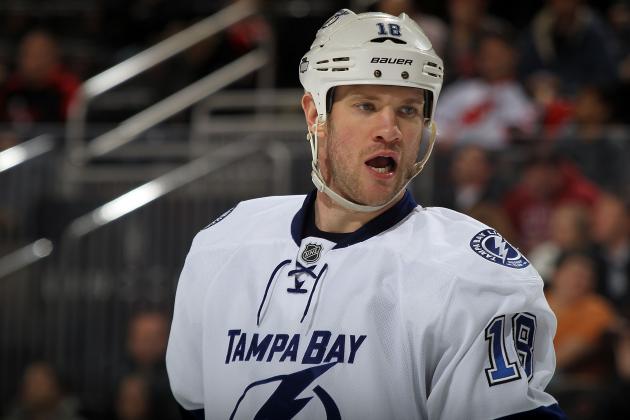 Bruce Bennett/Getty Images

Hall's name has also popped up among the list of available Tampa Bay players, mainly because of his experience and the fact that he's also a pending UFA.
In addition to his wealth of NHL experience, Hall is a great penalty killer and would be a solid addition to any contending team that's looking to bolster their depth and improve their fourth line. He would probably not cost a potential buyer all that much either, as he has recorded just three points in 45 games this season.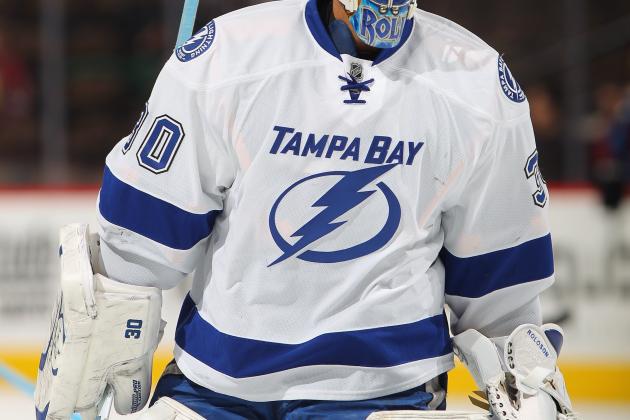 Doug Pensinger/Getty Images

It might surprise you to see Roloson's name on this list, but you'd have to think he's being shopped by Yzerman given his age and the fact that he's on a one-year contract.
Roloson has not played well this season, but he has a history of being streaky and is also prone to stepping up his game in the playoffs. He did so last season with the Lightning, in 2006 when he helped get the Edmonton Oilers to the Stanley Cup Finals; and he also played well for the Minnesota Wild when they advanced to the Western Conference Finals in 2003.
It would be extremely risky for any of the contenders to put all their eggs in Roloson's basket for the 2012 playoffs, but he could be a good option as a backup for a team that's looking to upgrade at that position.
Furthermore, he might be able to push goaltenders like Corey Crawford of the Chicago Blackhawks or Tomas Vokoun of the Washington Capitals for their starting jobs if they don't step their game up down the stretch.