Ring of Honor Review (2/11/12): The American Wolves Dissolve
February 27, 2012

Last week's Ring of Honor was the worst in recent memory. An overemphasis on promos, accompanied by a match and half of poor wrestling ruined Kevin Steen's return to ROH television. Thankfully, Ring of Honor more than made up for it with one of their best episodes yet. Two matches that would make a WWE main event jealous and another Kevin Steen sighting helped push ROH towards their 10th Anniversary Event pay-per-view.
Eddie Edwards defeated Kyle O'Reilly
Last week, I voiced my concern about the changing focus of the rivalry between Eddie Edwards and Kyle O'Reilly. I hated that this rivalry was becoming about their manliness rather than their jealousy and mistrust.
However, the more I thought about it, the more sense it made.
They are fighting over the friendship of Davey Richards. That's probably a little too sensitive for people who beat up others for a living, so their Declarations of Ultimate Manhood actually make a lot of sense.
The handshake at the start of the match highlighted the brilliance of the Code of Honor. There is so much that you can do with it. It's a great way to make your faces look respectable and your heels arrogant and unsportsmanlike.
It can also showcase, as it did here, the tension between competitors. Both Edwards and O'Reilly adhere to the Code of Honor, but their inability to offer a crisp handshake shows how strained the relationship has become between these former teammates.
The match itself was one of the best on ROH television. It was a brutal back-and-forth affair that displayed the hatred between the two. They teased elements of Richards/Edwards, while selling the beating they were absorbing. And when they didn't, the rage and adrenaline was apparent.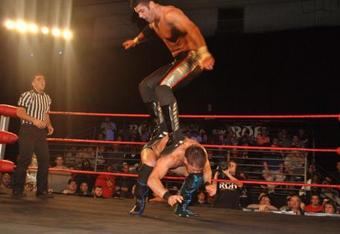 The involvement of Davey Richards only further complicated the emotional nature of the match. Edwards frequently said that he didn't care who Richards picked, but the look on his face when Richards came out to encourage O'Reilly told another story.
Finally, Adam Cole's realization of where O'Reilly's heart truly lies sent this entire story over the edge.
This is awesome.
Verdict: Thumbs Up
Best Moment: Nigel McGuinness' explanation of how relationships change from friend and equal to competition and target when someone becomes champion. This is wrestling commentary at its best, adding another layer of complexity to the story being told.
Other Best Moment: Random tin foil costume guy in the audience.
Matt Taven & Mike Mondo fought to a no contest
Mondo and Taven had a solid reversal match. More moves were avoided or reversed than hit their mark, but that's probably what should happen if two wrestlers thoroughly research their opponents.
Then Kevin Steen came in and showed off his new piledriver-free finisher, the F5.
Even with only a minute or two with which to work, Steen showed why he's the best thing in Ring of Honor.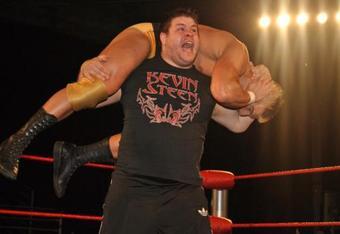 I am often tempted to say that guys like Steen and Elgin should go to a bigger company, but WWE would probably just screw it up and give them a name like Kassius Ohno or something. Really? Aww, crap…
Verdict: Thumbs Up
Best Moment: Kevin Steen. He is a living, breathing best moment.
Worst Moment: It's not that bad in the grand scheme of things, but Mike, you can't out-showoff Dolph Ziggler. There can be no other showoff until Dolph is gone.
Promo Time Quick Notes
-I think this is a good format for a giant collection of people talking about different things.
-Someone tell Haas & Benjamin that calling people losers and making the "L" sign on their foreheads stopped being effective the moment they graduated from middle school.
-Cornette suspends Benjamin until he pays another fine for last week's chairshot, proving that Benjamin telling Cornette to "sue him" was terrible speaking, not foreshadowing.
-Could the Briscoes be bothered to take the chew out of their mouths before they speak? I'll never understand how the living, breathing embodiments of anti-intellectualism can be a face team, but #DemBoys pulled it off.
Verdict: Thumbs Down
Best Moment: One of the Briscoes listing Future Shock as a potential opponent. Do they watch their own show?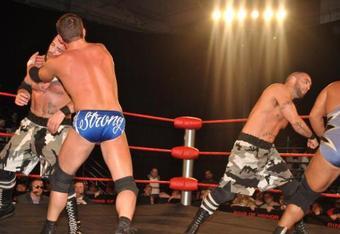 House of Truth Defeated the Briscoes for $5,000
Both teams placed a side bet of $5,000 on this match. Even if non-televised Ring of Honor events are just glorified house shows, it's nice to see some consequences for what goes on during those shows.
This excellent match ended when Jay used a baseball bat to take out House of Truth after Truth Martini blinded Jay with some sort of powder.
I'm not really sure why I'm supposed to be cheering for the Briscoes. The only difference I can see between the Briscoes and Haas & Benjamin is the team literacy rate. There is such a thing as an anti-hero, but in truth, the Briscoes are just the lowest common denominator.
That said, there is nothing common about their wrestling. They have to be one of the best tag teams on the planet right now, and are leagues ahead of anything WWE or TNA has to offer at the moment. How they weren't signed after their WWE tryout is beyond me.
Verdict: Thumbs Up
Best Moment: The $5,000 "checks," which were just pieces of paper with the team's name and "$5,000" written in marker.
Show Verdict: Thumbs Up
This is called bouncing back. ROH is pulling out all the stops as their 10th Anniversary Event pay-per-view draws closer. A show of this quality can make a person forget about a bad one in a hurry.
Next Week: Kevin Steen makes his in-ring debut
All photos courtesy of rohwrestling.com