Kansas City Chiefs: Out-of-Bounds: Q&A with Wes.7
February 27, 2012
Last time I went out-of-bounds, I spoke with lead singer, Morgan Ganem, from the band Sownds after his hit song, Chop It Up, was recognized and used by the Kansas City Chiefs as fans purchased the song over the internet.
Today, I'll be going out-of-bounds with an eight-year-old who has gained over 1,000 subscribers and is closing in on 500,000 total views on YouTube.
Wesley is best known as Wes.7 due to his first parody that he created at the age of seven. During the 2011 winter season, Wesley and his siblings, Luke and Emeri, stayed home from school quite a lot due to the heavy amount of snow days they received.
While many kids spent their time enjoying the snow, Wesley and his siblings stayed indoors coming up with ideas and shooting footage for their next project.
His first video was a parody of Daniel Tosh's show, Tosh.0, from Comedy Central. Wesley's parody consisted of him showing funny clips off of the internet and renamed himself to "Wes.7" to add on to the gimmick. The video received over 24,000 views when it was first featured on Comedy Central. It now has over 300,000 views, making it the most-viewed and most-popular video on his YouTube channel.
While Wesley caught some attention worldwide, he also caught the eyes of people in the Kansas City area. The Chiefs retweeted Wesley's "Any Given Sunday" video. Sporting his Chiefs gear in front of a Chiefs flag with a Chiefs football in his hands, he acted out Al Pacino's monologue from the movie, "Any Given Sunday."
Wesley's father, Mark, promoted the videos on social networking websites and was able to get the video out to members of the Chiefs organization.
"The kids were pretty excited when I told them the Chiefs were now following them on Twitter." Mark said.
Wesley's football video was shown on KSHB, Kansas City's NBC news affiliate, just four days before the Chiefs 2011 regular-season opener.
Wesley came out with a "Field of Dreams" baseball video where he talks about every kid's dream of hitting a home run or throwing a perfect game. He did this video while wearing left fielder Alex Gordon's jersey. This video was also recognized—this time by the Kansas City Royals.
"We received several personal messages from the Royals administration saying that they loved the video. One of them recognized him from Tosh.0." Mark said.
Wesley and his siblings have completed over a dozen parodies and succeeded in being noticed by a couple of other people who they did a parody of.
Mark said that Mike Rowe from the Discovery Channel's Dirty Jobs and Adam Richman from the Travel Channel's Man v. Food both got a laugh out of the work done by Wesley and his siblings.
"The kids were ecstatic when I showed them the personal message Adam sent saying he was a big fan."
I had the chance to speak with Wesley and get his takes on his projects.
Farzin Vousoughian: Your videos are pretty good, and you have a good following. Your Chiefs idea was recognized locally. How did you guys come up with the idea to do that video?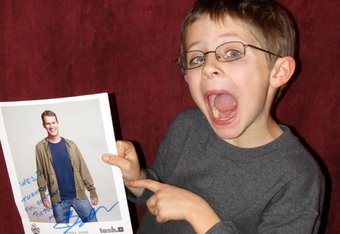 Wesley: Well, it was close to opening day. We were hoping it would get on the [Arrowhead] big screen, like a postgame thing.
FV: The video that was the biggest hit was your first one when you did a parody of Daniel Tosh. How did that idea come up?

Wes.7: My dad thought it would be a good idea to do YouTube videos, and he thought it would be a good idea to do a parody of Tosh.0.
FV: The Tosh video got a lot of recognition. Considering that was the first video you ever did, what was your reaction when you saw all of the views you received?
Wes.7: I felt good about it, and I thought a lot of people liked me because my dad told me that people in London, England saw it!
FV: You have had your siblings with you in some of your YouTube videos. How did you get them involved with your parodies?
Wes.7: My sister and brother got involved because we thought that if we were all on YouTube, everyone would have a fair share of things. We were all involved in the Ghost Adventure [A Paranormal Parody] video because we all wanted to look for ghosts.
FV: Have your classmates in school seen your videos? What have they said about them?
Wes.7: Yes. People in my school have seen my videos. They thought it was really funny! My mom would send them to my teacher, and she would play it on her smartphone, and all the kids in my class would watch it.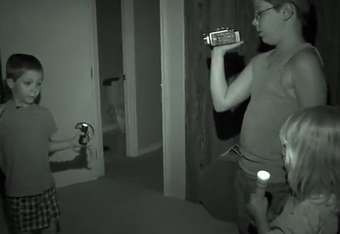 FV: Which video that you have done is your favorite so far?
Wes.7: The "Field of Dreams" video because I like baseball, and the script was easy to read.
FV: Which team do you enjoy watching the most, the Chiefs or the Royals?
Wes.7: According to my room, the Chiefs! I have a little bit of Royals collections. I have nine things in my room related to the Chiefs and three Royals stuff.
FV: Are there any upcoming projects that you could share?
Wes.7: I think we are going to do one on searching for Bigfoot.