UFC 144 Results: Why Frankie Edgar Doesn't Have to Move to Featherweight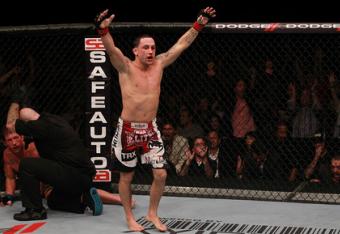 (Photo by Nick Laham/Zuffa LLC/Zuffa LLC via Getty Images)

Following last night's decision loss to Benson Henderson in the UFC 144 main event, Frankie Edgar spoke with Joe Rogan. Rogan, perhaps with Dana White speaking into an earpiece, asked the former champion about a possible move to featherweight.
If Rogan's request wasn't enough, ESPN's Brett Okamoto decided to chime in on the need for a weight-class change. Despite not wanting to make a claim that Edgar lost simply because he was the smaller fighter, Okamoto did a roundabout way of saying it.
Maybe an appropriate way to sum up what happened Sunday morning in Japan was two equally skilled martial artists met in the Octagon—and the larger one won.
The former lightweight champion was quick to dispute any claims that his loss was the result of his lack of size.
""He's no bigger than all the other guys I've fought," Edgar said. "He was big and strong but nothing that I felt overwhelmed with or anything like that."
It's easy for fight fans to claim that Edgar needs to drop a weight class after losing the title, but those who think that need only look at the past to find the fallacy in that argument.
Prior to facing off against Benson Henderson, Edgar held victories over Gray Maynard and BJ Penn in his recent title defenses.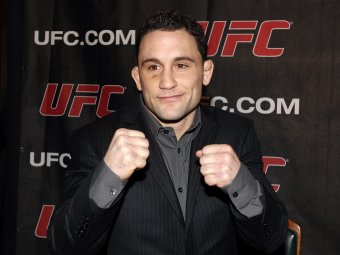 Michael Cohen/Getty Images
Maynard is a huge lightweight and Penn has won a title at 170 pounds. Where was Edgar's size disadvantage in those bouts?
What many people consider to be his biggest weakness actually turns into one of his biggest strengths. By not having to cut a lot of weight to cut, Edgar can prevent from being drained before going into a bout.
The lack of a big weight cut contributes to how well Edgar can move in and out while on the feet.
Edgar's real problem is his fighting style. He relies on cutting angles, hitting his opponent a few times and then moving back to the outside where he can utilize his footwork.
He doesn't go for power shots but rather chooses to pepper his opponents with straight punches. With Edgar's small frame, a hook would be a more powerful punch, but Edgar doesn't look for the one-punch KO.
"The Answer"'s in-and-out style is tailor-made for decision victories.
Fighting for a full 25 minutes will give anyone an opportunity and his opponents have often times taken advantage of them. Maynard was able to drop Edgar multiple times in their bouts and, at UFC 144, Henderson landed the more powerful shots.
Edgar's home is at 155 pounds. You don't beat a UFC Hall of Famer twice and someone like Maynard without true skills.
Instead of focusing on a fight with Jose Aldo at 145 pounds, Edgar simply needs to focus on putting his opponent away instead of giving them so much time to land one of their power shots.
This article is
What is the duplicate article?
Why is this article offensive?
Where is this article plagiarized from?
Why is this article poorly edited?