Tennessee Volunteers Football: 5 Players Who Need a Great Spring Performance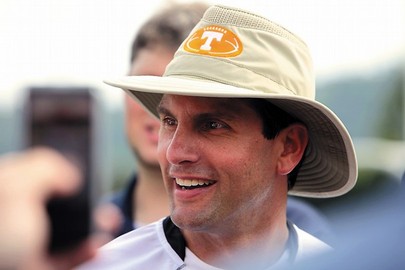 Spring practice for the Tennessee Volunteers begins in just one month. The team will welcome back Herman Lathers, Justin Hunter and Brent Brewer from injury, as well as many talented newcomers. It's important for them to all have great springs, but there are a few that need to progress more than others.
In what can at minimum be termed "an important season" for the Vols, Derek Dooley needs to take the quality recruits that he has brought in three years and turn them into a successful team.
There are two words that college coaches know well, but knowing them is hardly half the battle: You must master them. Those words are recruit and develop.
Recruit and develop. Here are five players that need to take a big step this spring.
Begin Slideshow

»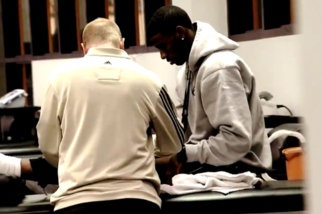 After suffering a season-ending injury against Florida in just the fourth game of the season, Justin Hunter would have to delay his breakout season.
He's back and running, though not quite yet cutting and turning at 100 percent. Honestly, who cares? The dude is Randy Moss reincarnate and just needs to run fly patterns.
In his two seasons, Hunter has only caught 33 passes. Whether due to youth or injury, he has yet to face the rigors of a full season of SEC games.
A great spring for him will be a strong indicator that he's ready to do just that in his junior season.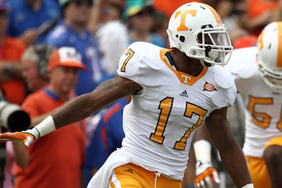 While Brent Brewer has suffered a season-ending knee injury, he wasn't even close to having the same effect on the game that Justin Hunter was when he went down.
Brewer's strong end to 2010 had people excited to see his 2011 campaign. He is smart, strong and has no issues letting loose on wide receivers crossing the middle of the field from his safety position.
However, after racking up 30 tackles while starting the last six games of the 2010 season, Brewer managed only 24 as a starter in 2011 during the first eight.
Brewer is the X-factor for the Tennessee Volunteers' defense. If he can free up Prentiss Waggner to return to his natural cornerback role, the defense could flourish.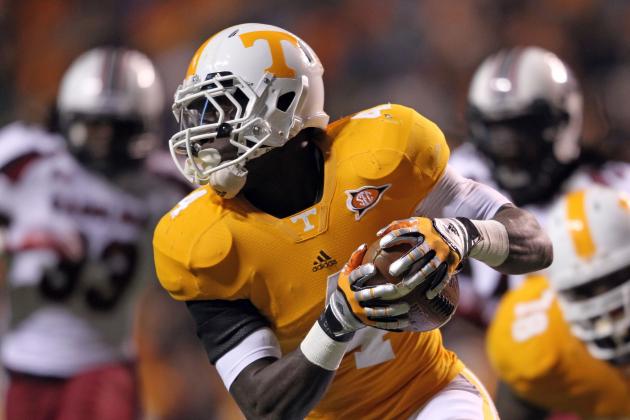 Andy Lyons/Getty Images

The crux of the Tennessee Volunteers' (occasionally) powerful offense last year was the running game, which by all accounts was the worst in the SEC.
Gone is the senior Tauren Poole, and all that remains is a slew of sophomores and freshmen led by Marlin Lane. In his one year on Rocky Top, Lane has shown flashes of great running, but he has failed to carve out a consistent spot in the lineup.
He has no choice but to do that now.
The only thing that will keep Lane from being the starter to majority of the season is injury is under-achieving. A good start to the 2012 season this spring will signal what he intends to do.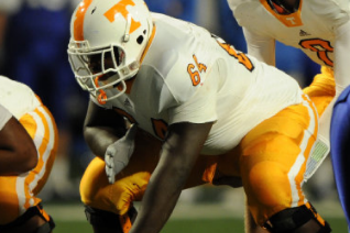 James Stone is the best center on the Tennessee roster. Why was riding the pine at the end of last year?
It can't be because of his blocking. The nearly 100 percent freshmen offensive line of 2010 was united by Stone in the middle.
It can't be because of his attitude. The Tennessee native said he didn't care much for Lane Kiffin and wouldn't commit unless he left. Oh, I like that.
It's because Stone, a lefty, couldn't snap the ball with his right hand. There were numerous issues with center-to-quarterback exchanges in 2011, the sum of which led to the Freshman All-American to be benched.
Marcus Jackson and Alex Bullard, better guards than centers, filled in and didn't fare much better.
Either the Stone needs to have a good spring and become ambidextrous, or the coaches need to have a good spring and wake up and let the stud center snap it however he wants.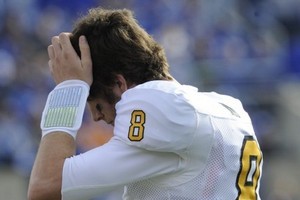 The quarterback always has to have a great spring, but Tyler Bray's needs to be extra great.
After a lackluster end to the 2011 season, Bray, who was once predicted to go No. 1 overall in the 2013 NFL draft, needs to show that he can do more than just sling the ball around.
It's time for Bray to become a true quarterback. Studying defenses, calling audibles and feeling the game are important for success both in the SEC and at the next level.
Even more important than that is for Bray to show his competitive fire to his teammates. Be a leader both in words and in deed, Tyler. It could make you a millionaire one day.