Ryan Zimmerman: Why the Nationals Overpaid for a Question Mark at 3B
February 26, 2012

Jim McIsaac/Getty Images
Ryan Zimmerman will more than likely be spending his entire career in a Washington Nationals uniform. It was announced today that Zimmerman and the team have agreed on a six-year contract extension worth $100 million.
When added onto the final two years he has left on his contract, Zimmerman will be making $126 million over the next eight seasons.
The contract includes an option that could keep him in a Nationals uniform through 2020, which could push the full value of the contract to $150 million.
The deal will make Zimmerman the second-highest paid third basemen in the league. Alex Rodriguez makes an absurd $27.5 million a year, while the 27-year-old third basemen will be making $16.7 million annually.
The deal, which had been in the works all week, was contingent upon the Nationals awarding Zimmerman with a full no-trade clause. Washington seemed reluctant to give Zimmerman the clause at first, given his injury history, but ultimately gave in to his demands.
By giving in to his demands, the Nationals definitely showed their willingness to put the best team possible on the field. After signing Jayson Werth last offseason and acquiring both Gio Gonzalez and Edwin Jackson this season, the Nationals are working hard to put a playoff-caliber team on the field for their fans.
By working out a deal with Zimmerman, a fan favorite, the Nationals have made a commitment to be loyal to their fans. That being said, should showing loyalty to the fans cost upwards of $100 million?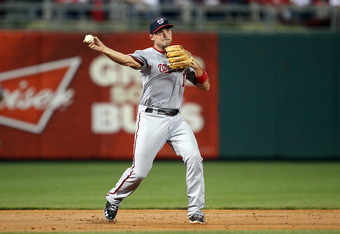 Hunter Martin/Getty Images
In this case, the answer is a resounding no.
In seven seasons in the majors, Zimmerman owns a career line of .288/.355/.479 with 128 home runs and 498 RBI. He finished second in the National League Rookie of the Year award voting in 2006, and made the only All-Star team of his career in 2009.
He is a two-time Silver Slugger award winner (2009 and 2010) and he won his only career Gold Glove in 2009.
There are currently five other Major Leaguers signed at least through 2019, and their names are Albert Pujols, Prince Fielder, Troy Tulowitzki, Ryan Braun and Matt Kemp. When compared to those big-name talents, Zimmerman seems like a bit of an outcast.
The other five players are top-of-the-game talents, whereas Zimmerman is nowhere close. They are all either No. 1 or 2 in the ranks of their respective positions, whereas Zimmerman barely ranks within the top five (Evan Longoria, Miguel Cabrera, Adrian Beltre and Kevin Youkilis are all better players).
Sure, Zimmerman has very good potential. If he could put everything together during the same season, he could easily become one of the top three third basemen in baseball. The biggest thing holding Zimmerman back, though, is his injury history.
Just three times in his six-year career as an everyday player has Zimmerman played in more than 150 games, as a slew of injuries including a fracture in his wrist, a tear in the labrum of his left shoulder, a rib sprain and most recently in 2011, various abdominal injuries have held him back from playing more often.
When healthy, Zimmerman has been a very productive player; however, the Nationals are taking a huge risk here signing him to such a lucrative contract.
Just look at the other players signed through at least 2019, only Tulowitzki has missed significant time due to injury. Comparatively, though, Tulowtizki is a much more productive player when healthy.
I hope, for the Nationals sake, that Zimmerman stays healthy throughout the course of this monster contract. If he doesn't, they'll have an absurd amount of money tied up in a perennial injury risk for at least the next eight seasons.