Liverpool Win Carling Cup: Rating the Reds Players in Penalty Shootout Victory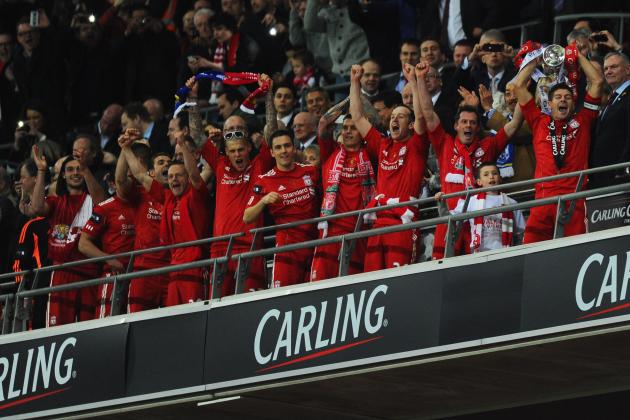 Mike Hewitt/Getty Images

Liverpool won the 2012 Carling Cup after an epic final match at Wembley Stadium saw the Reds come from a goal behind to claim the trophy after a penalty shootout.
Cardiff City provided fantastic opposition for Liverpool in the Final and were scarcely deserving of being on the losing side, but it was just a step too far for the Championship outfit in the end who clung onto their lead for a long spell before finding the reserves of energy to force penalties with only a minute left on the clock in extra time.
Here we take a look at the performances from the Liverpool players and rate them out of 10.
Begin Slideshow

»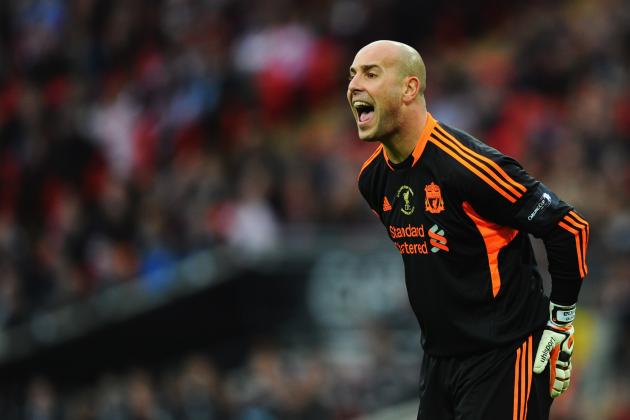 Mike Hewitt/Getty Images

With Liverpool dominating possession for much of the game, it was a strange match for Pepe Reina.
He could go for 10 or 15 minutes at a time without even seeing the ball, but every time Cardiff City came forward in the Carling Cup Final they looked dangerous and sent over a succession of high crosses, especially off set pieces.
Reina, playing in his third cup final for Liverpool, dealt admirably with everything thrown his way aerially, and his distribution was pretty spot-on the entire match.
He was, however, beaten through his legs on two occasions; early on in the game Joe Mason fired Cardiff ahead when he put the ball between Reina's legs, before the late extra time equaliser from Ben Turner went the same way.
Perhaps not too much Pepe could have done about either of them, but it was rare that he was called upon to make an actual save—Cardiff's two other best chances both missed the target.
In the shootout, Reina must have been an imposing figure, and though he did not actually save any of the three spot-kicks that Cardiff missed, he no doubt had something to do with it as they sought to find the exact corner of the goal, twice resulting in the ball hitting the woodwork.
Pepe Reina: 7/10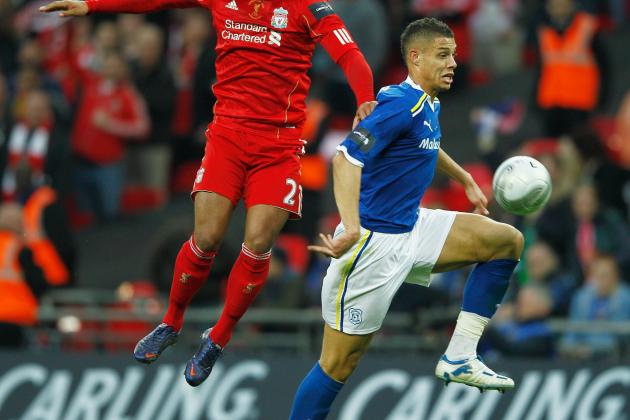 Paul Gilham/Getty Images

Liverpool boss Kenny Dalglish gave the nod to Glen Johnson at right-back, despite strong pressure for the position from Martin Kelly who had played in most of his side's games in the League Cup en route to the final.
Johnson started well, crashing a shot against the crossbar from 25 yards within the first minute of the game, while he offered a series of raiding runs down the right flank over the next 20 minutes of the match without really creating anything to seriously threaten the Cardiff defence.
However, after Liverpool fell behind he was almost a little more reluctant to get forward and support the attack. In the second half it was better from Johnson who was more involved in the final third again, offering good width to the team, but in defence he was too hesitant in closing people down and was not overly aggressive in the challenge, too often letting players get the better of him in duals to win the ball.
Most importantly, however, Johnson's penalty kick—Liverpool's fifth—was expertly struck, into the roof of the net, to set the Reds on their way to cup victory.
On the left Jose Enrique took his place as expected and was largely impressive, combining good runs ahead of the left winger with cutting infield on occasions to open up the play.
Jose Enrique does have a tendency to delay his passes sometimes which can frustrate teammates and lose the chance to attack at times, while his willingness to run with the ball at his feet, while sometimes effective and dangerous, can also send him down blind alleys to lose the ball.
His propensity to keep the ball in play in defensive areas was also in evidence a couple of times rather than simply clearing, as he almost let Cardiff get in behind him after conceding possession in this manner.
Overall, however, it was a strong and steady performance from the Spaniard.
Glen Johnson: 6/10
Jose Enrique: 7/10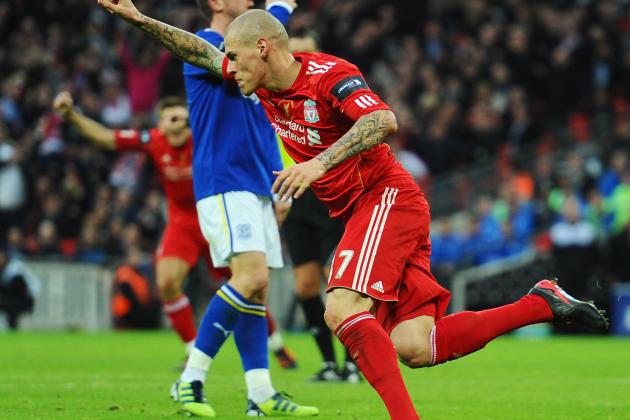 Mike Hewitt/Getty Images

One of the biggest decisions facing Kenny Dalglish prior to the Carling Cup final was whether or not to replace veteran Jamie Carragher with the returning Daniel Agger to partner Martin Skrtel in defence. Dalglish decided on the Dane, with Carragher left on the bench.
Martin Skrtel, quite simply, was immense—as he has been for the last three or four months.
This time last season, Skrtel was the third wheel as Carragher and Agger paired up in defence, but this season the Slovakian has been Liverpool's best player and is in the finest form of his life, and brought out one of his best performances at both ends to help Liverpool claim the trophy.
Though he was maybe caught a little flat in the first half for Cardiff's opener, Skrtel was a beacon of strength in repelling plenty of high passes and crosses from the Bluebirds' midfield, and put in the odd crunching challenge in the second half to remind the forwards that they were not about to pass him a second time.
The biggest moment of the game, from a Liverpool perspective, came just shy of the hour mark as Skrtel collected a rebound off the post from Luis Suarez's header to coolly control and fire his side level, as they previously trailed 1-0.
Skrtel had a chance to score again soon after as he sweetly caught a volley which Cardiff keeper Tom Heaton saved.
Daniel Agger had a quietly effective game, though like Skrtel could be pointed at for the first goal as he ran out of the defensive line to close down an attacker.
Agger was similarly strong aerially and helped launch attacks for the Reds with his runs from deep, but he should have scored before halftime when he headed straight at the keeper from close range.
Late in the match Agger was substituted after he received a whack in the face from an opponent.
Martin Skrtel: 8/10, Man of the Match
Daniel Agger: 7/10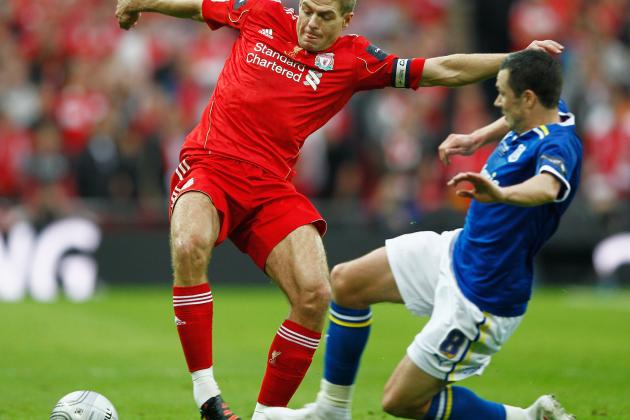 Paul Gilham/Getty Images

With Lucas Leiva injured and Jay Spearing left on the bench, Charlie Adam and club captain Steven Gerrard continued in the centre of midfield for Liverpool.
While the Reds enjoyed the majority of possession during the game, neither player were really able to put their stamp on the game and dominate entirely, despite being consistently involved on the ball.
With Cardiff breaking at regular intervals, neither Adam nor Gerrard really gave the defence a measure of protection which might have helped their team.
Gerrard had several shots from outside the box which failed to find the target, while bodies got themselves between ball and goal any time any Liverpool player tried to shoot from closer in.
Adam similarly had a few efforts on goal and got closer than Gerrard with low efforts which went sliding just past Tom Heaton's post.
Delivery from dead balls from the Liverpool pair were excellent, however, with free kicks and corners alike causing plenty of problems for Cardiff City.
The duo saw out the full 90 minutes plus half an hour of extra time, which is an achievement in itself, but despite both being regular penalty takers neither managed to find the net with their shootout spot kicks; Adam's in particular being a horrible skewed effort which missed the goal by some distance.
Not the best individual performances from either of them, but it won't matter now after Gerrard himself lifted a trophy at Wembley for the first time.
Steven Gerrard: 6/10
Charlie Adam: 6/10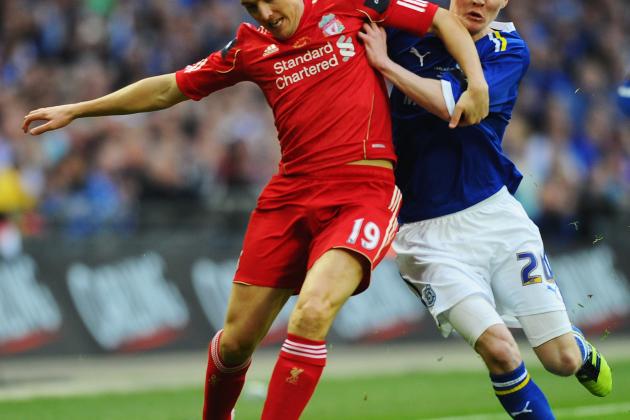 Mike Hewitt/Getty Images

Jordan Henderson and Stewart Downing continued in the Liverpool starting lineup in the wide midfield berths following their good performances in the FA Cup last week, but they had contrasting games in the Carling Cup Final at Wembley.
Henderson was largely anonymous during the first half, wandering infield and failing to link up the play effectively or provide support in the Cardiff penalty area, before finally air-kicking in the box when well placed to shoot.
The former Sunderland midfielder lasted just 10 minutes into the second half, during which he managed to get booked, before he was substituted for Craig Bellamy.
Downing, on the other hand, had arguably his best game for Liverpool.
Starting on the left flank he provided real width in attack and troubled Kevin McNaughton endlessly with his searing pace and willingness to run with the ball at his feet, which was a great sight to see after several poor displays.
Downing's crosses from that flank should have led to at least one Liverpool goal, but too frequently there was nobody attacking them, nobody running to the near post or nobody at all in the penalty area.
After switching flanks Downing was usually forced to cut infield onto his left foot and tried a couple of shots from range, one of which went close and forced a save, but his best work was definitely earlier on from the left.
A fantastic penalty in the shootout was the icing on the cake.
Jordan Henderson: 5/10
Stewart Downing: 8/10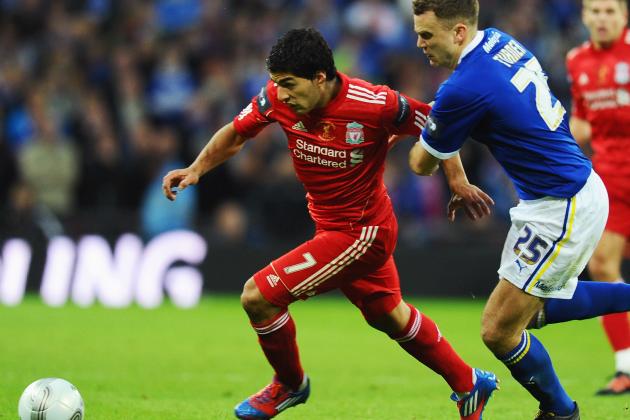 Mike Hewitt/Getty Images

Despite having the lion's share of possession and racking up a huge 39 shots during the course of the Carling Cup final, Liverpool's forwards Andy Carroll and Luis Suarez struggled for much of the game to have a real, telling impact.
Carroll probably touched the ball with his head more times than his feet as his teammates looked to cross the ball into the area on a regular basis, several times of which ended with Carroll heading over the bar, while Suarez—after the first 15 minutes—struggled to find space outside the box in which to operate.
Carroll improved his hold up play considerably after the break, though might have done more with his time on the pitch as he never really worked a clear shooting opportunity.
Suarez was his usual busy self and did some good work on the ball in wide areas, linking with the likes of Glen Johnson and Stewart Downing, but all in all would have been a little disappointed during the game at not being able to be at his scintillating best on the ball.
More than once he was crowded out by determined Cardiff defenders, and his touch also let him down at times, most noticeably when through on goal only for his chest control to send him wide instead of directly towards Tom Heaton in the Cardiff net.
Both players did have a telling touch, though, when Carroll headed a corner goalwards, which was glanced onto the post by Luis Suarez. The rebound fell for Martin Skrtel to score, and Liverpool were back in the game.
Carroll was subbed in extra time for Dirk Kuyt, while Suarez played out the whole 120 minutes—but following two misses from two attempts this season, did not take a penalty.
Luis Suarez: 7/10
Andy Carroll: 6/10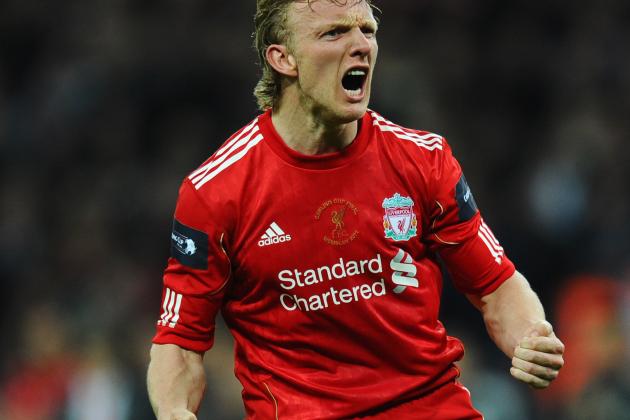 Mike Hewitt/Getty Images

Despite starting on the bench against his old side, Craig Bellamy came on nice and early as a replacement for Jordan Henderson after just 10 second-half minutes.
Bellamy caused problems with his speed and running with the ball down the left, but the game was very stretched later on and he failed to keep pace at times in extra time.
Jamie Carragher would have been disappointed not to have started the game, but made his entrance for Daniel Agger late on in the 90 minutes and played a part in defending once his side had taken the lead.
Carragher barked his instructions and dived on top of the ball to stop Cardiff taking a quick free kick as he helped his team out in the best way he knows how...and who knows, after his Millennium Stadium heroics could well have been the sixth penalty taker for the Reds.
It was Dirk Kuyt, however, who was the man most involved in the entire game—and he only played about 15 minutes.
After coming on in extra time for Andy Carroll, Kuyt ran the line well and brought new energy to the Liverpool side as Cardiff started to tire.
His burst through the pitch and wild effort were typical Kuyt—but so was the goal that followed; well-struck, timely and hugely important to put his side ahead.
Kuyt then headed off the line with only a minute or two left of the game, before he couldn't repeat the trick as Ben Turner squeezed home a late equaliser.
A great penalty then saw Kuyt round off his match helping his side get control of the shootout after they missed their first two kicks.
Craig Bellamy: 6/10
Jamie Carragher: 6/10
Dirk Kuyt: 8/10