UFC 144 Results: Benson Henderson and the Top 10 Lightweights in the UFC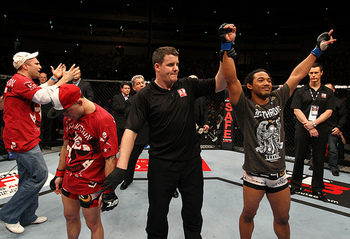 Photo by Al Bello/Zuffa LLC/Zuffa LLC via Getty Images
On Saturday night, the lightweight title was on the line between Frankie "The Answer" Edgar, and the former WEC lightweight champion, Benson "Smooth" Henderson.
In a back and forth fight that saw both fighters control the action at separate points, Henderson came out on top with the unanimous decision victory.
When the scores were read, Henderson had earned two 49-46 scores and a 48-47, but the fight was much closer than the scorecards would appear.
Different people had the fight scored differently, ranging from 49-46 Edgar to 49-46 Henderson. No matter how you scored it though, it was an outstanding fight.
Now that Henderson is the new champ, let's take a look at a lightweight division where Frankie Edgar isn't in control for the first time in almost two years.
No. 10: Melvin Guillard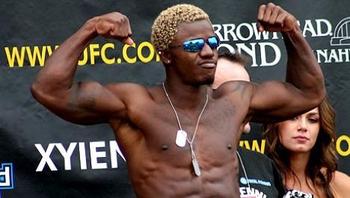 Melvin Guillard got knocked down in the rankings after his 47-second loss by submission to Joe Lauzon.
Coming into the fight against Lauzon at UFC 136, Guillard was likely one or two fights away from a title shot, but Lauzon ended the hype in impressive fashion.
Guillard is still one of the most talented and dangerous fighters in the lightweight division, but he has to start his climb back up.
Guillard has notable victories over Shane Roller, Evan Dunham, Gleison Tibau and Dennis Siver.
No. 9: Joe Lauzon
Photo credit MMAjunkie.com
Joe Lauzon was in action on Saturday night as well, and he faced off against another former WEC lightweight champ, Anthony Pettis.
In less than two minutes, Lauzon was knocked out by a head kick and punches and was on the wrong end of a Knockout of the Night award.
Lauzon is now 3-3 in his last six and remains unable to string together more than two wins.
No. 8: Donald Cerrone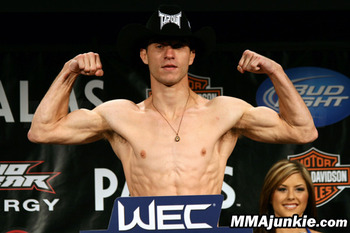 Photo credit MMAjunkie.com
Nate Diaz officially derailed the Donald Cerrone hype train at UFC 141.
For 15 minutes, Diaz beat on Cerrone, en route to a unanimous decision victory. Cerrone went 4-1 on the year, with several impressive victories, but he'll look to work back to the top in 2012.
He'll come back bigger and badder. We haven't seen the last of him.
Perhaps Cerrone vs. Lauzon is next on tap.
No. 7: Nate Diaz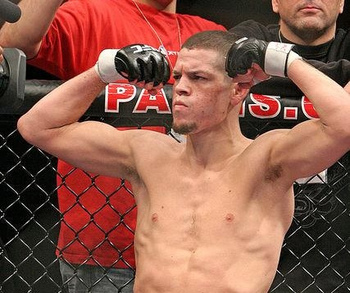 At UFC 141, Nate Diaz proved that he has turned a corner and is ready to become one of the best lightweights in the world.
For 15 minutes, Diaz outclassed Donald Cerrone and laid an absolute smackdown on him.
Diaz has notable victories over Melvin Guillard, Donald Cerrone, Takanori Gomi and an exhibition win over Gray Maynard.
No. 6: Anthony Pettis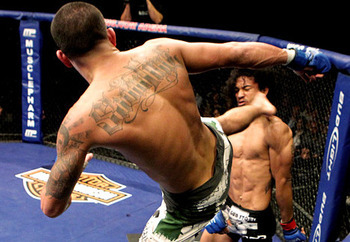 On Saturday, Anthony Pettis finished his first opponent in two years, knocking out Joe Lauzon with a huge head kick and some follow up ground and pound.
Unfortunately for Pettis, the loss to Guida keeps him from being ranked higher up in the lightweight division.
He may be sixth in the division, but he also may get the next shot at the lightweight title, so it certainly isn't all bad.
No. 5: Clay Guida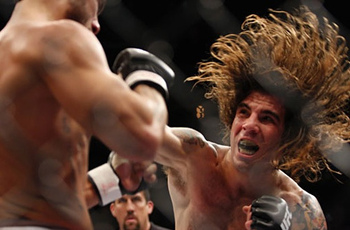 Clay Guida may have lost in his last fight, but his win over Anthony Pettis keeps him in the top of the division.
Guida is now 4-1 in his last five and has experienced some major growth as a fighter in that time.
Now that he has established himself in the upper echelon of the division, he is likely one or two wins away from another top contender fight.
In the meantime, expect more outstanding fights from Guida.
Guida has notable wins over Takanori Gomi, Anthony Pettis and Nate Diaz.
No. 4: Jim Miller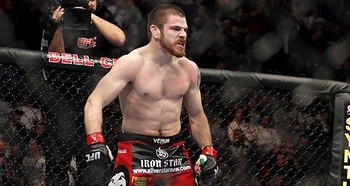 Jim Miller, is, without a doubt, one of the best lightweights in the world today.
Miller is 21-3 in his career, and his only losses have come to the champ, Benson Henderson, the former champ, Frankie Edgar and Gray Maynard.
Miller was last seen in action when he defeated Melvin Guillard at UFC on FX 1. Miller was rocked early, but he came back to choke out Guillard, all in the first round.
Miller has notable victories over Melvin Guillard, Charles Oliveira, Gleison Tibau, Mark Bocek, Duane Ludwig, Mac Danzig and Matt Wiman.
No. 3: Gray Maynard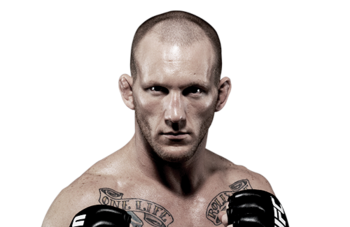 Gray Maynard has to be one of the happiest people around because Benson Henderson won the fight on Saturday night. That means there's a chance that he'll get another shot at the lightweight title.
Maynard has a 1-1-1 record against Frankie Edgar, but he has never squared off with the new champ, and you can be sure he wants to.
Maynard has notable victories over Kenny Florian, Nate Diaz, Roger Huerta, Jim Miller, Frankie Edgar and Dennis Siver.
No. 2: Frankie Edgar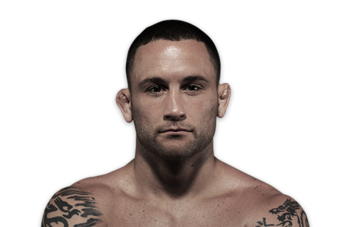 It's actually a bit strange putting Frankie Edgar at No. 2 in the lightweight division.
For two years, Edgar was the champion, and he tied the most consecutive title defenses in the history of the lightweight division.
First, he beat BJ Penn, and then he beat him again in a rematch.
Then, he fought to a draw with Gray Maynard in an epic battle, and, after that, he ended up knocking him out in the fourth round of the final fight of their trilogy.
Edgar is one of the best fighters in the world, be it in the lightweight division or the featherweight division, where many hope to see him go.
No. 1: Benson Henderson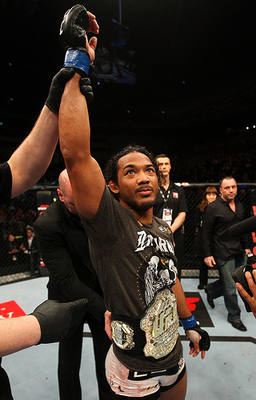 Photo by Al Bello/Zuffa LLC/Zuffa LLC via Getty Images
Benson Henderson has done it. On Saturday, he defeated Frankie Edgar by unanimous decision and earned himself the UFC lightweight title.
Henderson is a former WEC lightweight champion, and, even when he had that belt, he knew that he wasn't the top lightweight in the world.
Now, with the UFC belt around his waist, he knows that he is the best lightweight on the planet.
With that title comes a target on your back, and he'll have Frankie Edgar, Jim Miller, Gray Maynard and every other lightweight gunning for what he has.
Tim McTiernan is a Featured Columnist for Bleacher Report. For the latest news on everything MMA, follow him on twitter @TimMcTiernan.
Keep Reading