Daytona 500: Danica Patrick's Bid to Become the MC Lyte of NASCAR
February 26, 2012

Matthew Stockman/Getty Images
Danica Patrick began yesterday's Nationwide Series race at Daytona International Speedway in pole position, but it didn't take long for her well-publicized, full-time transition to NASCAR to take on a less positive spin. 
Patrick was involved in a wreck on the 39th lap, when teammate Cole Whitt made contact with her rear bumper, sending her into the wall. Her pit crew eventually got her back into the race, but not soon enough to prevent a disappointing, 38th-place finish in her first event of the season.
This was obviously not the start that Patrick was hoping for, but it will do nothing to dampen the anticipation surrounding her participation in today's Daytona 500, Patrick's first big shot at becoming the MC Lyte of the NASCAR circuit.
*sound of a record skipping* Say what? 
I'm sure I just completely lost many of you, but for those who are either too young to remember or too detached from the hip-hop scene to care, allow me to give you a very brief history lesson.
MC Lyte, born Lana Michelle Moorer, was, like Patrick, a pioneer in her chosen field, becoming the first female solo rapper to release a full-length album, with 1988's Lyte as a Rock.  
Long before female hip-hop artists started gaining more notoriety for their sex appeal than their mic skills, Lyte stood out as one of the most talented and notable hip-hop stars throughout the early to mid-90s. Her uncensored, hard core delivery left no doubt that she was a star in a male-dominated industry where well received rhymes were the true measure of success.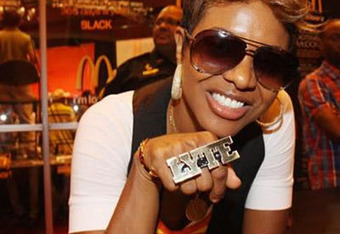 Patrick burst onto the racing scene in 2005, becoming the first and only woman to race on the IndyCar Series, but after a few spot starts last season, she's attempting to make her name on the NASCAR circuit by occasionally trading paint with the big boys in the racing world's major leagues (at least in America), while primarily racing in the Nationwide Series, NASCAR's version of Triple A baseball. 
Patrick's popularity has never been in question. She's demonstrated enough talent on the track, albeit on a different circuit, to be taken seriously as a racer alone. Yes, her marketing prowess and visibility has far exceeded her on-track results, but so has Dale Earnhart Jr.'s, so we can hardly blame that on her being a woman. 
Patrick has been savvy enough to capitalize on her popularity, but no one has ever questioned her commitment to winning, even though the desired results have mostly eluded her. 
A win in her Daytona 500 debut is hardly expected, but don't try telling Patrick that. She was notably upset by yesterday's crash, and will certainly be looking to redeem herself today on NASCAR's biggest stage, proving that she deserves to be mentioned alongside side names like Stewart, Edwards, and Johnson, the true heavy weights of the sport. 
It will be at least another year before we see Patrick in the Sprint Cup Series full-time, so this will be one of the few opportunities she has to show and prove herself on the main stage. MC Lyte earned her spot amongst hip-hop royalty, now it's time for Danica Patrick to Cha Cha Cha into the winner's circle.
Contact Geoff at geoff@popflyboys.com, follow him on Twitter @snglemarriedguy, and read more of his takes on sports and pop culture at popflyboys.com