2012 NHL Trade Deadline: The 5 Best Available Goaltenders & Where They'll Land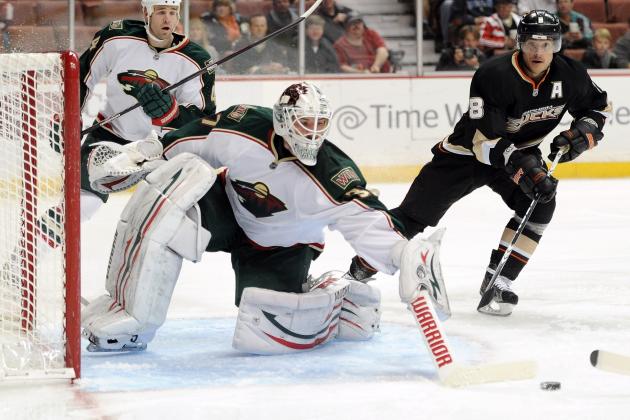 Harry How/Getty Images

With mere hours remaining before Monday's 3 p.m. trade deadline, the rumors are flying like never before.
High-profile names like Rick Nash, Derek Roy, Mikhail Grabovski and Tomas Plekanec have clogged up the airwaves with a logjam of half-baked speculation and far-fetched rumors. The NHL's spotlight has shifted away from the ice and into a world of uncertainty and cloudiness that never fails to captivate us all.
But lost in the chaos are the goaltenders. 2012's class of available netminders may lack a headline star, but their diamond-in-the-rough talent and potential has not been lost. With so many enticing youngsters populating the trade market, this year's crop may in fact be among the deepest ever.
Fortunately, the number of suitors for these undiscovered backstoppers is certainly not small. A plethora of playoff contenders have struggled to find consistent goaltending throughout their '11-'12 season, and more than a few backup and starter jobs are now open for the taking.
As the transaction cut-off moment approaches with breakneck speed, where will the best available goaltenders of the 2012 deadline be headed? Read on to hear the rumors examined and the predictions made.
Begin Slideshow

»
Frederick Breedon/Getty Images

For teams in desperate need of a goalie, looking at the depth chart of Nashville Predators is utterly depressing.
The Preds' boast one of the league's most underrated netminders in 29-year-old Pekka Rinne, who's remarkable 34-13-7 record is currently the best in the NHL.
But backing him up is another very worthy goalie in 23-year-old Anders Lindback, who might just be better served moving out of the Music City.
Lindback has been relatively underwhelming this season, posting a poor 2-6-0 record with an .897 save percentage and 2.70 GAA. However, Lindback impressed tremendously in '10-'11, going 11-5-2 with a .915 save percentage while filling in as the starter.
Given that he's not going to take over the top spot for Nashville anytime soon and will be a restricted free agent in July, the Preds could be much better served dealing Lindback away to a needy buyer.
One GM that seems particularly interested is Toronto's Brian Burke, who went as far to confirm his interest in the goalie market in an ESPN radio interview. Supposed "up-and-comers" James Reimer and Jonas Gustavsson have been iffy all year, and the Leafs, now three points out a playoff spot, would love to add some competition at that position.
If Burke is prepared to trade a Mikhail Grabovski or the like for high-priced Lindback, Nashville could get a solid addition out of their unused asset and Toronto could help stabilize their most unreliable factor.
To us, it sure looks like a match made in heaven.
Projected Destination: Toronto Maple Leafs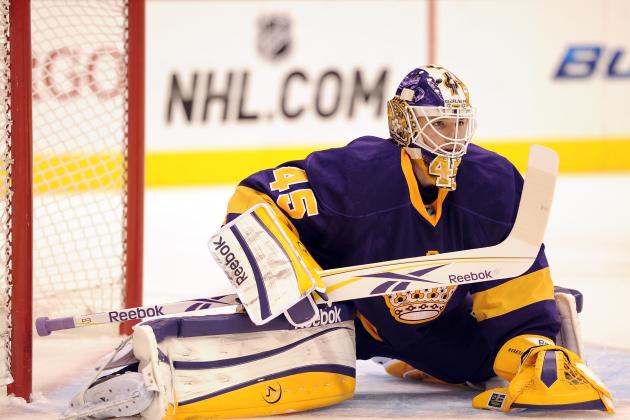 Harry How/Getty Images

Following days of frenzied rumors connecting the Los Angeles Kings to Rick Nash, the offensively-woeful Kings decided to instead acquire Nash's teammate, Jeff Carter, from the Blue Jackets last week.
Skilled defenseman Jack Johnson and a prized first-round pick left L.A. as part of the deal, but hyped goalie Jonathan Bernier did not.
Although the 23-year-old is just 3-5-1 with a .901 save percentage this season, he's shown great potential since being drafted 11th overall in 2006. Plus, with Kings starter Jonathan Quick a mere three years older, Bernier's youth might be wasted on the Kings.
Nowadays, Bernier's upcoming fate is a little harder to figure.
Kings GM Dean Lombardi could still make an offer for Nash, but it's more than likely that he will not.
Lombardi could shop Bernier as a single item in exchange for a much-needed forward like James van Riemsdyk, Ryan Malone or the aforementioned Mikhail Grabovski, yet a deal of that type could undermine Bernier's value.
Or Lombardi could keep him until summer and then re-assess the goaltending market, which is always a rapidly changing sector.
With an injury to Quick never out of the question, Carter already set up as a possible goal-scoring savior and the strangeness of the this year's trade deadline in mind, the last idea seems most probable.
Projected Destination: Stays with Los Angeles Kings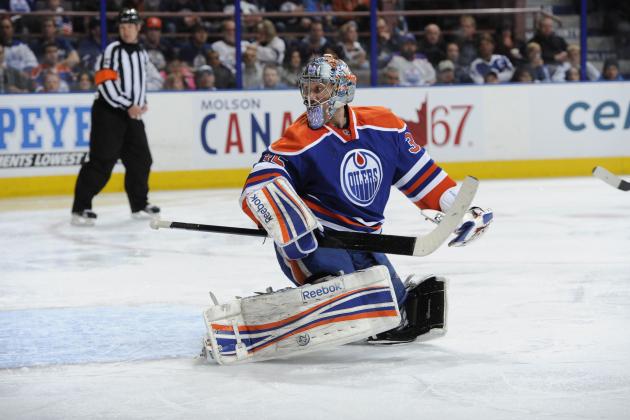 Dale MacMillan/Getty Images

The Edmonton Oilers, their early-season success long gone, are fully dead and buried in the Western Conference with the league's second-to-worst record.
So why would they possibly want 39-year-old goalie Nikolai Khabibulin? Well, they don't.
The Russian-born netminder, one of few remaining active NHLers to have played for the old Winnipeg Jets, has rebounded slightly from a horrendous '10-'11 campaign (a 10-32-4 record and .890 save percentage) to post a 12-16-5 mark this season with a .914 average.
That latter statistic, however, has declined steadily since October and pushed him well out of favor in Edmonton.
That's why he's one of the most definitively available goalies this time around. The question is not if Khabibulin is on the trade market; rather, it's just where Khabibulin will go. And thankfully for the Oilers, he actually has accumulated at least a couple inquirers.
Spector's Hockey reported via Twitter about the San Jose Sharks' interest. Meanwhile, the Ottawa Sun and others noted that the Chicago Blackhawks are definitely a frontrunner.
With Corey Crawford not blowing anyone's socks off this season and Ray Emery simply not very reliable, adding another piece to their portfolio could be well appreciated. Khabibulin would bring a lot of experience—777 regular season starts and 72 postseason appearances—to a current duo without much of either, and also add more stability to the crew.
Projected Destination: Chicago Blackhawks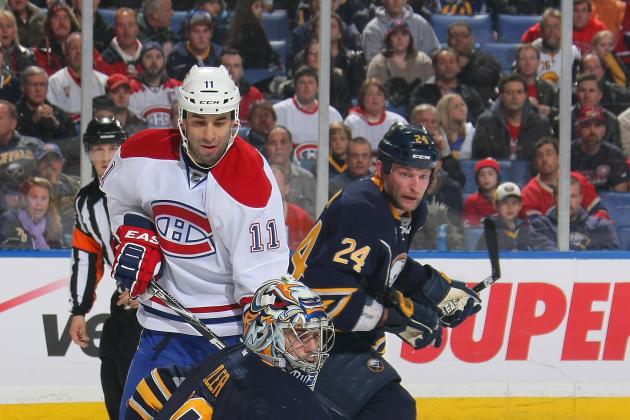 Dave Sandford/Getty Images

There's little doubt that the Buffalo Sabres are suffering through one of their worst seasons in decades, and typical star goaltender Ryan Miller is certainly part of the problem.
Buffalo's 62 points through 62 games places them near the bottom of the standings and their miserable minus-26 goal differential ranks 13th in the East.
Furthermore, Miller's stats have plummeted—his save percentage of .909 is Miller's worst in five years and his 2.70 GAA is the second-worst of his career as a starter.
Nevertheless, rumors about a Ryan Miller trade seem fairly ridiculous at this point. The 31-year-old's cap hit of $6.25 million that extends though 2014 would be a bulky one to deal, and the American goaltender has been a solid back-end cornerstone for the Sabres ever since the lockout.
So, although Miller's name has been tossed around significantly by insiders this past week, there's a reason why no frontrunners to land him have emerged—he's not really on the market.
Predicted Destination: Stays with Buffalo Sabres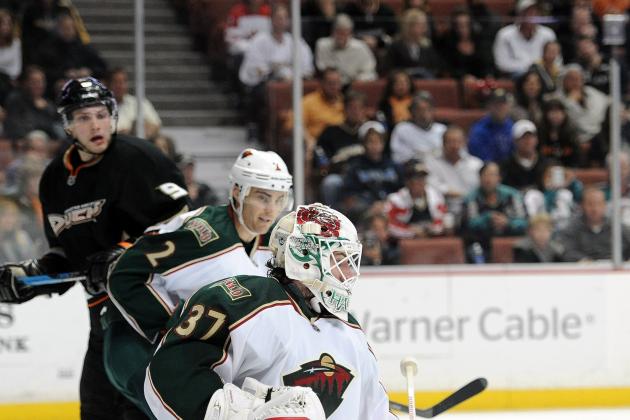 Harry How/Getty Images

Twenty-seven-year-old Josh Harding's case is like no other.
He could be compared to Jonathan Bernier—a promising youngster with a starting job soon to come—but he's too old.
He could be compared to Chris Mason—a career backup with solid numbers but little upside—but he has too much potential.
He could be compared to Kari Lehtonen—an on-the-ropes player best suited for dual-starter situations—but he's too untested.
Yet, perhaps that's why the market is so expansive for this unique and easily acquirable netminding option.
Harding has a respectable 9-9-3 record and .917 save percentage on the year, his fourth year in Minnesota putting up strong numbers while sitting behind veteran Niklas Backstrom. The former second-round pick has compiled a history of consistency but has never been given the opportunity to find success in another city.
Until now.
The list of Harding suitors is whopping; the Ottawa Senators, Toronto Maple Leafs and Tampa Bay Lightning (among others) have all been rumored as interested in the stabilizing rental, whose contract expires at the end of the year. Conversely, no team looks better positioned to land Harding than the Pittsburgh Penguins.
Riding the heroics of the amazing Evgeni Malkin, the Pens stand in fourth place in the East with the conference's third-best offense. And while star goalie Marc-Andre Fleury continues to stand on his head, longtime backup Brent Johnson has compiled an atrocious campaign.
Bringing in Harding would solve that issue. Not only would Pittsburgh be in great shape with their backup goalie position, but they would also have a truly viable starter in the fold if the need arises. And coming from a continual bottom-dweller in Minnesota, Harding would have no problem finding himself in the Steel City, either.
Predicted Destination: Pittsburgh Penguins