2012 Summit League Tournament Preview: Who Has Their Dancing Shoes Ready?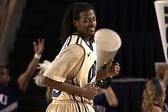 It's about that time of year again.
We are entering the greatest month that sports has to offer: college basketball's tournament season. With so many great battles for conference crowns and teams fighting for their tournament lives, excitement and intrigue has never been as high as it is this year.
Conferences such as the MAAC, Mountain West and Atlantic 10 will get most of the publicity in the mid-major circuits, but there is one conference that has the opportunity to not only top every one of those tournaments, but also bring one team into the national spotlight for the first time in its Division-I existence.
The Summit League has two of the best mid-major teams in the country that few people are recognizing in Oral Roberts and South Dakota State, both highly ranked in the collegeinsider.com Mid-Major Top 25 for most of the year. Together, these two teams combine for only four conference losses, beating each other on their home courts.
Aside from ORU and SDSU, however, are a number of teams that play a certain style of basketball that could surprise unsuspecting teams and advance farther into the tournament than anybody would expect them to.
With all this being said, let's take a look at the Summit League Conference Tournament preview and predictions.
Begin Slideshow

»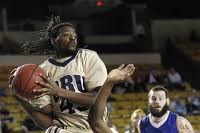 ORU's Dominic Morrison led the Golden Eagles to the top seed in the Summit.
Oral Roberts: Overall 26-5 Conference 17-1
IPFW: Overall 11-18 Conference 5-13
On paper, this game is going to be a blowout. Just looking at each team's respective records could tell you that this is not going to be a contest, which it should be.
However, after looking past the initial records, one interesting things to note would be Oral Roberts' margin of victory over IPFW in both of their contests this year. ORU won both matchups, but not by as much as you would think.
January 19th saw the Golden Eagles at home against the Mastodons and they won the contest by only 11, 65-54. In their return meeting, this time on IPFW's home floor, ORU won again, this time only by four, 75-71.
Now, having seen both of these teams play, it's rather remarkable to see how slim the margin was between a team that had only one conference loss in Oral Roberts, and a team that had only five conference wins, of course being IPFW.
Oral Roberts is 10th in the country in field goal percentage at 49 percent, mostly because of their uncanny ability to drive into the lane and finish at the basket, as well as shoot well from the outside.
Golden Eagles forward Dominic Morrison is the heart and soul of their squad. Not only does he average over 20 points per game, but he also shoots over 45 percent from beyond the arc.
By looking at the rest of Oral Roberts' schedule and looking at their margin of victory, even at home, they may not be as high-powered as it would appear. Some games really stick out, such as only winning by 10 at home against UMKC, a team that didn't even make this conference tournament.
Kind of puts things into perspective, doesn't it?
Prediction: Oral Roberts by plus-15
Oral Roberts has proven time and again that they know how to win the games they are supposed to win, and this will not be any different, as IPFW's Frank Gaines—a fellow Summit League 20-points-per-game member—will have to have one heck of a game in order to knock off the Golden Eagles.
Oral Roberts advances.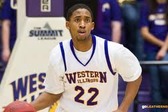 photo courtesy: goleathernecks.com
Western Illinois: Overall 15-13 Conference 9-9
North Dakota State: Overall 17-12 Conference 9-9
This game is interesting to say the least. A few weeks ago, North Dakota State had the No. 3 seed all but locked up and were actually in close contention for the second seed in the tournament. Now, they are lucky to be getting a No. 5 seed.
Western Illinois brings a stifling style of defense into the tournament, one that has frustrated even the most potent offenses in the Summit League. With their length and ability to pack the lane, WIU can contain both drivers and shooters in order to pick up victories.
North Dakota State appears to be digressing as the season goes along. Coming out of the gates strong, the Bison's first setback came at the hands of, you guessed it, Western Illinois, on the road by four. The next time these two faced off, just this past Saturday in Fargo, WIU trounced the Bison 77-64.
The Leathernecks of Western Illinois have had an interesting year to say the least. In the beginning, WIU traveled to Ann Arbor to take on the then 17th ranked Michigan Wolverines and walked out with only a four-point loss to their name. While their defense keeps them in games, their offense can sometimes become lethargic playing in a slow-paced matchup.
NDSU, on the other hand, likes to use size and speed to their advantage, but often times they can become complacent on the defensive end, allowing opponents to cut through their defense as if it were water.
In the end, it will come down to which team can pick up their poorest asset: NDSU's defense or WIU's offense.
Prediction: Western Illinois by plus-6
One deciding factor for this game is the fact that Western Illinois still has a game before the tournament while NDSU's season is over until they play each other next Sunday. Some may say that gives the advantage to NDSU, but it also means that the Leathernecks will be in a game mindset, giving them the upper hand in the end and advancing to play Oral Roberts in the Semi-Finals.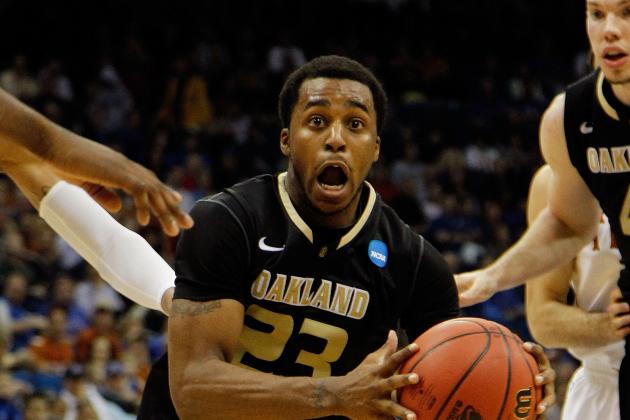 Tom Pennington/Getty Images
National leading scorer Reggie Hamilton leads the Golden Grizzlies into battle.
Oakland: Overall 17-14 Conference 11-7
Southern Utah: Overall 13-16 Conference 8-10
It's rather surprising to see Oakland jump to a three seed in this tournament considering how much they have struggled in their first year of the post-Keith Benson era in Rochester, Michigan. Although possessing the top scorer in the country in Reggie Hamilton (25.5 per game), Oakland has had trouble finding its team identity beyond him.
Oakland does have some good talent behind Hamilton. Travis Bader is one of the most deadly three-point shooters in the country. Although shooting just a hair under 40 percent from deep, Bader has shown that when he gets rolling he is capable of doing some great things. This is strongly evident in his 37-point outburst at home against South Dakota State earlier this season, making 10 of 14 three-pointers in the game.
Hamilton is on one heck of a hot streak, scoring 30 points or more in six straight games and 10 out of his last 13 games. His strong ability alone makes Oakland a threat alone, but it will come down to his supporting cast that will determine their success in the conference tournament.
Southern Utah is struggling this season, their last year in the Summit League before departing for the Big Sky conference next season. Even though their season hasn't been as good as they may have hoped, there are a few silver linings for the Thunderbirds going into the conference tournament. Their worst loss to Oakland was only by nine points at home, and they took Oakland to overtime only to lose by eight on the road.
Southern Utah's aggressive style of defense can cause fits for opposing offenses. Given the right opportunity, SUU has the capability of taking down a high-profile team such as Oakland if they can get their offense in flow with their aggressive defensive play.
Prediction: Oakland by plus-7
In the end, the Thunderbirds have no answers for stopping Hamilton or keeping him from scoring 30 points for a seventh straight game.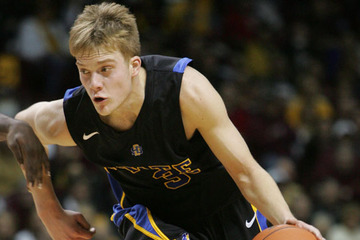 SDSU's Nate Wolters has etched his name in NCAA record books this season. Photo courtesy:espngo.com
South Dakota State: Overall 24-7 Conference 15-3
IUPUI: Overall 14-17 Conference 7-11
Winners of 12 of their 15 games this calendar year, South Dakota State is coming into the conference tournament with all sorts of momentum. Over the last two games, the Jackrabbits have had the opportunity to show that they can win games even when Nate Wolters has an off game, scoring only 10 and 15 points in his last two games, respectively. Center Jordan Dykstra has been on a tear as of late, hitting 11 straight three-point shots over a three-game stretch, which has since been snapped.
IUPUI comes in with its own prolific scorer in Alex Young, the NCAA's active career points leader. Winners of six of their last eight games—the two losses coming on the road to top seeds Oral Roberts and SDSU—the Jaguars are getting hot at the right time if they want to make some sort of run in the conference tournament.
SDSU's Wolters has officially put his name into the record books, as he has (unofficially as of this writing because it is unknown if this record includes the postseason or not) finished the season averaging 20-plus points, five-plus rebounds and six-plus assists a game, becoming only the fourth player ever to end a season with those stats.
Aside from Wolters, however, is a quartet of outstanding three-point shooters with Dykstra, Griffan Callahan, Chad White and Brayden Carlson all shooting over 40 percent from beyond the arc.
With these two teams facing each other in their regular season finales, both have the advantage of focusing on one opponent for the time being.
Prediction: South Dakota State by plus-15
South Dakota State only beat IUPUI by 11 in their last contest, but having a full week to rest their tired legs and mentally prepare for the tournament will allow them the chance to recharge their batteries and make a run at the conference tournament crown.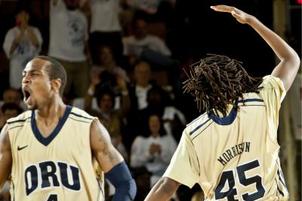 photo courtesy: summitleague.org
No upsets predicted in the first round so far, even though there very easily could be one or two teams switched around here, but for argument's sake, we'll say that the teams that should win will win.
Oral Roberts should have the opportunity to rest their starters a bit in their first-round match against IPFW, so they will have the quick advantage as Western Illinois will likely have to play their top guys the entire game in order to pull off a victory against NDSU.
In this game, Western Illinois is the type of team that could take down Oral Roberts, and their spread-'em-out, throw-it-down offense. By boxing in the lane, the Leathernecks will keep the likes of Morrison and Roderick Pearson from driving to the hoop. It will, however, open up the long ball for Warren Niles and Morrison.
Western Illinois has a three-point expert of their own in Ceola Clark III, who strokes it from deep with 47 percent efficiency. Clark, along with Obi Emango, has the capability to knock off the high-powered Golden Eagles from the top spot.
What this game will come down to will be who can finish inside the paint. Both teams possess good inside defensive abilities that can make any post game appear obsolete.
Prediction: Oral Roberts by plus-7
When push comes to shove, WIU doesn't have the playmakers that ORU does in order to finish a game when it's needed.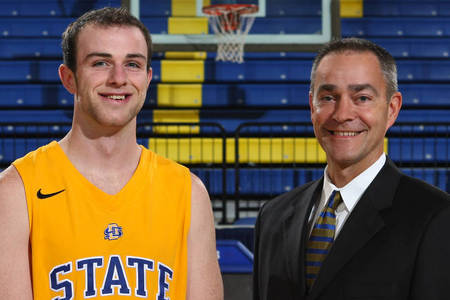 Lone SDSU Senior Griffan Callahan and Coach Scott Nagy. photo courtesy: gojacks.com
This will be the better of the two games in the semi-finals.
South Dakota State and Oakland split in their regular season games, both winning on their home courts (SDSU by 10, Oakland by four).
There is all kinds of star power in this game as two of the country's top scorers square off in an "anything you can do, I can do better" battle between Wolters and Hamilton.
By comparison, Wolters has outshined Hamilton on each occasion.
Game 1 @ SDSU: Wolter—19 points, seven assists, four rebounds. Hamilton—20 points, five assists, one rebound.
Game 2 @ Oakland: Wolters—21 points, 12 assists, eight rebounds. Hamilton—16 points (9-10 FT), eight assists, five rebounds.
Overall, with game plans being devised by both teams to stop the top players, X-factors will come into play greatly in the game.
For South Dakota State, it will be Callahan's Senior leadership and driving force on defense to help lead the way for the Jacks, as well as the continued contributions from Dykstra, Carlson and White.
For Oakland, it will be Travis Bader. In the second game, Bader hit 10 three-pointers. Without his production, the Golden Grizzlies would have been blown out at home. Had he played like he did in their first meeting (three points on 1-5 shooting, 0-3 three-pointers), Oakland may not even be as high as they are as a third seed.
Prediction: South Dakota State by plus-10
For this game, Callahan will have to come up big for the Jacks, and I expect him to help rally the young team when times are tough. His determination and leadership on the floor will be the key ingredient these guys need to get over the Oakland hump and knock them off.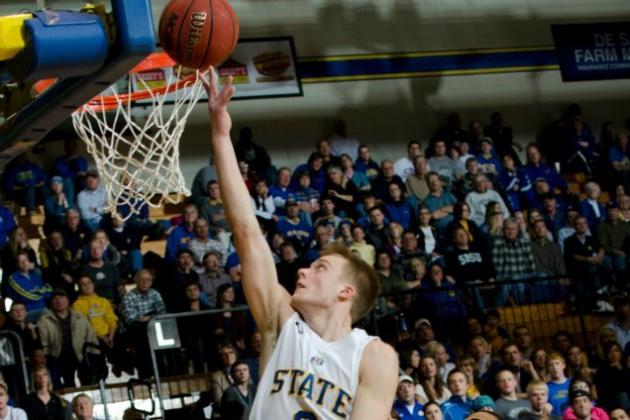 Now for the match that will determine who will be going dancing and who will be hoping to earn an NIT bid—or be left out of the postseason altogether.
In all, personally, both teams have played so well this year that it's a crime to think that one of them could be sitting at home come tournament time. In a perfect and just world, they'd both be in. Except that is not how the world works, so the conference tournament championship will have to do.
As for the matchup, this game could be a blowout either way, or a classic worthy of being on ESPN2, which is where the Summit League Championship will be televised for those of you who are interested.
In their first meeting at Oral Roberts, SDSU came out of the gates sluggish and with tired legs. This allowed for ORU's Morrison to have the game of his career, scoring 38 points while hitting five three-pointers in a 97-75 Golden Eagle victory.
In their meeting at South Dakota State, the Jackrabbits were able to make Morrison uncomfortable with their aggressive style of defense against him. They also got him into foul trouble for most of the game before he fouled out with about five minutes left in regulation. Luckily for Morrison, his fouling out didn't cost his team the game, because the Jacks were up by about 20 points at that point, eventually winning 75-60.
The difference in the two contests: SDSU's defensive play. A 37-point difference between the two contests speaks volumes as to what the Jacks are capable of when they put their mind to playing defense and sustaining it for the entire game. Their offense is great, ranking 15th in the country with 78.6 points per game, but it is their defense that decides whether or not they go on to the tournament.
Obviously, offense will have its time to shine in this contest, but the end result will be determined by who can clamp down when they don't have the ball as opposed to when they do.
Prediction: ....................................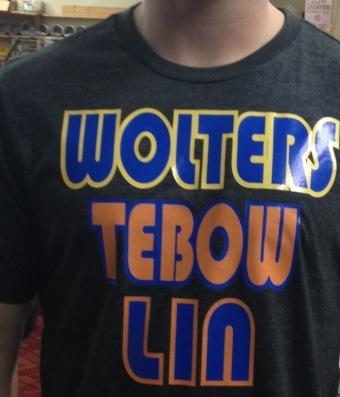 Let Wolters Mania Begin: photo courtesy: https://twitter.com/#!/cmansheim/status/170612458338271232/photo/1
All biases aside, right now, South Dakota State is as determined as they have ever been to make a name for themselves. You'd be hard pressed to find a team that gets along so well or one that helps keep each other in line in order to fulfill their goals of success.
What it comes down to is who's hungrier, and there's no team hungrier than the Jackrabbits to get to the NCAA tournament and, when they get there, make some noise against higher seeds.
Nate Wolters is a wonderful talent that the country deserves to see, and this will be his coming out party for the rest of the nation. Except it's going to take more than just Wolters to get these guys over the hump. Coach Scott Nagy has made it his mission to get these guys to where their talent level says they should be: among the elite teams fighting for a national championship.
The picture posted is a photo tweeted by a Jackrabbit fan who made the shirt in honor of the Jacks' first nationally televised game from Frost Arena, their home court. The shirt symbolizes how big of an icon is in the Midwest region of the college basketball world. His popularity is so high it rivals that of other sports' "icons" of the past year, Tim Tebow and Jeremy Lin.
While my prediction is a South Dakota State conference championship, either they or Oral Roberts could easily knock off their higher-seeded opponent in the tournament and possibly make a remarkable win into the Sweet 16.
You've been warned: This conference tournament is going to be worth following.