Angels Claim Early 2012 Crown: Shane Demmitt Wins MLB Network's Baseball IQ
February 26, 2012

The Los Angeles Angels scored an early 2012 championship win this week, with assistant equipment manager Shane Demmitt's victory during the final round of MLB Network's Baseball IQ.
MLB's inaugural Baseball IQ contest pitted trivia masterminds from all 30 MLB clubs plus representatives from MLB.com and the National Baseball Hall of Fame in a five-round tournament, with the winner set to take home $45,000 for charity and a snazzy Baseball IQ trophy.
The Angels' Demmitt—playing for the Angels Baseball Foundation—claimed both prizes on Baseball IQ's season finale, having defeated Arizona Diamondbacks graphics supervisor Josh DeFamio in the semifinal round to set up his finals showdown against New York Mets statistical analyst Ben Baumer.
Demmitt and Baumer had battled back and forth through the first eight innings of the Baseball IQ finals as the ninth inning, tournament-deciding category was announced: "Pitchers to throw a complete game no-hitter in the 21st century."
Demmitt and Baumer engaged in a very brief bidding war—in the ninth inning of competition, each player bids on the number of correct answers they believe they can produce for the given category. After each bid is made, his opponent has the option of increasing the bid or challenging his foe to provide the corresponding number of correct responses. The bidding process continues until a player has been challenged to produce answers.
With Demmitt barely leading, 6-5, it was anyone's game and the Angels clubbie boldly stated he could name 10 pitchers to throw a complete game no-hitter since 2000 and Baumer immediately challenged Demmitt to match his bid.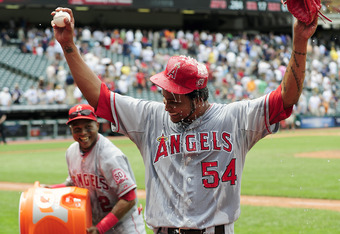 Jason Miller/Getty Images
Demmitt started off with a familiar name—Ervin Santana—before rattling off nine more correct names to clinch the inaugural Baseball IQ championship for the Los Angeles Angels of Anaheim.*
In an offseason dominated by the monumental Albert Pujols and C.J. Wilson acquisitions and the return of Kendrys Morales, the Angels are hoping Demmitt's Baseball IQ championship win is simply a preview of things to come—though an Angels vs. Mets 2012 World Series does seem slightly unlikely.
*For all the curious trivia buffs out there, here were Demmitt's ninth inning responses, in chronological order of when each pitcher threw his complete game no-hitter: Randy Johnson (2004), Justin Verlander ('07, '11), Jonathan Sanchez ('09), Ubaldo Jimenez ('10), Edwin Jackson ('10), Roy Halladay ('10), Matt Garza ('10), Dallas Braden ('10), Santana ('11) and Francisco Liriano ('11).
You can watch Demmitt's ninth inning performance on MLB's Web site.