Tottenham vs. Manchester United: 6 Bold Predictions as Spurs Host Red Devils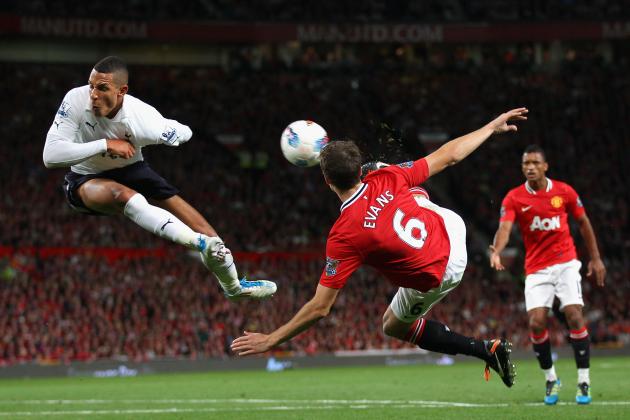 Alex Livesey/Getty Images

There's no denying it—Tottenham has come a long way since their first meeting with Manchester United in August.
A 5-2 loss after visiting Emirates Stadium last weekend might have put a lid on Tottenham's title chances, but it doesn't mean that the club isn't older, wiser and in much better form than at the beginning of the season.
Manager Harry Redknapp's tactics are molding this young, humble, enthusiastic team into a legitimate threat to either Manchester club and Tottenham will be a contender for the league next season.
Manchester United, however, is the team everyone expects to challenge for everything. They're only two points behind first-place Manchester City and a repeat of last year's title win isn't out of the realm of possibility.
It's a late-season rematch, but this time the result will be decided at White Hart Lane. Can Tottenham steal three points and gain some of the ground they lost last weekend, or will Manchester United put an end to north London's title hopes and finally make the Premier League a two-horse race?
No matter who gets the points, it's going to be a thrilling weekend for both clubs. Here are my bold predictions as Tottenham takes on Manchester United and continues on towards it's first title since 1961.
Begin Slideshow

»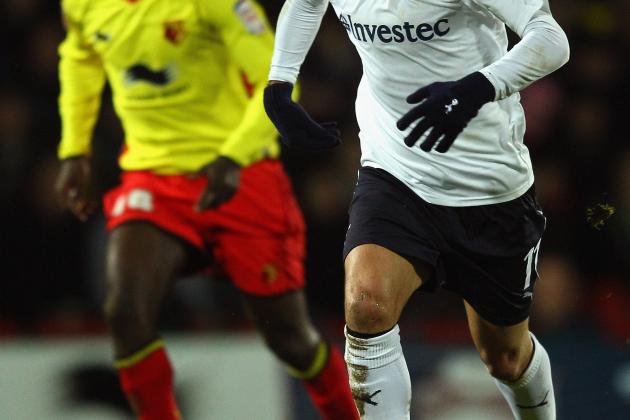 Richard Heathcote/Getty Images

This wouldn't normally be a very bold prediction except for the fact that Rafael van der Vaart hasn't started a game for Tottenham—whether it be a league match or the FA Cup—since January 31 against Wigan Athletic.
Heck, since then he's only made one appearance—as a substitute in the second half of Tottenham's implosion against Arsenal.
With Scott Parker collecting two yellow cards at Emirates Stadium and forced out for the clash against Manchester United, look for Harry Redknapp to employ a 4-3-2-1 lineup with van der Vaart pairing with Emmanuel Adebayor at the forward position and Louis Saha being left alone at striker.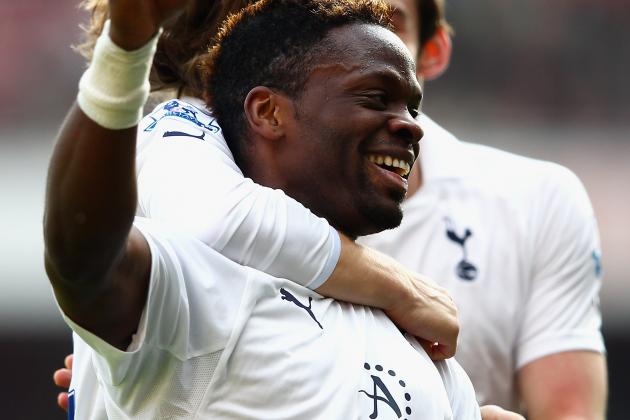 Clive Mason/Getty Images

Louis Saha has started two matches for Tottenham. Against Newcastle United, he scored within six minutes. Against Arsenal, he did it within four.
I could predict that the former Everton man would score within the first 10 minutes, but that's just not enough. I'm going bolder.
Saha will receive a beautiful, mid-field cross from Rafael van der Vaart and surprise everyone at White Hart Lane with an early 1-0 Spurs lead.
Everyone except me that is.
Clive Mason/Getty Images

What? You want even more boldness? Okay, here it is.
Saha's getting two goals in the match and they're both happening before the halftime whistle!
Why not? He did it against Newcastle United (he actually almost scored a hat trick before halftime, remember?) and he should have done it last weekend against Arsenal.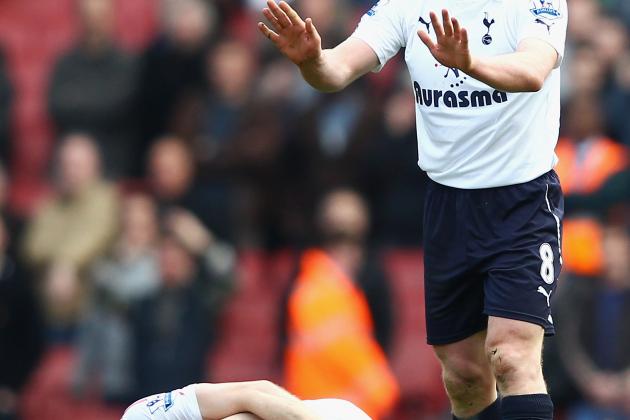 Clive Mason/Getty Images

Do not get me wrong, Scott Parker is a fantastic talent and has been absolutely pivotal to Tottenham's success this season. His crisp passes and ability to lead in the midfield is second only to Luka Modric.
But with a change to a 4-3-2-1 and the introduction of Rafael van der Vaart back into the lineup, Parker's absence won't disrupt the good possibility of Tottenham defeating Manchester United.
Let's also not forget that for the last two months, the Red Devils have displayed some uncharacteristically inconsistent form. It took a goal by Ryan Giggs in the 90th minute for Manchester United to beat Norwich City and that draw against Chelsea should have never been a draw.
Newcastle United also showed that a conservative, wait-and-see approach to Wayne Rooney and company can pay dividends.
Blackburn's 4-5-1 formation—a formation that will look a lot like what Redknapp will put Tottenham in on Sunday afternoon—allowed Yakubu Aiyegbeni to get into position at the top of the formation as the lone striker and take advantage.
Louis Saha is a smart veteran who can sit tight and play the waiting game at the top of the key. With van der Vaart in an attacking midfield role and Modric inching up a little bit, Tottenham won't lack for players to pass and cross the ball with precision.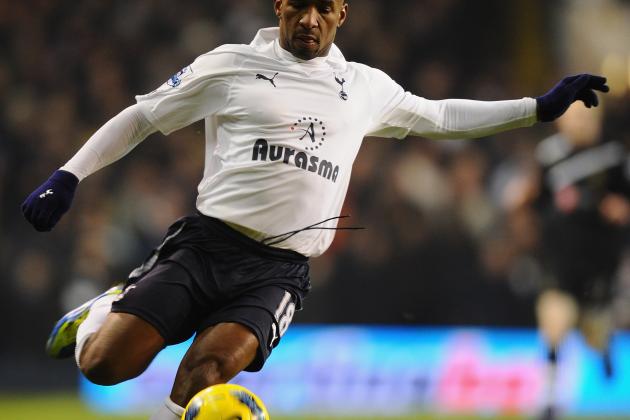 Mike Hewitt/Getty Images

The oft-used Jermain Defoe has been an unsung hero for Tottenham during it's title chase this season.
Appearing in 17 league matches, the forward has scored eight goals. But because he's used more as a substitute off the bench—Defoe only has eight starts in those 17 appearances—he's overshadowed by bigger names like Emmanuel Adebayor, Gareth Bale and the newly signed Louis Saha.
But without Defoe's contribution off the bench, especially in the earlier part of the season, Tottenham would be fighting for a Europa League spot rather than next year's Champions League.
When Tottenham traveled to Newcastle United, it was Defoe's goal in the 68th minute that helped the club scratch out a draw. And against Fulham, it was his goal in the 90th minute that sealed three points at Craven Cottage.
Without the services of Scott Parker, manager Harry Redknapp is going to need to use every weapon in his arsenal (too soon?) to put some pressure on a Manchester United defense that is the weak point in the Red Devils' armor.
The last card Redknapp will have is a late substitution so that Defoe can try and work some of the same magic he and Adebayor showed off at the beginning of the season with Adebayor feeding the quick, agile Defoe for a late score.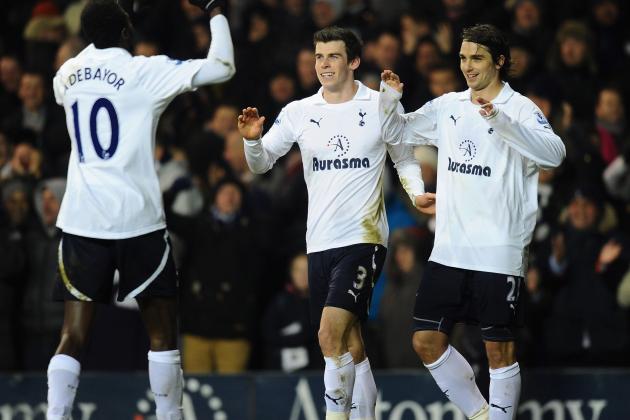 Mike Hewitt/Getty Images

All bold predictions aside, earning three points against Manchester United—even at home—is a steep mountain to climb.
That's not to say it's impossible. Just ask Blackburn, Newcastle United and Manchester City.
I like Tottenham's chances going into Sunday's match. The last time they put out a lackluster effort on the road—a few weeks ago playing Liverpool at Anfield—they bounced less than five days later to absolute steamroll Newcastle United with a score of 5-0.
Will Tottenham get something out of this weekend's match against Manchester United? Sure.
Will they get three points? That's my bold prediction.
Comment and tell me if you agree!