International Cricket: As Crazy as It Seems, Is Sachin Tendulkar Struggling?
February 25, 2012

Morne de Klerk/Getty Images
I almost can't believe that this article is being written because surely, it can't be happening.
This is Sachin Tendulkar we're talking about—one of the most complete batsmen in the history of cricket and without a doubt, the most popular player on the planet.
He holds nearly every batting record you could think of, and as a result, is worshiped by billions of people worldwide as the greatest cricketer ever.
And so when the 38-year-old came to Australian shores for a four-test series followed by a one-day tri-series, it was almost inevitable that he would score runs.
It was almost certain that he would score his 100th international hundred and create a record likely never to be broken.
Almost certain, but as we've seen, certain is not definite.
The four tests yielded less than 300 runs in eight innings for Tendulkar, who walked away from the series with an average of just 35.87—nearly 20 points less than his career test average.
Okay, no hundred there, but no panic either, with nine one-day internationals still to come, right?
Well, not exactly.
The five matches that he's played in so far have seen the world's greatest batsmen notch up 90 runs for an average of just 18.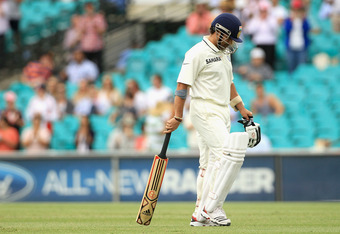 Hamish Blair/Getty Images
That's 380 runs in 13 matches, which for Sachin Tendulkar is simply unheard of.
So as crazy as it seems, Sachin Tendulkar is struggling for runs. Like every other batsman in the world will tell you, he's in a hole.
And unfortunately, there doesn't seem to be any way out just yet.
2011 yielded just one test century for the Little Master and two one-day centuries.
He hasn't scored a hundred in nearly 12 months of cricket and in his last 32 innings—numbers that nobody wants, but especially when you're one hundred away from greatness.
It might all be psychological or it might be something more. He is, after all, 38 years old and is in his 14th year of international cricket for India.
But this is Sachin Tendulkar we're talking about.
And you've got to think that even though runs are tough to come by at the moment and that elusive 100th hundred is nowhere to be found, anything is possible.
You don't achieve the greatness of Tendulkar overnight; you achieve it through prolific run-scoring and dominant batting performances.
Which, for all we know, may just be around the corner for the Little Master.
But one thing is certain.
When that hundred does come up and that last barrier knocked down, Sachin Tendulkar could find himself with a plethora of runs to his name.
Because when it rains for Tendulkar, it pours.
And it may well just turn in to a flood.
Read more articles by Dan here or follow him on Twitter: @dantalintyre