Forgotten New York Yankees of the Past Four Decades: "D"
February 26, 2012

Christian Petersen/Getty Images
Ruth, Gehrig, Mantle and Jeter are some of the greatest names in New York Yankees history. However, Cadaret, James and Moses are the names of some of the forgotten Yankees. This series will focus on the less remembered players to wear pinstripes over the last four decades (1970s-2000s). Today's letter of the day is "D."
Octavio Dotel (2006)
When relief pitcher Octavio Dotel suits up for Detroit this season, it will be his major league record 13th team. The Yankees were his fourth team in 2006.
Even though he was recovering from Tommy John surgery, New York signed Dotel as a free agent on Jan. 4, 2006. He missed the first four months of the season, but his return was further delayed after developing elbow tendinitis.
Dotel did not make his first Yankee appearance until Aug. 16 against Baltimore. He struggled in his 14 appearances, allowing 13 runs, 18 hits, 11 walks, and 7 strikeouts. His record was 0-0 with a 10.80 ERA. Dotel was not on the postseason roster for the ALDS against Detroit.
Shortly after the Yankees season ended, Dotel was released, and signed with Kansas City as a free agent in December 2006. He rebounded in 2007 with the Royals with a 2-1 record and 11 saves.
Russ Davis (1994-1995)
For a time in the mid 1990s, it appeared Russ Davis would be New York's third baseman of the future. Instead, the Yankees used him as trade bait to help build a dynasty.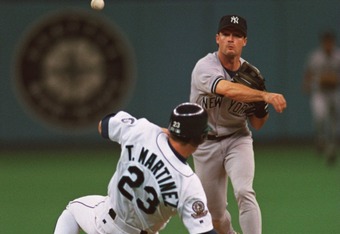 Stephen Dunn/Getty Images
Drafted in the 29th round in 1988, Davis debuted with the Yankees on July 6, 1994. He only tallied two hits in 14 at bats in his first season in pinstripes.
Davis's playing time increased to 40 games in 1995 while serving as Wade Boggs backup at third base. He batted .276 and finished with two home runs, 12 RBI, and seven multi-hit games. He hit his first major league home run off of Detroit's David Wells in an 8-4 loss to the Tigers on June 28. Davis was also 1-for-5 in the ALDS loss to Seattle.
With Don Mattingly's retirement, New York was in need of a first baseman. On Dec. 7, 1995, Davis and pitcher Sterling Hitchcock were traded to Seattle for first baseman Tino Martinez and pitchers Jim Mecir and Jeff Nelson. With the Mariners, Davis hit at least 20 home runs each season from 1997 to 1999.
Richard Dotson (1988-1989)
In the early 1980s, it appeared Richard Dotson was one of the best pitchers in baseball. Dotson was 22-7 with the White Sox in 1983, but three years later, he led the American League with 17 losses. 
New York hoped Dotson would revert to his early form when he was acquired along with pitcher Scott Nielsen from the White Sox for outfielder Dan Pasqua, pitcher Steve Rosenberg, and catcher Mark Salas on Nov. 12, 1987.
After enduring arm injuries, Dotson started the 1988 season 7-1 and finished 12-9. It was his best season since a 14-15 mark in 1984. Dotson's best performance came against his old team, when he held the White Sox to two runs on four hits with seven strikeouts in a complete game, 12-2 victory.
Unfortunately, Dotson's resurgence did not last long. In late June 1989, Dotson was only 2-5 with a 5.57 ERA. After allowing four runs in only 0.2 innings in a start against the White Sox, Dotson was released by the Yankees on June 22. Nine days later, he returned to Chicago after the White Sox signed him as a free agent. Dotson played his last season with Kansas City in 1990.
Rick Dempsey is best remembered for his 12 seasons in Baltimore and his rain delay antics. But some forget that Dempsey was catcher Thurman Munson's backup for four seasons.
Minnesota traded Dempsey to New York for outfielder Danny Walton on Oct. 27, 1972. Even with Munson behind the plate, Dempsey's playing time increased with each season, including a then career-high 71 games in 1975.
One of Dempsey's best stretches with the Yankees occurred from June 1-4, 1974. Over a three game stretch against Minnesota and the Chicago White Sox, Dempsey was 8-for-14 with a double, home run, and six RBI. He drove in the winning run in a 6-5, 13-inning win over Minnesota on June 1, and followed with a three-run home run the next day in an 11-1 win over the Twins. Dempsey added three hits in a 9-2 loss to the White Sox on June 4. He finished the season at .239 with two home runs and 12 RBI.
Dempsey batted .262 with a home run and 11 RBI in what turned out to be his final full season in New York in 1975. His best game of the season was a three-hit performance in a 2-1 loss to Baltimore on Sept. 5.
Dempsey started the 1976 season in a 5-for-48 slump, and on June 15, he was involved in a 10-team trade between the Yankees and Orioles. Dempsey, and pitchers Tippy Martinez, Rudy May, Scott McGregor, and Dave Pagan were traded from New York to Baltimore for catcher Elrod Hendricks and pitchers Doyle Alexander, Jimmy Freeman, Ken Holtzman, and Grant Jackson.
Dempsey played 12 seasons in Baltimore and was named MVP of the 1983 World Series.