Leafs Trade Speculation: Why Salary Dumps May Be the Best Option Before Deadline
February 26, 2012

Dale MacMillan/Getty Images
The Toronto Maple Leafs are in a tough situation both on and off the ice as the trade deadline approaches on February 27th.
The Leafs are 1-6-1 in their past eight games. This record is not good enough if the Toronto squad wants to make the postseason. During the stretch, the Leafs have struggled to score goals and to keep pucks out of the back of their net.
It is clear that the Leafs need to be better in all categories.
Three players that the Leafs would like to snap their recent cold streaks include Tyler Bozak, Clarke MacArthur and especially Mikhail Grabovski. 
Mikhail Grabovski has recorded one assist in his past eight games and hasn't scored a goal in 11 games. Grabovski last scored on January 31st against the Pittsburgh Penguins, where he had a three-point night.
Since then, Grabovski hasn't had the same flair to his offensive game. The Leafs will be looking to get him going heading into the final stretch.
The goaltenders have not been on top of their game either. Both James Reimer and Jonas Gustavsson have let in soft goals during the stretch that they each wished they had back.
Reimer has posted a 1-3-0 record in his last four appearances. During that stretch, Reimer has posted an atrocious 4.08 GAA along with an .856 save PCT.
Jonas Gustavsson has been even worse. In his last four appearances, the netminder has posted a 0-1-1 record with a GAA of 4.26 and an .862 save PCT.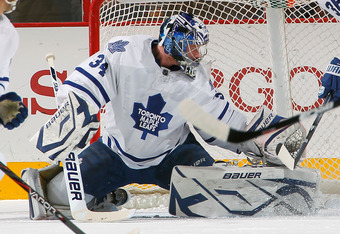 Paul Bereswill/Getty Images
The goaltenders need to improve drastically if the Leafs want to make the 2012 Stanley Cup playoffs.
The Toronto Maple Leafs are extremely lucky to be holding on to the 10th-place position in the Eastern Conference as the teams around them have been struggling as well.
Tonight's matchup against the ninth-place Washington Capitals will ultimately decide whether the Leafs can prove that they want to take part in the playoffs. A loss tonight will be a major blow to the Leafs' playoff push. 
The Leafs' front office is also in a tough situation heading into the trade deadline coming up on February 27th.
General Manager Brian Burke has been feeling the pinch in Leafs Nation to make a significant deal before the deadline, even more now that the Leafs are struggling to win hockey games.
Players and goaltenders Burke has reportedly shown interest in include:
Rick Nash would be a hard player to acquire before the deadline. The price tag on Nash is very high, which may back the Leafs away from acquiring the big winger. Other interested teams include the New York Rangers and the San Jose Sharks.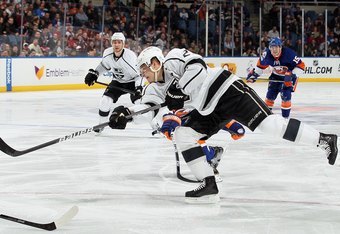 Jim McIsaac/Getty Images
The same can be said about Dustin Brown of the Los Angeles Kings. If Kings GM Dean Lombardi is given the right deal at the right price, Lombardi won't hesitate to make the deal. Therefore, the price for Brown could also be fairly high.
James van Riemsdyk of the Philadelphia Flyers was a player rumored to be dealt to Toronto in early February. Now, the deal doesn't look like it will get done.
The Flyers were initially interested in Luke Schenn, but the Flyers have already traded to acquire Nicklas Grossman of the Stars and Pavel Kubina of the Tampa Bay Lightning. Schenn likely will not be needed in Philadelphia due to these additions.
Steve Ott would bring a great third-line presence to the Toronto Maple Leafs lineup. However, the Dallas Stars may want to hold on to Ott, due to their own playoff push in the Western Conference.
Acquiring a goaltender before the deadline may be a tough task for Brian Burke.
Evgeni Nabokov is in the midst of talking negotiating a contract extension with the New York Islanders. Nikolai Khabibulin is getting close to 40 years of age so the Leafs might not want to give up young players and prospects to acquire the veteran.
Jonathan Bernier would be a great acquisition for the Maple Leafs; however, the price may be fairly hefty due to his young age and solid starting potential for the near future.
This makes trading quite difficult for Brian Burke. The market is very specific and competitive this season. It isn't the ideal market for the Toronto Maple Leafs for these reasons.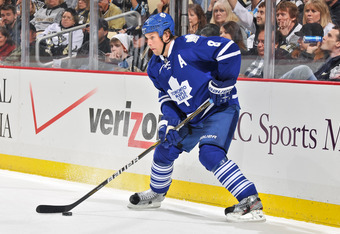 Jamie Sabau/Getty Images
Maybe the best thing to do at the trade deadline is to dump some overpaid players, or players that don't seem to have a major role on the Leafs' roster. By trading away these type of players, the Leafs will be able to:
Obtain extra spending money in the offseason/free agency
Acquire draft picks or prospects; even role players
Give playing opportunities to determined young players such as Nazem Kadri, Joe Colbourne, Matt Frattin and Keith Aulie
There are a few players that the Leafs could trade away, even if the return isn't much.
Mike Komisarek
Defenceman Mike Komisarek has been a healthy scratch in nine of the past 11 games for the Toronto Maple Leafs.
So, basically the Leafs are paying Komisarek $4.5 million this season to sit in the press box. Komisarek's contract lasts for another three seasons.
With emergence of Jake Gardiner this season, Komisarek's role on the Leafs roster is diminishing, and diminishing quickly.
Trading Komisarek would be a good idea for the Leafs, even if the return isn't great. Teams that could use his services are teams that struggle to get above the minimum salary cap.
Komisarek has suited up for 29 games this season, and has recorded four points.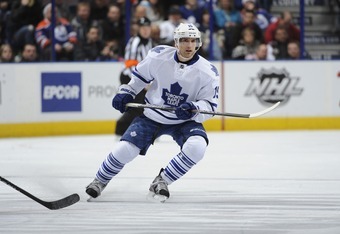 Dale MacMillan/Getty Images
Jeff Finger
Yes, Jeff Finger.
The 32-year-old defenceman is being paid $3.5 million this season to play in the minors. Luckily enough for the Leafs, this is the last year of his contract.
But instead of letting him go in the offseason for nothing, the Leafs might as well try to get a seventh-round pick. Even getting that much at the deadline might be too much for Jeff Finger.
Finger has played 37 games in the AHL this season, recording 10 points along with an even plus/minus rating.
Tim Connolly
Plan B during the offseason has not paid off for the Toronto Maple Leafs.
Tim Connolly was expected to play first-line minutes to set up Phil Kessel this season. However, the emergence of Tyler Bozak and Mikhail Grabovski have forced Connolly down to the third line.
Brian Burke signed Connolly to a two-year contract with an annual cap hit of $4.75 million per season. This is a bit much for a center playing on the third line.
Similar to Komisarek, his services may be helpful to teams that struggle to get over the minimum salary cap. Instead, the Leafs would likely get more in return for Connolly versus Komisarek.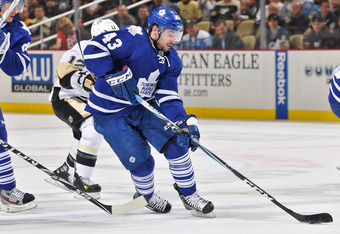 Jamie Sabau/Getty Images
Matthew Lombardi
Matthew Lombardi came to Toronto in a deal that sent Brett Lebda and Robert Slaney to Nashville for Lombardi and Cody Franson. This deal has worked out fairly well for the Toronto Maple Leafs.
However, Lombardi has not been having a season like his 59-point season in the 2009-10 season.
So far this season, Lombardi has recorded 13 points in 43 games. His offensive numbers are down drastically, as he is on pace to record 18 points. Lombardi has also shown that defense is not a strength of his game on the third line. He is a minus-10 this season.
Lombardi is being paid $3.5 million per season for the next two seasons. Dumping his salary may be a smart move. Teams in need of a speedy forward may be interested in Lombardi.
What if these moves were made?
If Mike Komisarek, Jeff FInger, Tim Connolly and Matthew Lombardi were traded, the Leafs would save approximately $16.25 million in salary.
This is a fairly significant amount of money that could be used on players that would actually make a significant difference to the Leafs' roster in the offseason. 
If these moves were made before the deadline, the Leafs roster could possibly look like this:
First line: Lupul, Bozak, Kessel
Second line: Kulemin, Grabovski, MacArthur 
Third line: Kadri, Colbourne, Frattin
Fourth line: Brown, Steckel, Armstrong
Sub forwards: Orr, Crabb
D-pair one: Gunnarsson, Phaneuf
D-pair two: Schenn, Liles
D-pair three: Franson, Gardiner
Sub defenceman: Keith Aulie
Goaltenders: Reimer/Gustavsson
None of these trades solve the goaltending mishaps. However, they do open up opportunities for their young players to get some experience in the NHL.
Their young, determined players may even be enough to generate a good two-way game from a third line made up of young prospects.  
What the Leafs need is determination, and young players getting a shot at the big stage would do that for any team in the NHL.
Calling up Colton Orr for a few games could also bring a spark to the Leafs lineup. He is not afraid to fight and lay out the body on his opponents. This is something the Leafs have been lacking during their struggling streak.
Maybe that's all the Leafs need.
However, the chances of these moves happening is very slim. It's something to think about heading into the deadline.
Who knows what is going to happen? The best thing to do right now is just keep listening to the rumors and trade speculation.