UFC 144 Fight Prediction: Three Candidates for Knockout of the Night Honors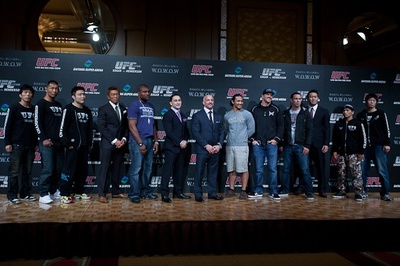 Courtesy of Sherdog.com
With UFC 144 just hours away, some of the event's intriguing bouts are candidates for fighting bonuses, including "Fight of the Night" and "Knockout of the Night" honors.
Some of the event's bouts have the potential of creating some knockout moments and allowing several fighters to earn the fight bonus.
However, as brutal or violent some of the finishes may look, there can be only one rightful recipient.
Here are the three candidates for Knockout of the Night honors.
Begin Slideshow

»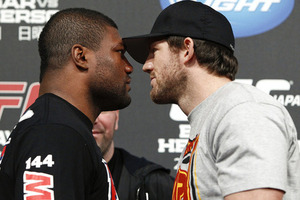 Courtesy of MMAMania.com
Quinton "Rampage" Jackson is well known for his devastating knockout power in both his hands and his slams.
So it is expected when he returns to the Saitama Super Arena later tonight, he'll have an overwhelming amount of support from the Japanese crowd, hoping to see a knockout victory reminiscent of his wins in PRIDE FC.
Jackson's motivation and longevity in the sport have been questioned as of late, considering he has not recorded a knockout in over four years. Last time he knocked out an opponent was at UFC 92 against Wanderlei Silva.
However, with the crowd firmly behind him, it won't be surprising to witness "Rampage" pull off a vintage performance over Ryan Bader.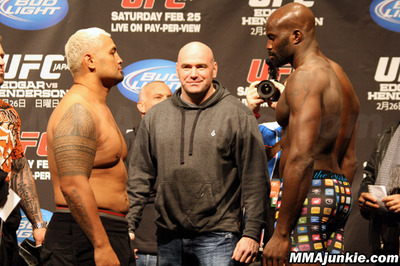 Courtesy of MMAJukie.com
Mark Hunt and Cheick Kongo both claim some of the strongest hands in the heavyweight division.
Hunt's professional record might not be the most attractive to look at, but he has defeated some tough opposition and has picked up four career knockout victories.
Kongo has gathered 10 knockout wins in his career, displaying some technical world-class kickboxing.
While neither competitor have shown their knockout abilities in their recent fights, they are more capable of delivering that one final blow. And this bout has the potential to earn "Knockout of the Night" honors.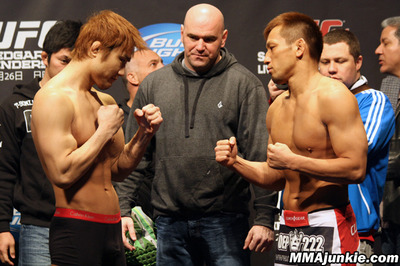 Courtesy of MMAJunkie.com
Perhaps the possible dark-horse to earn the honor is an under card bout between Takanori Gomi and Eiji Mitsuoka.
Gomi might be on the down side of his career, but that doesn't mean he still can't manage to pick up a knockout win, as he holds ten wins via KO/TKO. Gomi is more noted for his superior submission skills, but he has shown to be much more versatile than he appears to be.
This bout might be at a disadvantage of stealing the honors, but Gomi is not to be overlooked and he is always one punch from changing the momentum of a fight.