UFC 144 Fight Card Betting Odds: Will the Brazilian Effect Work in Japan?
February 25, 2012

Koki Nagahama/Getty Images
At the two recent UFC events in Brazil, the cards were mostly stacked to pit Brazilians against foreigners. On each card, only one non-Brazilian was able to buck the hometown crowd and beat the local favorite.
After subtracting the few bouts that pitted Brazilian vs. Brazilian, we arrive at a grand total of the Brazilians winning 13 out of 15 fights, for an 87% winning percentage.
Looking back, those results aren't surprising. After all, Brazil is arguably the birthplace of Mixed Martial Arts, depending on how you score that debate, and is without question the birthplace of the UFC, which was first conceived by the Gracie family as a means to showcase jiu jitsu.
On top of that heritage, the Brazilian crowds are loud and fiercely pro-Brazilian, and the local fighters were clearly pumped to throw down at home. 
Did the local diet, air, and other proprietary intangibles come into play? Perhaps.
Did the UFC stack the fights, style-wise, to favor the Brazilians to win and make the sellout crowds happy? I'm not one to doubt the wisdom of UFC matchmaker Joe Silva, but I don't think even he could have expected what Rogerio Nogueira did to Brendan Schaub.
Now the UFC is taking the show to another country with a legit claim as the birthplace of MMA. At the very least, thanks to PRIDE Fighting Championships, Japan offered the first big stage to the sport.
Japan—and all of Asia to be fair—could also make a strong case as the birthplace of martial arts, as distinct from the sport of MMA.
Following in the footsteps of the recent Brazilian events, the UFC 144 card is replete with Japanese fighters facing gaijin (translation: "foreign devil") opposition. Will hometown lightning strike again in the land of the rising sun? Will there be Saitama magic in the air?
UFC 144 offers six instances of bona fide Japanese vs. gaijin clashes. Bump that to seven if you count Akiyama, a Korean.
Culturally, Korea is the closest country to Japan. And given the number of fights Akiyama has already had in Japan, it's fair to give him the "comfort of feeling at home factor." But will the fans be cheering for "Sexyama" with the same fervor the Japanese give their own?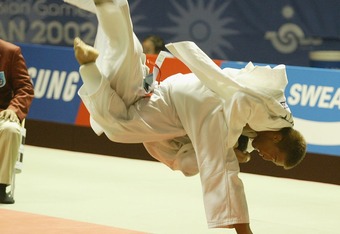 AFLO Foto Agency/Getty Images
Probably so, but not for the reasons you might think. And this brings us to a key difference between Brazilian and Japanese audiences: Brazilian fans are rowdier than Ronda Rousey, while the Japanese fans are quiet as nuns in church.
Would the Japanese fighters get a much-needed boost from a roaring peanut gallery? Probably. Will they get it? Probably not.
Another fighter who isn't Japanese but who might benefit from the hometown feeling is Quinton "Rampage" Jackson, who made his name fighting in PRIDE. But on the other hand, feeling at home for Rampage might have meant too many sake shots and karaoke bars, and too little time cutting weight. 
Will "Rampage" feel that special hometown feeling during fight night? Probably.  Will it be enough to vault him past a motivated, evolving, in-shape Ryan Bader? I'm getting the feeling no.
Missing weight by six pounds doesn't help change that feeling, nor does his excuse that it was because of an injury. But if we choose to lump "Rampage" into the hometown crowd, that makes it eight Japanese vs. foreign devil fights.
Beyond the differences between the fighting environments in Brazil and Japan, there is also a difference between Brazilian and Japanese fighters, and that might be the most deciding factor of all.
Japanese fighters simply haven't performed as well as Brazilians in the Octagon.  Even my wife knows that (but I'll admit, she surprised me with that knowledge).
Three of the UFC's current champions are Brazilian, while none are Japanese. In fact, none have ever been Japanese, with the exception of Lyoto Machida, who is only half-Japanese. His other half? Brazilian, of course.
Oddsmakers will no doubt be watching UFC 144 with interest to see if the Brazilian effect can repeat in Japan. Between the lower level of audience participation and lower caliber of Japanese fighters, I don't think it will.
But when making my bets for the evening, if any fight is too close to call, I'll be leaning East.