Colorado Avalance: Kyle Quincey Shows True Colors on the Way out of Town
February 25, 2012

Victor Decolongon/Getty Images
Good riddance to bad rubbish.
The Colorado Avalanche traded Kyle Quincey to the Tampa Bay Lightning a couple of days ago for forward Steve Downie.
Tampa Bay turned Quincey right around and sent him to Detroit for a first-round draft pick.
Upon Quincey's arrival in Detroit, he took some parting shots at the Colorado Avalanche team and organization in an interview with Nick Cotsonika.
"Everyone is ready to get shipped out any day," Quincey said. "There's a lot of guys, their bags are packed beside the door, and they wouldn't be unhappy to go—trust me. I know I had a big smile on my face, and all the guys were jealous. I think there's a bunch of guys that were pissed off they weren't in a package deal."
Wow. With an attitude like that, it's a shock that he wasn't sent out of town faster.
It sounds like Quincey was still stuck in last season, in which the Avalanche finished with the second-worst point total in the NHL and the lowest total since the franchise moved to Denver from Quebec.
True that the Avalanche do sit in the 11th seed, but look what a difference a couple of days make.
The Avalanche have won both of their last two games and sit just two points out of the eighth slot and are tied in points with the two teams in the ninth and 10th seeds.
Perhaps Kyle Quincey has confused being in a helpless situation with being in a playoff hunt.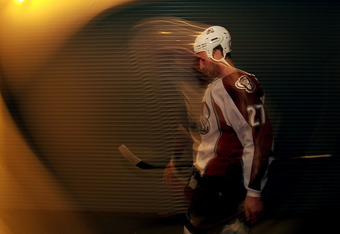 Ronald Martinez/Getty Images
Regardless of his opinion on the morale level of the guys in the Avalanche locker room, the next quote he had is the thing that gets me the most.
"There's guys that have been talked about for two, three weeks—and I was, too, right?" Quincey said. "That's all I'm saying. With guys getting talked about all the time, your mindset kind of changes. It's tough there because they're in a dogfight. When you get talked about every day, it kind of wears on you. You start thinking, 'Where am I going?'"
So when you're in the heat of a playoff race, that isn't enough of a reason to keep you focused?
You do realize that this is professional ice hockey, right? Emphasis on the word professional.
Professionals are able to keep their focus no matter how much is going on around them.
Avalanche blogger Ryan Boulding makes a brilliant comparison to a former Avalanche player who always found his name in trade rumors.
Remember John-Michael Liles? He was the subject of every trade rumor regarding the Colorado Avalanche for at least the last three years. It got so bad last year that there was a Twitter movement—#DontTradeLiles—in support of keeping him in town. Yet did Liles cry to the media, exclaiming "woe is me" every time his name popped up? No. He put his head down and did the work.
Yes, trade rumors can be distracting, but that doesn't change the fact that you're being paid to compete at the top of your ability.
You'd think that Kyle Quincey, who has been traded multiple times before this latest move, would be used to having his name tossed around from time to time.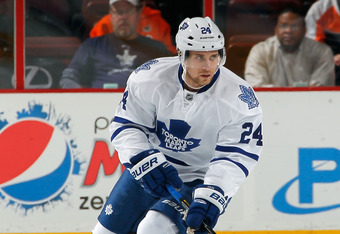 Paul Bereswill/Getty Images
Apparently, being traded multiple times wasn't quite enough to make Quincey realize that players being names in rumors and then traded weeks after is part of the business side of hockey.
Quincey, of course, tried to backtrack on his statements yesterday.
"The last thing I wanted to do was throw Colorado under the bus, an organization that was great to me, and I loved Colorado. I shouldn't have said what I said and I'm sorry. I didn't mean for it to come out like that. It wasn't meant to be 'Colorado-specific.' I was talking about the trade deadline in general and it came out wrong. I don't want any of the teammates I went to war with in Colorado to think I don't think and wish anything but for the best for them."
So saying that guys in the locker room were "pissed that they weren't part of the package deal" wasn't directed at the Avalanche? Right.
Sorry, Quincey, but it was very clear exactly what you were talking about and exactly what kind of a player you are.
Good thing Quincey got traded to Detroit, since apparently he doesn't really know how to deal with adversity that well.
To make things more interesting, the Avalanche will be in Detroit tonight for a reunion with bus driver Kyle Quincey and the Red Wings.
I'm sure the rest of the Avalanche players will do their best to downplay the whole situation because the players that remain in the Avalanche dressing room have far too much class to play those type of games.
Happy trails, Quincey. And good riddance.