WWE Raw Preview: Is There Anything the Rock Can Do to Win over the Locker Room?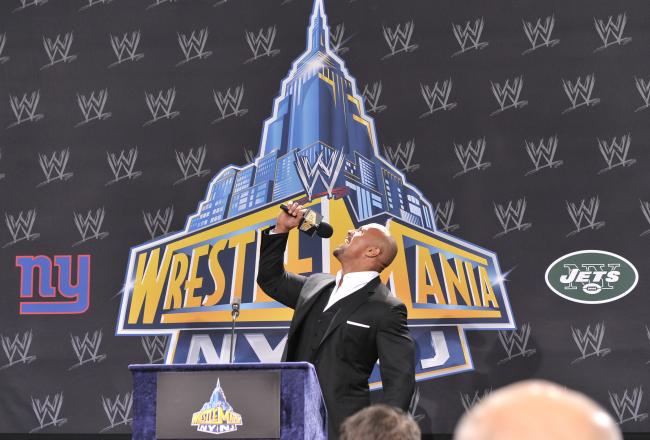 Michael N. Todaro/Getty Images
The upcoming Raw is being hyped as the night where The Rock responds to John Cena's semi-shoot tirade from last week.
Last week, John Cena gave a promo addressing his issues with The Rock. There are many people who believe that what Cena said was genuine and that the two really do have a bit of tension between them.
With The Rock having been featured more over the last year on WWE television than some of their lower-card stars, there is a feeling that he is taking away time from people who could be getting pushed.
I do not know where I could find this kind of information, but I am willing to bet that if you took every clip from the last year which featured The Rock, whether it is promos, matches, video packages or message via satellite, and added them up, it would be more screen time than Yoshi Tatsu, Tyler Reks and Curt Hawkins have had combined over the past year.
There is of course a good reason for this—by making five or six appearances in 2012, The Rock will generate more revenue for WWE than half the locker room put together. His star status is undeniable at this point.
There are two questions that I keep wondering about: Is there anything The Rock can do to win over his critics in the locker room, and does he even care?
Should The Rock care what anyone in the locker room thinks of him?
The Rock was asked by someone what he thought of the people who criticize him. Here is the fan's question and
The Rock's response
.
@TheRock – haters claim ur keeping them from wrestling @ Mania & they cant get over. Y couldnt they get over when u were gone?

@TheRock response: The ones who are complaining are the ones who will never get over anyway, Too busy complaining
By the sound of it, The Rock is not too worried about how he is looked at by the guys on the roster, and really, why should he?
The Rock had an amazing career which he was able to turn into a very successful film career while he was still young enough to have a good run with Hollywood, as well as be young enough to keep himself healthy and enjoy life without wrestling 300 nights a year.
This is a tricky situation because both sides have valid arguments.
The Rock should have nothing to apologize for just because Vince McMahon sees dollar signs when he looks at him, but the wrestlers in the locker room who work all year long do have the right to be upset that someone who is not full-time is being given more attention than they are.
I have no doubt that The Rock will be up to task at WrestleMania because I know he takes himself and his image seriously and he would not risk going out there and looking like Shane McMahon when he took out Legacy with the worst-looking work I have ever seen after having been out of the ring for years.
If the guys in back think that The Rock drawing attention to WWE is a bad thing, then they need to smarten up and realize that WWE is a
for-profit
business which is not designed to make sure they get over—it is designed to make money and put on shows people will want to see.
I sympathize with the guys who don't get the time they deserve, but I also think they need to remember that after Mania, The Rock will probably be gone for a significant amount of time, giving them the chance to make a name for themselves.
I am torn because, while I am a Rock fan and really like that he has embraced WWE again and decided to step back in the ring, I also think that WWE has more than enough talent to make the best WrestleMania ever without him.
At this point, I think there is little Dwayne Johnson can do to win over the rest of the locker room, so he should keep doing what he is doing and keep winning over the fans.
This article is
What is the duplicate article?
Why is this article offensive?
Where is this article plagiarized from?
Why is this article poorly edited?