New York Yankees: 10 Mistakes Joe Girardi Should Avoid During the 2012 Season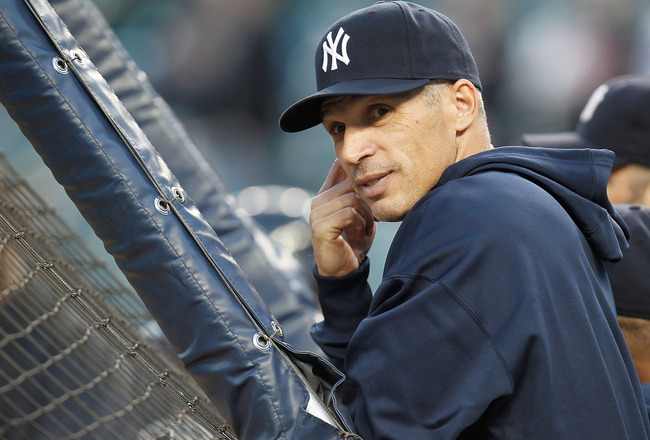 Gregory Shamus/Getty Images
A new year brings another 162 chances at second-guessing New York Yankees manager Joe Girardi. It's inevitable that the Yanks' skipper will make a managing blunder that fans will jump all over him for.
Normally, we don't have anything to look out for as far as potential mistakes Girardi could make. But I'm here to change all that and give you the heads up as to where he can screw up in 2012.
And here they are.
Overexposing Andruw Jones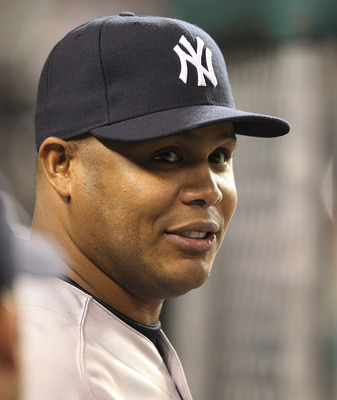 Leon Halip/Getty Images
After a solid 2011 season with the Yanks, Andruw Jones will make his return to pinstripes in 2012 with a desire for a bigger role with the team.
Last year, Jones was a great lift and presence for the Yanks off the bench with 13 home runs, 33 RBI and a .247 batting average in 190 at-bats. He was also considered a great mentor to the Yanks' younger players on the bench.
Sure, Jones is a great bat off the bench for the Yankees but at this point in his career, he is a reserve outfielder at best. Too many games will expose the husky Jones for the less-than-reliable outfielder and low-average hitter he's become.
Girardi has to be careful that he doesn't take Jones' desire to heart and end up overexposing the faults in whatever game Jones still has left.
Phil Hughes to the Bullpen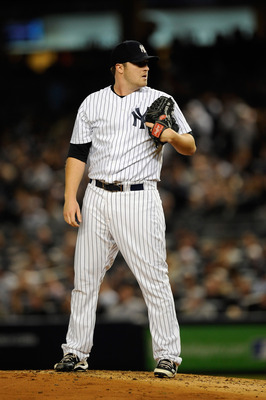 Patrick McDermott/Getty Images
As much as I believe Phil Hughes is in line to be the Yanks' No. 5 starter barring a horrible spring, there is still a chance that veteran Freddy Garcia beats him out for the last slot in the Bombers' rotation.
New York might immediately think it to be a good idea to throw Hughes in the bullpen if he doesn't make the rotation.
Hughes has been a guy who hasn't had much consistency in his young career moving from the rotation to the 'pen and vice versa. Girardi and GM Brian Cashman need to decide if they are all in on Hughes being a starter or reliever—and nothing in between.
Sending Hughes to the bullpen wouldn't be beneficial to him because there is no role other than the long man left in New York's bullpen. Hughes wouldn't be getting nearly enough work in game situations that he will need to stay stretched out and ready, thus making it vital he be sent down to the minors.
It could be considered a demotion for the young right-hander, but at least he will get the work he needs to be a relevant option to make an emergency start should one of the Yanks' arms go down to injury or are ineffective.
Letting Alex Rodriguez Play Too Much Third Base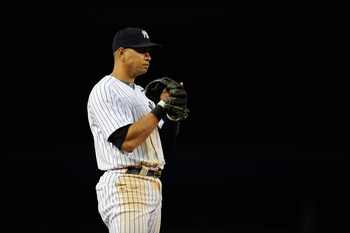 Patrick McDermott/Getty Images
When you have a great defensive player like Alex Rodriguez on your team, it's pretty tempting to try and play him at his position on an everyday basis. Not to mention, athletes like Rodriguez want to play the field every day no matter how detrimental it might be to their physical health.
Girardi must do a good job regulating A-Rod's time in the field and in doing so, the Bombers will have one less way for their star player to get injured on a daily basis. In turn, A-Rod should be able to stay healthier and play more than the 99 games he did in 2011.
After all, the Bombers didn't trade for A-Rod because of his glove.
The Bombers will have a slew of defensive options to replace A-Rod in the field when he is at DH. Guys like Eric Chavez, Eduardo Nunez and possibly Brandon Laird, Ramiro Pena and/or Bill Hall can each play a sufficient enough third base so that the Yanks won't lose a step defensively.
Although, I will admit, the jury is still out on the error-prone Nunez. But you get the idea.
Six-Man Rotation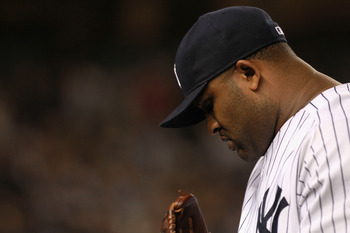 Nick Laham/Getty Images
In order to preserve the health and well-being of his starting rotation, Girardi unnecessarily went to a six-man rotation in order to give his guys more rest between starts. How nice.
It was a nice idea with a negative effect as CC Sabathia pitched some of his worst baseball of the season as a result. Not only that, but the rhythm of pitching every five days was disturbed and might have thrown the entire rotation off balance.
When you have an ace like Sabathia who is a workhorse by trade, you don't need to rest him extra days. The best thing you can do is to keep him on normal rest to maintain consistency.
While it might be a good idea for starters with innings limits (Ivan Nova and Michael Pineda), it isn't so necessary for guys who are used to pitching a lot of innings every year (Sabathia, Hiroki Kuroda).
If Girardi can at least keep Sabathia's regular rest, maybe CC will be much sharper than he was in the 2011 ALDS against the Detroit Tigers.
Just a suggestion, anyway.
Quick Axe for David Robertson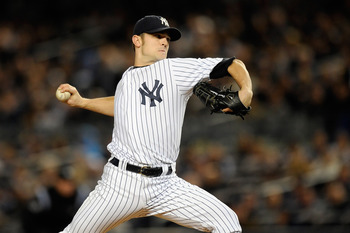 Patrick McDermott/Getty Images
It's going to be nearly impossible for David Robertson to meet the standards he set in 2011 when he pitched to a 1.08 ERA.
As it stands now, Robertson is the heir apparent to Mariano Rivera, who might retire at the end of the season. 2012 will be his final audition to take over the most coveted spot on the Yankee roster set to be vacated.
Girardi has to be careful not to expect too much from Robertson too quickly. It'll be tempting for Girardi to remove Robertson from the eighth-inning role if he struggles out of the gate and replace him with the expensive Rafael Soriano.
Robertson is the future of this bullpen while Soriano might only be here another season. It'll be in the team's best interest for the future if Girardi can be patient with Robertson and help the young reliever's psyche by showing him that his manager has total faith in his abilities.
Not Giving Eduardo Nunez Playing Time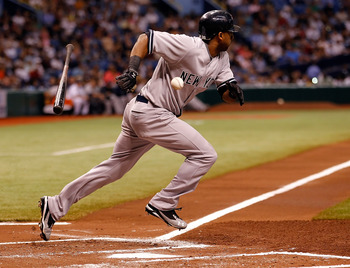 J. Meric/Getty Images
It's nice to see the Yankees have a ton of depth off the bench in the infield, but make no mistake about it: Eduardo Nunez should always be the Bombers' first option on either A-Rod or Derek Jeter's days off or when they are in the DH slot.
It's true he was a horrid defender last year no matter where he played, but that doesn't change the fact that he could be the future of the Yankees' infield as the possible future replacement for Jeter when he retires or for A-Rod when he turns into a full-time DH.
The only way for Nunez to work on his defensive issues is to get more time in the field. And no, fielding in a game situation as opposed to in practice are two totally different things.
As long as his defense improves and he continues to swing the stick with the success he had last season, Nunez should get plenty of opportunities to show he's even better than he was in 2011.
Developing Nunez is an important task for Girardi this season and giving him ample playing time will more than help that along. If not, Nunez could quite possibly take a step back in 2012.
Keep a Struggling Jeter at Leadoff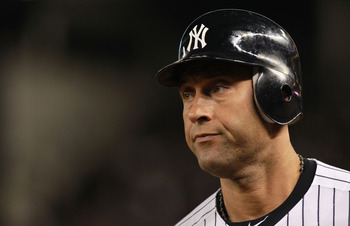 Nick Laham/Getty Images
It's no secret Jeter got off to a bad start in 2011 and didn't pick up his offensive numbers until the second half of the season.
That being said, if Jeter gets off to another slow start, Girardi can't afford to keep him at the top of the order for too long. Despite how great New York's offense might be, no team can find too much success scoring runs if its leadoff hitter is inconsistent like Jeter proved to be at the start of 2011.
The Bombers do have other options at leadoff, namely Brett Gardner who has proven to be a streaky hitter. However, I have to believe that Gardner could be improved as a hitter this season being a year older and wiser.
Not to mention, Gardner could potentially steal 50 bases in any given season and that kind of ability is great for table-setting a big inning for a great offense. Also, that gives Gardner the ability to get into scoring position without the benefit of a hit, which is something that Jeter no longer possesses.
I fully expect Gardner to be leading off on Opening Day, but if not, Girardi can't allow a struggling Jeter to hold the Yanks hostage at the leadoff spot the entire season.
Keep Struggling Michael Pineda in Rotation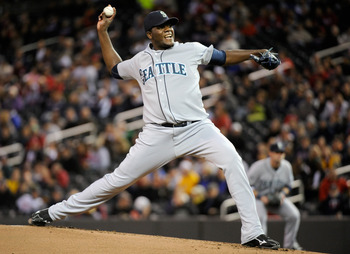 Hannah Foslien/Getty Images
Pineda comes into the season one pitch short of what it takes to be a successful starting pitcher in the MLB. He is currently working on his changeup in spring training, trying to get it game ready for the start of the season.
But if Pineda proves his new pitch isn't major-league ready and he is getting smacked around every time he pitches, Girardi must make the switch to either Hughes or Freddy Garcia, which will be dependent upon which starter actually makes the rotation out of spring training.
There will be a temptation to force an ineffective Pineda to the mound every fifth day because of the expectations birthed from the Yanks trading Jesus Montero to the Mariners for Pineda.
The best thing for the team (which is most important) would be for the Yankees' brass (Cashman) to swallow its pride and let Pineda work out his issues in Triple-A. The young righty will have plenty of time to figure out his third pitch there and avoid the abuse of his hometown fans.
Wait for the Long Ball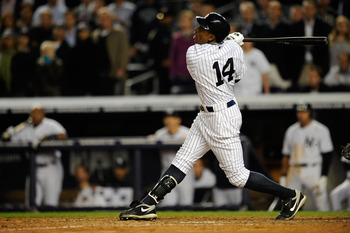 Patrick McDermott/Getty Images
The most glaring weakness the Yankees had in the ALDS against the Tigers was their inability to get clutch hits in RBI situations.
New York did a great job stealing bases during the regular season and it finished ranked fifth in that category last season.
But with all the runners on base the Yanks had in the ALDS, they were only able to muster up two stolen bases in the series. That won't get it done.
In the MLB postseason, the level of starting pitching is much tougher and naturally scoring runs is tougher as well. So why not make it easier on your offense by putting your players in a better position to score runs?
Clearly waiting for the big hit doesn't always work as the Yankees know.
Girardi's squad did a great job the entire regular season, although I'm not sure what happened in the playoffs. No matter what happened, Girardi needs to try a different approach in the postseason for 2012 or possibly suffer the same fate.
Batting Mark Teixeira 3rd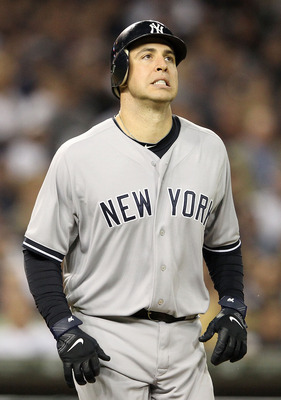 Leon Halip/Getty Images
Mark Teixeira might put up great power numbers every year, but let's face facts: He is a lousy hitter. Tex hit an abysmal .248 in 2011.
Those type of numbers won't get it done in the 3-hole, which is normally the spot in the lineup reserved for a team's best hitter. Tex is nowhere close to that.
But Robinson Cano is.
Cano, in my humble opinion, is the best player on the Yankees hands down and especially their best hitter. That being said, Cano's natural spot in the lineup is third and that's where he should be when the 2012 campaign starts.
Tex will be fine batting fifth in the Bombers' order and if he doesn't like it, too bad. He hasn't done a thing to improve his average and therefore doesn't deserve the distinction of being No. 3 in the batting order.
Keep Reading

New York Yankees: Like this team?