Daytona 500 2012: Drivers with Best Chance To Score First Career Win on Sunday
February 25, 2012

Todd Warshaw/Getty Images
Perhaps no race in NASCAR is riper for first-time winners than the Daytona 500 due to the complete randomness that tends to ensue. Last year, Trevor Bayne—driving in his first career Sprint Cup race—picked up a shocking victory as he outlasted at least 20 other contending drivers.
With so much uncertainty, it wouldn't be surprising to see another driver pick up their first-ever Sprint Cup win on Sunday. As long as a driver is within the top 20 or so with 10 laps remaining, they have a fighting chance to take the checkered flag.
Here are three drivers with the best chance to reach victory lane for the first time ever at the Great American Race.
Over the past few years, A.J. Allmendinger has slowly but surely risen up through the Sprint Cup ranks. Last season, he finished a career-best 15th in the standings and he is poised for an even bigger 2012. Allmendinger has made the leap from Richard Petty Racing to Penske Racing and with it he will have better equipment and a better overall team. Allmendinger will take over for Kurt Busch in the No. 22 machine, so he should be a contender every week.
Allmendinger has been knocking on the door in terms of picking up a win for the past couple seasons, and it would seem as though he has a good chance to finally get one. Whether or not it's in the Daytona 500 is tough to say, but there is no question that he'll have a puncher's chance if he's in it near the end.
Ricky Stenhouse Jr.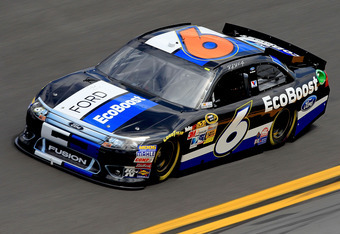 Matthew Stockman/Getty Images
Much like Trevor Bayne last season, Ricky Stenhouse Jr. enters 2012 with plenty of promise, but without a full-time ride. Stenhouse made his first and only career Sprint Cup start last season, finishing 11th in the Coca-Cola 600. Perhaps more importantly, though, Stenhouse is the defending Nationwide Series champion and perhaps the biggest up and comer currently in NASCAR.
Stenhouse will drive the No. 6 car for Roush Fenway Racing in the Daytona 500. That car had previously been occupied by David Ragan the previous few seasons, and while it isn't a full-time car any longer, Stenhouse should have quality equipment.
There are a lot of parallels between Bayne last season and Stenhouse this season, so there is a decent chance that the reigning Nationwide champ will be this year's Trevor Bayne.
Aric Almirola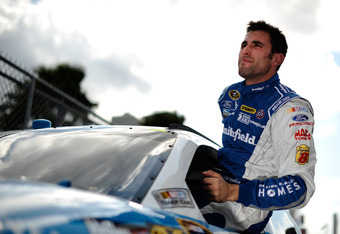 Jared C. Tilton/Getty Images
After a few years of success in the Nationwide Series and sporadic appearances at the Sprint Cup level, Aric Almirola will finally receive his big break this season. Almirola is slated to assume the post vacated by Allmendinger at Richard Petty Racing, as he will drive the iconic No. 43 car for the entire schedule. Allmendinger maximized the potential of the team last season, so it's now Almirola's job to keep the momentum moving forward.
The No. 43 car hasn't been to victory lane in quite some time, but it would only be fitting for it to return at the Daytona 500. The novice racing fan may not know much about Almirola, but he has a ton of talent and has just been waiting for a chance.
He obviously isn't a favorite to win, but if he's in the mix then he could pull off the biggest shocker since Bayne's win last year.