Pittsburgh Steelers: What Steelers Must Do to Lock Up Mike Wallace
February 26, 2012

Jared Wickerham/Getty Images
It looks like the Pittsburgh Steelers might be able to keep Mike Wallace after all.
Call it "The Immaculate Retention."
In the game of offseason NFL moves, the Steelers are making a huge comeback.
Last week, the sight of Wallace in a Steelers uniform next season looked about as likely as a victory for a team down 17 points late in the third quarter.
Things looked so bleak that I was not the only Steelers writer looking at the bright side of getting a first-round draft choice as compensation for losing Wallace.
To keep Wallace, the Steelers likely need to put the franchise tag on him, which would cost $9.4 million in 2012.
As of Wednesday, they were still $8 million over the cap.
Then on Thursday, Ben Roethlisberger restructured his contract, according to the Associated Press via SI.com, to put the Steelers right at the salary cap.
The Steelers' work is far from finished, however, if they want to keep Wallace out of a New England Patriots uniform next season.
To clear the cap room for the franchise tag, the Steelers have to cut some players, and the decisions shouldn't be that hard.
Casey Hampton looked like one of the candidates to be cut, until Steelers general manager Kevin Colbert said he expects Hampton to remain with the team next season.
It might be tempting to cut Hampton, who is scheduled to earn between $4 million and $8 million in 2012 (I've read varying reports). He'll be 35 next season and is coming off ACL surgery, but cutting him would leave Steve McLendon as the Steelers' only nose tackle. Even if the Steelers draft 350-pound Memphis nose tackle Dontari Poe, he'll need time to develop.
Colbert offered no such assurance that Aaron Smith and Chris Kemoeatu would be back next season.
Cutting those two should be a no-brainer for the Steelers.
Smith has been one of the best, if not the best, run stoppers the Steelers have had over the past two decades. But because of injuries, the 35-year-old defensive end has played in just 15 games over the past three seasons.
Kemoeatu in 2011 had enough flags thrown at him to open his own laundry business. It's time for him to go.
Releasing Smith and Kemoeatu would save the Steelers $5.6 million, still not enough room under the cap to franchise Wallace.
So let's look at Larry Foote and James Farrior. Foote will be 32 next season, and Farrior is 37. Foote counts $3 million against the cap in 2012; Farrior about $2.8 million.
They need to keep one of them. Otherwise, they'd be thin at inside linebacker in 2012. Whether Foote goes or Farrior goes, it's about another $3 million off the books.
The next one being called into the office is Hines Ward, due to make $4 million in 2012.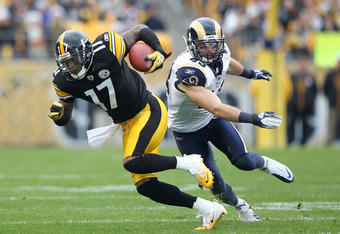 Karl Walter/Getty Images
If Wallace stays in Pittsburgh, Ward will be a No. 4 receiver who doesn't play special teams. That justifies a pay cut that, in addition to the money saved from cutting the aforementioned players, would give the Steelers enough room under the salary cap to put the franchise tag on Wallace or maybe even sign him to a long-term deal of about $10 million per year.
How about that? The Steelers can keep Wallace, and Ward can have his 2012 farewell tour after all. Having Wallace around would increase the Steelers' chances of getting Ward one more Super Bowl ring before he retires.
LaMarr Woodley, Lawrence Timmons, Ike Taylor and Willie Colon, like Roethlisberger, all have restructured their contracts to clear up the $25 million the Steelers needed to break even with the salary cap. All these restructurings are helpful now but push salary cap problems into the future.
Antonio Brown and Emmanuel Sanders become free agents next season. If the Steelers lose those guys and replace them with less-talented receivers, defenses can concentrate on Wallace, and he won't be as much of a weapon.
However, next year is next year, and there's some acumen in deferring salary obligations. Sanders got hurt in Super Bowl XLV and had foot surgery last season. If he continues to be plagued by injuries, the Steelers might not feel as much of an urge to re-sign him.
Also, let's say Taylor's disastrous performance in Denver is a sign of things to come for the cornerback, who will be 32 next season. Troy Polamalu will be 31. Brett Keisel will be 34. Those players are locked up beyond next season, but if there's a sudden decline in their play, the Steelers could think about unloading their salaries.
The thought of Taylor, Polamalu or Keisel being a cap casualty might be hard to fathom now, but all I'm saying is you never know what next year will bring.
All we know now is the Steelers have shown how valuable Wallace is by moving heaven and earth to keep him.
If the Steelers complete this comeback on the free-agency scoreboard, I just hope they display the same resiliency on the field in 2012.
Follow me @Steel_Tweets.