4 Most Overrated Wrestlers of All Time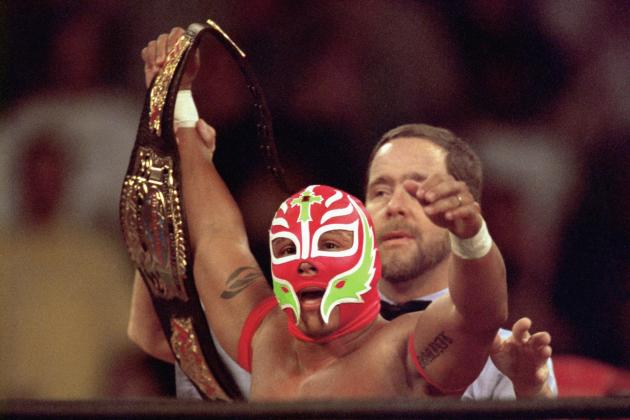 Elsa/Getty Images

WWE has had the very best professional wrestlers in their company.
The best of the best step into a 20-by-20 off-white square to prove themselves worthy of being called professional wrestlers.
While most have assured themselves a place in history, there are certainly some whose time has been more glamorized than most.
So without further ado, here are the five most overrated professional wrestlers in WWE history.
Begin Slideshow

»
Brock Lesnar is huge. His in-ring presence is massive. And he's a pretty damn good wrestler. But would he have gone where he did without Paul Heyman?
He is only on this list because he did not have enough time to make a real name for himself. He was average on the mic, and is remembered in a bad moment.
Here are some wrestlers and the moments they're synonymous with:
Steve Austin—Stone Cold Stunner to Vince McMahon
The Rock—The sliding Peoples Elbow to The British Bulldog
CM Punk—Sitting on the stage doing his shoot promo
John Cena—Lifting Edge and The Big Show on his shoulders at the same time
Brock Lesnar—The botched Shooting Star Press onto Kurt Angle
He was good in the ring, but that doesn't make a legend.
Rey Mysterio is an innovative man and an amazing athlete.
But that's half of what makes a superstar.
You need to be an amazing athlete, but you also need to be entertaining on the mic.
Rey Mysterio is not entertaining.
It's the same promo every single time. "I'm living my dream in the WWE. I don't care if (insert any superstar's name here) is bigger than me, because I have faith. I'm the ultimate underdog. I'm the master of the 6-1-9 and I'm going to win tonight for all of my fans!"
He's one of the best in-ring competitors, but his promos make me go to sleep more than ADR's.
The Excellence of Execution is just that.
A master of wrestling and nothing else.
His promos are undoubtedly the most boring part of any Attitude Era Show.
He's not whatsoever entertaining. The only time he was entertaining was during the Montreal Screwjob, and that was only entertaining because everybody immediately knew he didn't tap to Shawn, and his enraged reaction made people believe that wasn't supposed to happen.
Watch the promo above and then try to defend Bret's mic work.
Whatchya gonna do, when Hulkamania hits the same four moves on you?
Hulk Hogan bleeds charisma and truly holds a crowd.
But that makes a manager, not a professional wrestler.
Hulk Hogan is a huge money draw, no doubt about that. He's an entertainer, but he's not much of a wrestler.
The entire landscape of WWE would be entirely different without Mr. Hogan, but that doesn't change the fact that he is the most predictable wrestler of all time. He wrestled in the '70s the same way he does now.
And I don't mean that in a good way.
The amount of negative comments I'm going to get for this article will be immense. Just remember this is an opinionated article, and is in no way fact.
Just my personal thoughts...